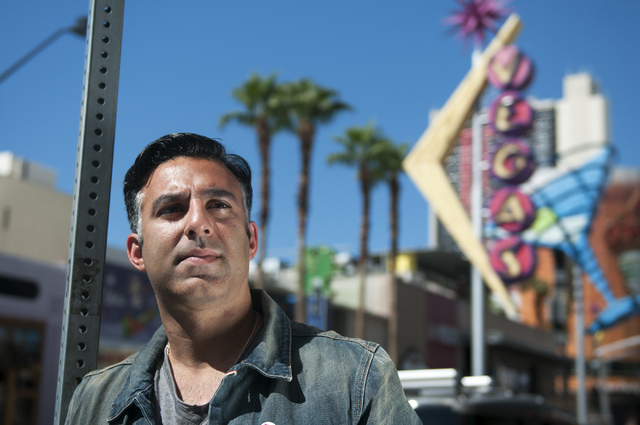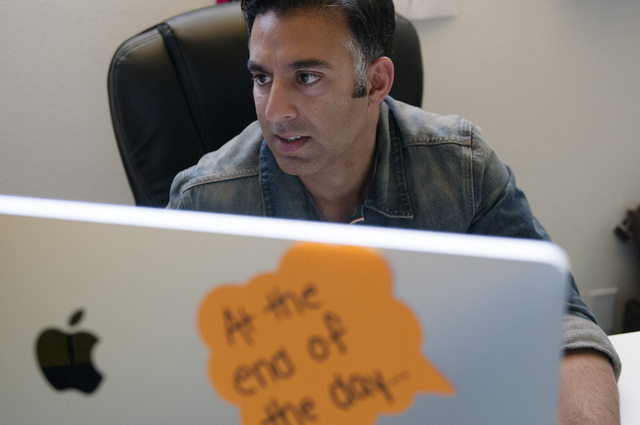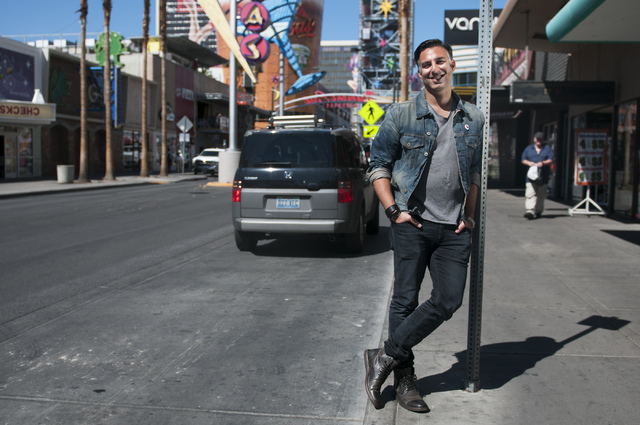 Rock! And French cuisine.
It might be hard for potential ticket-buyers to get their arms around all the ambitions of the Life is Beautiful festival, which will spread music, art and celebrity chefs across several downtown blocks on Oct. 26 and 27. But it makes sense to one of the rockers.
The Killers, Las Vegas' hometown band made good, is considered one of the key "gets" that set the festival in motion. And drummer Ronnie Vannucci says the foodie scene around his vacation home in Northern California has spoiled him on "gourmet living."
"I think it's sort of interesting that the people who curated the festival are combining a bit of that element into the rock 'n' roll."
"It's sort of saying something about the next generation," Vannucci adds. "In a lot of ways it's sort of championing what's important, and that's living. Food and music and the arts and things like that. Based on that, they certainly named the festival right."
The name Life Is Beautiful is at least shorter than any "short tell" attempt to explain the festival, or sum it up on a billboard.
But "curated" is also a word often used by Life Is Beautiful founder Rehan Choudhry, even as he admits it's a challenge to explain everything the for-profit event is trying to deliver for an anticipated 20,000 to 30,000 people per day.
Let's see. There are around 60 performers, including both Las Vegas rock heroes, the Killers and Imagine Dragons. Veterans, what Choudhry calls "old favorites" — Beck, Jurassic 5 and the comeback tour by Kings of Leon — augmented by "next-generation artists that don't have a home in Vegas."
(Choudhry demonstrated a knack for showcasing the latter at The Cosmopolitan of Las Vegas, where he was entertainment director during the hotel's groundbreaking and image-making first year.)
It's hard to define the festival's demographic goals by its lineup, which spans a wide perimeter of rock and pop. It may be easier to find the walls by what's missing: no classic-rock nostalgia on the older end, no testosterone-heavy rock or hip-hop favored by excitable teens.
A lineup skewed more to the loosely defined "creative class" and the mellower vibe of Tennessee's Bonnaroo festival could make it less of a leap from the five music stages to the festival's "Culinary Village," where 50 chefs and restaurants will peddle their wares in a central location with a demonstration stage.
Need more? Add the "Art" and "Learning" components. The first definition is flexible enough to include both commercial Las Vegas shows such as "Michael Jackson One" and visual artists such as muralist Alexis Diaz. The latter will involve speakers and panelists ranging from a trio of UFC fighters to WordPress founder Matt Mullenweg and Intel futurist Steve Brown.
"It is an incredibly complex program. We knew that from the beginning," Choudhry says from the festival's loft headquarters on the second floor of the Emergency Arts Building on Fremont Street.
And it's one that owes advance sales more to faith in the concept than details about the particulars. Those who already paid $160 for a two-day general admission pass ($349 for the VIP package) have done so without a schedule, a site plan for the layout, or more than two words — shuttle buses — to explain just where all these people are going to park.
But Choudhry uses a hypothetical to explain "the collusion of experiences" he hopes to achieve.
"A 15-year-old in Summerlin," he says, might go to the festival to see the indie-pop band Passion Pit. But once there, said 15-year-old might "stumble upon a demonstration (French chef) Huber Keller is hosting on French cuisine. That's something that kid may never have experienced otherwise.
"If he just walks away knowing the name, and knowing the restaurant and something about French cuisine that's unique, the festival is a success."
An eclectic festival also means you're breaking new ground, Choudry notes.
To draw visitors from out of the market, or even from the Strip, "you can't create a bigger version of what already exists," he says. "You have to create something that's truly new and authentic. … You have to be able to look at somebody and say, 'What we're creating you can't get on a normal Saturday night on the Strip.'"
A different promoter (Superfly Productions of Bonnaroo fame) previously devoted three years to a like-minded festival dubbed Vegoose on the same October weekend. Vegoose ran from 2005 through 2007 at Sam Boyd Stadium and its surrounding grounds, drawing upwards of 35,000 people per year, but ultimately failing to lock in as an institution.
But Choudry says Vegoose sold no more than 10 percent of its tickets to locals despite a suburban location with established parking and grassy lawns instead of urban parking lots.
"It wasn't a locals event. It didn't have locals in mind," Choudry says. Life Is Beautiful aims to sell at least half its tickets in the Las Vegas area. "It has to be rooted in the community you're operating in. It has to be something the city waves a flag of pride for."
The festival is now shaping into specifics on an L-shaped site bordered roughly by Las Vegas Boulevard and 10th Street to the East and West, running as far north as East Mesquite Avenue and as far south as Carson Avenue. Festival-goers will be shuttled from locations including the World Market Center and Caesars Entertainment properties on the Strip.
Choudhry says he hatched the idea years before he even came to Las Vegas. The title has special meaning for him after surviving a heart attack — the result of a blood-clotting disorder — 10 years ago, when he was 23.
"Everyone's got their thing that they carry," he says. The health crisis taught him "not to bury yourself in negativity" and showed him how to "take a transformative experience and do something positive."
Working for Caesars Entertainment in Atlantic City, Choudhry says he learned a lot, some of it the hard way, organizing the Atlantic City Food and Wine Festival in 2009.
He moved to Las Vegas the next year as The Cosmopolitan's director of entertainment and special events. Any time he now needs to establish his credentials, he can mention he was the main guy behind The Cosmo's Book &Stage lounge and its innovative first-year strategy of hosting breakout acts such as Foster the People and Black Rebel Motorcycle Club in a free, open setting.
"Sometimes you have to make decisions that aren't about the money," Choudhry says of the move that was "meant to be an incubator space for new music and a gracious give-back to the city."
But as The Cosmopolitan's weak casino revenues nudged the property to more traditional management, Choudhry left in April of last year and hung out his own shingle, forming the Aurelian Marketing Group to pursue his longtime pet project.
He says the festival turned from dream to reality once he struck alliances with Zappos CEO Tony Hsieh and Zappos senior executive Fred Mossler, and with Joey Vanas, managing partner of the monthly First Friday event downtown. (Hsieh's Downtown Project and Vanas' Maktub Marketing are the partners of record).
Combining those local connections with the San Francisco-based promoter Another Planet Entertainment brings what Choudry calls the right combination of logistic know-how with an awareness of the target audience.
"The beauty of Tony, Fred, Joey and I is we have a tremendous amount of history in this market," he says. "What we feel like when we're curating this festival is we're designing something for people that we know."
Could be, but wouldn't a more modest start — say, a one-day event with a half-dozen bands, saving the art and learning for next year — be a more prudent investment than the go-big-or-go-home approach that may be biting off more than a startup can chew?
"We absolutely bit off more than we could chew," Choudhry says with a laugh. "I'm up all night every night thinking about it."
But, he says, "to be quite candid I've never (screwed) around with anything in my life. I'm either gonna do it or I'm gonna step out. To put my name on something, to put our partners' names on something, it had to be something we were proud of.
"The situation I never want to get into is," he adds, "If this thing doesn't work, to say, 'You know I could have gone bigger and chose not to.'"
"If this doesn't work, I don't know what will."
Contact reporter Mike Weatherford at mweatherford@reviewjournal.com or 702-383-0288.
RELATED STORY:
Kings of Leon return refreshed, recharged