Little changes for 'Diceman,' and that's perfectly OK with us
October 31, 2013 - 10:41 pm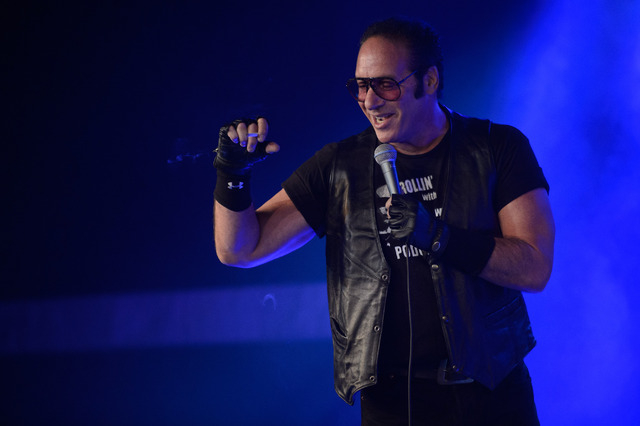 You want to see a different side of "the Diceman"? See Andrew Dice Clay in Woody Allen's "Blue Jasmine."
He's quite good in the comic drama, although longtime fans will still smile to see him do that little Diceman thing with his cigarette at the end of a climactic scene.
But his most famous character remains the stand-up persona he still brings to an ongoing showcase at the Hard Rock Hotel's Vinyl club. Not too much has changed over the years, even if Clay seems trapped in his material, if not his character: the New York neighborhood guy who still calls 'em as his limited world view sees 'em.
Sometimes he gives us a wink from behind the aviator shades. In a Vinyl show earlier this year, he asked a woman in the audience, "What'd you think you were walkin' into tonight, Seinfeld? He does the same thing I do, only he wears a tie." Then he recapped one of the previous filthy routines in a pretty good Seinfeld impression.
He stepped outside himself again to note, "They think they're going to see some kind of animal sayin' the wrong thing. But it's all about romance."
Contact reporter Mike Weatherford at mweatherford@reviewjournal.com or 702-383-0288.
PREVIEW
WHO: Andrew Dice Clay
WHEN: 9 p.m. Wednesday-Thursday
WHERE: Vinyl at Hard Rock Hotel, 4455 Paradise Road
TICKETS: $59-$103 (800-745-3000)