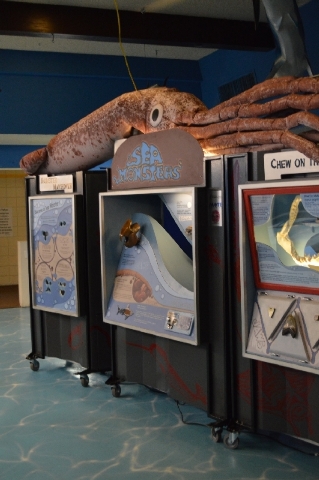 On Friday, you can experience your own night at the museum without having to watch Ben Stiller running around like a loon.
The Las Vegas Natural History Museum, 900 Las Vegas Blvd. North, is hosting its Sundown in Downtown fundraiser from 6 to 10 p.m.
Guests, who must be at least 21, can sample cocktails as well as small bites from restaurants such as Triple George, Mundo, Bar + Bistro, The Barrymore and The Mob Bar.
Entertainment options will include calypso music and strolling steel drummers as well as DJ Ultra and the band Wild Card. Partygoers also can experience the museum's summer exhibits: "Sanctuary Reef," "Discovery Reef" and "Sea Monsters."
Tickets are $55 or $100 per couple and can be purchased at www.lvnhm.org or 702-384-3466.
All proceeds from Sundown in Downtown will benefit the museum's educational programs for underserved youth.
'Cones of Fury II'
They've certainly got brass. And, in their case, it's a compliment. Boldly going where few brass masters have gone, tuba player Sam Pilafian (of Empire Brass fame) and French horn player JD Shaw (of Boston Brass fame) team up Tuesday at The Smith Center's Cabaret Jazz for "Cones of Fury II," demonstrating that even instruments not usually featured in solo and virtuoso musical displays can shine in every genre from classical to jazz.
Details: "Cones of Fury II," 7 p.m. Tuesday, Cabaret Jazz, The Smith Center for the Performing Arts, 361 Symphony Park Ave. Tickets: $18; call 702-749-2000 or go online to www.thesmithcenter.com.
Flip-Flop Day
Friday is National Flip-Flop Day, which means Tropical Smoothie Cafes are planning their annual smoothie giveaway.
Details: From 2 to 7 p.m. Friday, anyone who visits one of the 22 Las Vegas locations while wearing flip-flops can get a free 24-ounce Jetty Punch smoothie. For a list of locations, go to www.NationalFlipFlopDay.com.
Super Diamond
What better for Electric Daisy counterprogramming than the "Surreal Neil"? For years, Super Diamond has been the cover band imagining a parallel world where Neil Diamond stayed cool and steered clear of his '80s schmaltz era.
Details: Super Diamond, 8 p.m. Saturday at the M Resort, 12300 Las Vegas Blvd. South, Henderson. Tickets are $31.95-$54.95; call 800-745-3000.
Buckcherry
You like strippers, and strippers like Buckcherry, so catch the band at 9 p.m. Saturday at Rocks Lounge at Red Rock, 11011 W. Charleston Blvd.
Details: Tickets are $47; call 702-797-7777.
Las Vegas review-journal