Locals Only: For all kinds of fun, just think rink
November 21, 2013 - 12:16 am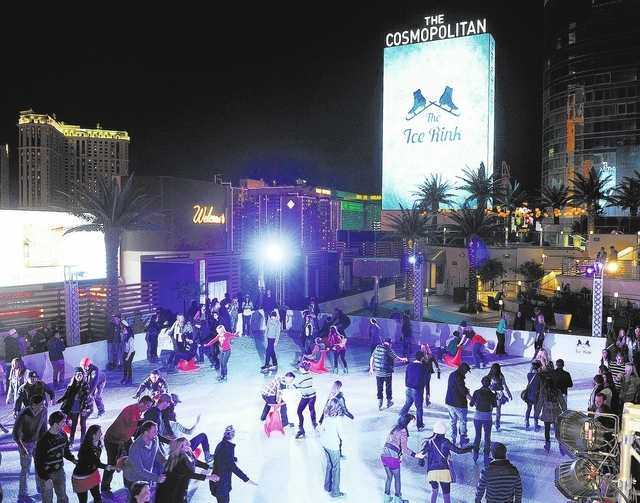 It sounds like multiple accidents waiting to happen, but maybe that's just because we're easily distracted and clumsier than most.
For its Date Skate Mondays, The Cosmopolitan of Las Vegas is combining ice skating, holiday movies and a full bar serving curated cocktails.
Starting Friday, The Ice Rink at Boulevard Pool will be open 3 p.m.-midnight weekdays and noon-midnight Saturdays and Sundays. Mondays, though, will include double-feature screenings on the hotel's 65-foot digital marquee.
"Grumpy Old Men" and "Planes, Trains &Automobiles" start things off, followed by "A Christmas Story" and "The Polar Express" on Dec. 2, "Home Alone" and "National Lampoon's Christmas Vacation" on Dec. 9, "Miracle on 34th Street" and "It's a Wonderful Life" on Dec. 16 and "Elf" and "White Christmas" on Dec. 23. All screenings start at 7:30 and 10 p.m.
Seasonal food offerings, including a fireside s'mores kit, also will be available.
All-day skating access costs $10 for Nevada residents, with $5 skate rentals. Admission to the screenings and the holiday-themed area surrounding the ice rink is free.
For more information, visit www.cosmopolitanlasvegas.com.
New art space
It's two celebrations in one as the Contemporary Art Center opens a new exhibit space, and a new exhibit, Thursday night. The new space: Alios, on Main Street in the Arts District. The new exhibit? It's "Sampler: Las Vegas," featuring 21 artworks from 13 artists exploring the intersection of text and image. The party starts at 6 p.m. Thursday at CAC@Alios, 1207 S. Main St. For more information, visit www.lasvegascac.org or call 702-329-9569.
Hawaiian buffets
The Festival Buffets at the Fiesta Rancho and Fiesta Henderson have introduced Hawaiian nights from 4 to 9 p.m. every Wednesday for $13.99. Hawaiian-style dishes featured include whole roasted pig, kalua pork, Spam and pineapple fried rice, macaroni salad and haupia.
Some laughter and help, local to local
It's a case of locals helping locals, and you may know them. Louie Anderson, Clint Holmes, Gordie Brown and Rich Little are among those performing on Sunday to raise cancer-treatment money for impressionist and stand-up comedian Pam Matteson. Tickets are $25 for the 4 p.m. Sunday benefit at the Plaza, 1 Main St.; call 386-2507.
Rock 'n' troll
They're Finnish. And they write lots of songs about trolls. Hence, they named themselves Finntroll, naturally. Expect kilts and lots of "Lord of the Rings"-style good times when the Scandinavian folk metallers hit Vegas at 8 p.m. Tuesday at LVCS, 425 Fremont St. Tickets are $12 in advance, $17 day of show; call 382-3849.