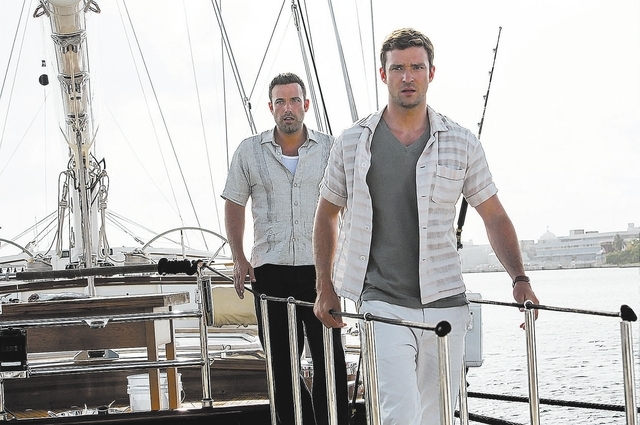 He brought sexy back to MTV's Video Music Awards.
Somebody had to after the way Miley Cyrus violated that foam finger and those poor teddy bears.
If you can't wait to show your appreciation until Justin Timberlake's concerts Nov. 29 and 30 at the MGM Grand, or even his set next weekend during the iHeartRadio music festival, you can see him Wednesday at the premiere of his upcoming movie "Runner, Runner."
Timberlake is scheduled to walk the red carpet, along with co-stars Gemma Arterton ("Hansel &Gretel: Witch Hunters"), Anthony Mackie ("Pain &Gain") and Sam Palladio (ABC's "Nashville"), starting at 6:30 p.m. at Planet Hollywood Resort, 3667 Las Vegas Blvd South.
The red carpet's path was still being finalized at press time, so you should plan on arriving early to stake out a spot close to the action.
"Runner, Runner," about a Princeton grad student (Timberlake) who falls under the sway of an online gambling tycoon (Ben Affleck), is scheduled to hit theaters Oct. 4.
Experience joy of jazz
Usually, the phrase "Parental Guidance" is a warning. But this weekend, it's an invitation — to see jazz (and hear) singer Ann Parenti and her band Parental Guidance (alias bassist Dick Jones, drummer Paul Testa and pianist Woody Woods) in concert at the Winchester Cultural Center, 3130 McLeod Drive, at 2 p.m. Saturday. For tickets ($10 in advance, $12 on concert day), call 702-455-7340.
Hot, spicy time ahead
Organic, local Hatch chiles will be roasted from 9 a.m. to 3 p.m. Friday, Sept. 20 and Sept. 27 at the Downtown 3rd Farmers Market, 300 N. Casino Center Blvd., which is near the intersection of U.S. Highway 95. They'll be $5 a pound for roasted chiles, $4 for raw, and other grilled foods and tamales will be available.
Welcome to the show
Help make local television history when venerable TV host Tony Sacca launches his "Las Vegas Rocks" variety show. Louie Anderson is among the guests for the free 2 p.m. taping Friday inside the Railhead at Boulder Station, 4111 Boulder Highway.
Now that's progressive
Hipsters can appreciate prog rock, too. Don't believe us? Check out Minus the Bear, then, whose guitar-centric indie rock can resonate with both King Crimson fans and dudes in chunky black-frame glasses. See them at 7 p.m. Thursday at the Boulevard Pool at The Cosmopolitan, 3708 Las Vegas Blvd. South. Tickets are $20; call 698-7000.