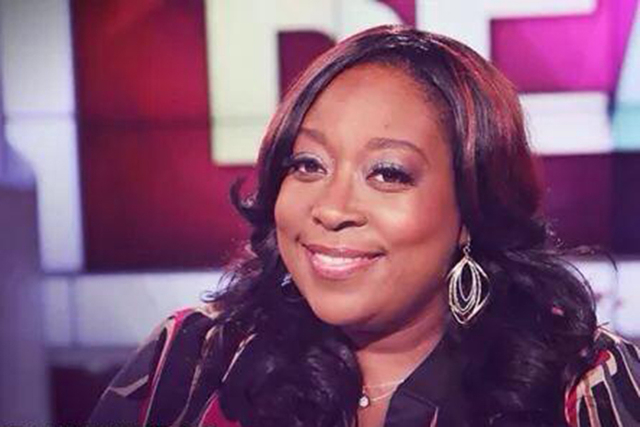 Comedian Loni Love and I were talking about female comedians, so I asked her this honest question: Why do so many male comedians die young-ish accidentally and on purpose, but women comedians don't?
"Because there aren't that many of us out there," Love said. "If you think about how many headlining female comics are out there, you could say 15, maybe 20?"
In addition to that, Love joked that women comedians don't get in as much trouble as male comics because: "We don't have time to take drugs. We're just trying to get in the club" to work onstage.
Love returns to Las Vegas on Saturday to perform at The Venetian's all-female-comics series, "Lipshtick."
Fans know Love from plenty: She was Ellen DeGeneres' on-air DJ and a comic of "Chelsea Lately," she's the current co-star of TV's "The Real," and next year she co-stars in "Paul Blart: Mall Cop 2," which already filmed at the Wynn hotel.
This will be Love's second stage show in the late, great Joan Rivers' old room in The Venetian. I saw Rivers there not long before her death this year. Rivers was a tiny hurricane on that stage, walking faster than I walk, and writhing on the floor during sex jokes.
Love said Rivers is a good example of how female comedians must work hard and keep up appearances more than men.
"People said, 'Oh, she had so many facelifts.' But Joan did what she needed to do to keep herself in the game. That's the one thing I have to say to females. If you don't have a certain look, or if you look a certain way, they won't accept you. Joan didn't look like she was 80.
"I've seen Don Rickles up at the Montreal Comedy Festival. Don Rickles was doing jokes in a wheelchair, and he was headlining a show. Do you think they would let a woman do that?
"When you look at somebody like Joan, she was doing what she had to do. Same thing with Kathy Griffin. We all do what we need to do because we're women, and there's a certain stigma they put on us."
I asked: Why don't more women become comedians?
"Phyllis Diller said standup comedy is a hostile and aggressive occupation, and so, for a lot of women, they don't want to put up with that," Love said.
What's Love's advice to young female comics?
"Be funny and stay off your back. Being on your back is detrimental to comedy."
She even said women's sexuality and absence of parenting plays a role in becoming a touring comedian.
"I know what I'm about to say may be a little rough, but most of your top female comics have either already had their kids or they're lesbians," Love said.
"I always say that because it's a lifestyle choice that you have when you say you want to be a comic. You go on the road. You can't have kids. Even if you got pregnant and dropped your baby, you're still nine months on the road. In nine months, everybody will take your spot" on comedy stages.
Love said she didn't want to get married or have kids, and those traits made it easier for her find success as a road comic before she earned TV fame.
"Before I got this job on 'The Real,' I was out (on the road) maybe 40 weeks a year. That's how I made my bread and butter," Love said.
"Everybody wants to say females aren't as funny as men. That's not true. You just don't see as many because it takes a lot to do this occupation."
Love said Rivers gave her this awesome piece of advice:
"She said, 'Do a joke 12 times before you throw it out.' The reason why you do it 12 times is, by that 12th time, if that joke's not working, it's not funny."
Man, I miss Joan. She was one of my very, very favorites, my whole life.
MONEYED SIGHTING
The 2004 lovers Derek Jeter and Jessica Alba shared a room together once more on Tuesday night at Hyde Bellagio nightclub, where they drank and mingled during a party hosted by Goldman Sachs, the moneyed firm that controls Washington, D.C., and thus the world, with its tremendously clenched fortunes.
SNOOP IS OUR NEIGHBOR
Mr. Snoop Dogg has taken a rental in Las Vegas at the luxurious/fancypants Crown Penthouse at One Queensridge Place, which has in the past also provided homes for Rudy Ruettiger, Phil Ivey and Rich Little. Snoop also got a new Off-Road Edition Jeep Wrangler from Prestige Chrysler Jeep Dodge.
Mr. Dogg: I greatly enjoy your work. Welcome to our humble little town. May you enjoy great weed, as I understand you enjoy it.
I interviewed you once at the wax museum, and you were quite kind to me. I don't expect you to remember. Just, thanks.
And congratulations on your successful gig at Tao nightclub in The Venetian, called "Snoopadelic." You know, Prince has a great song called "Shockadelica." I wish you two would collaborate.
Dear Las Vegas: Do you have any advice you'd like to give Snoop on shows, restaurants, etc?
Doug Elfman's column appears Tuesdays, Thursdays and Saturdays. Email him at delfman@reviewjournal.com. He blogs at reviewjournal.com/elfman.