November 20, 2008 - 10:00 pm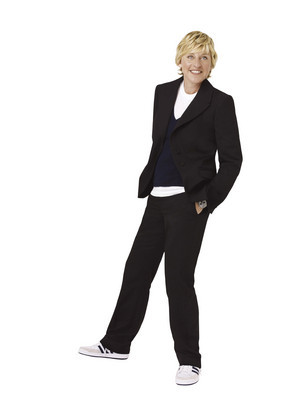 How do you follow a really big show? With an even bigger really big show, of course.
Think of it that way, and the title of Ellen DeGeneres' latest variety show isn't nearly as unwieldy.
"Ellen's Even Bigger Really Big Show," which tapes tonight at Caesars Palace for airing Nov. 29 on TBS, kicks off The Comedy Festival, which runs through Saturday at Caesars Palace.
The three-day festival will include shows by such performers as Jerry Seinfeld, Dane Cook, Cheech and Chong, Andrew "Dice" Clay and The Kids in the Hall.
DeGeneres' kickoff show will, like last year's edition — called, naturally, "Ellen's Really Big Show" — feature variety acts from around the globe. During a conference call with reporters last week, DeGeneres said she hadn't seen the acts, and that producers were even keeping videotapes of two of them away from her.
"My producers wanted to surprise me with two of them, just because they want to see my reactions," she said.
"I think it's going to be the same kind of excitement, the same kind of acts that you have never seen before," she said. "We brought in people from all over the world that are fascinating to watch, and I think most of you are going to just sit there and wonder how they even thought of this idea that would be a possibility as a talent."
DeGeneres said she approaches developing her own material for the variety show — she has signed on for three more editions after this one — in the same way as she does her own Emmy-winning talk show.
"You know, there really is no difference between Ellen the stand-up or Ellen the talk show host or Ellen, even, at home," she said.
Going back to her own stand-up days, "it's just kind of commenting on absurdities and human behavior," she said, "and so there (are) going to be lots of comments about Vegas, obviously, and lots of other things.
"But, you know," DeGeneres said, "it's not like I'm going to be topless or start cursing all of a sudden. It's pretty much the same."
Then, after pausing for a perfectly timed Ellenish beat, DeGeneres added: "Although, now that I mention it, maybe topless, that sounds kind of exciting."
DeGeneres said she doesn't miss the practical rigors of the stand-up circuit. "I don't miss the traveling and sleeping in a hotel every night. I mean, that touring got really old."
But, in retrospect, there were signs even back then that a new career would someday be in the cards for DeGeneres.
"I used to tell the audience at the end of the show when I (did) a question and answer, I said, 'Someday, I am going to make you come to me, and I'm not going to come to you anymore,' " she said. "And, now, they do come to me.
"So I get to do stand-up every single day. I still get that live energy exchanged between the audience and myself. I still get to say the things I want to say and comment on."
DeGeneres said she hopes to catch some of the other festival events this weekend. And when she isn't performing or showgoing?
"Well, the buffet, you know?" she said. "Obviously. I don't know how much it is, but it's still a deal isn't it? I mean, I'm a vegan, so I will just have salad, but that's still a bargain.
"And, I'm going to gamble, that's what I'm going to do. I'm going to gamble, and if there are clothing optional pools there … " DeGeneres said, letting the thought trail off.
Actually, a few laughs couldn't hurt these days, what with the state of the economy and all. A good laugh is a great thing anytime, DeGeneres said, noting that she signed on to the specials "before the economy was falling apart."
But, she added, "hopefully, there will be people out there winning on slot machines, and then they'll buy a ticket and come on in."
Contact reporter John Przybys at jprzybys@reviewjournal.com or 702-383-0280.