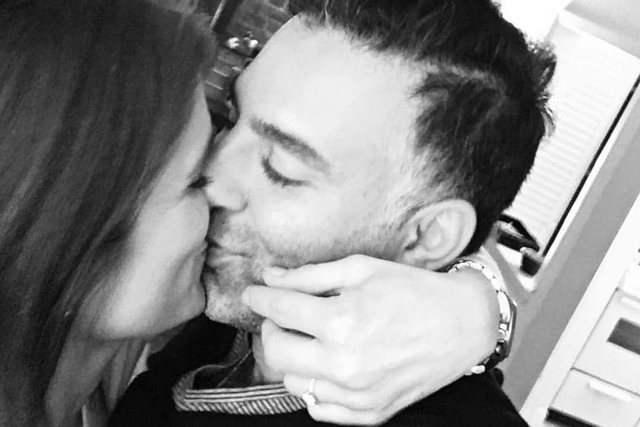 Inside scoop for fans of TV news and music festivals: Former Las Vegas newscaster Jessica Moore is engaged to Life Is Beautiful founder Rehan Choudhry.
She was a popular fixture on KSNV-TV, Channel 3, for six years until she took a big step up to WCBS-TV in New York in July.
Moore and Choudhry have been a couple for a year. They fly back and forth to homes in Vegas and New York.
He proposed on their couch in New York. He gave her a box of handwritten love letters, each in its own envelope, and after she read the last letter, he presented a ring.
She cried and laughed with joy and said yes.
They're thinking of marrying in summer 2017.
Choudhry revealed this romantic news while confirming a different story circulating about the election.
Last week, Choudhry was entertaining guests in his Vegas home when a Donald Trump/Mike Pence campaigner interrupted their festivities by knocking on Choudhry's door.
The Trump/Pence campaigner asked Choudhry whom he was planning to vote for.
"Not Trump and Pence," the amiable Choudhry said.
The Trump campaigner dutifully asked if anything could sway Choudhry away from voting for Hillary Clinton. Choudhry laughed and said "absolutely not."
And then the Trump campaigner laughed.
"Look, man, I'm not voting for him either. I don't really like him. I'm just doing this because they're paying me," the Trump campaigner said, bid adieu, and walked to the next door.
People who were at Choudhry's home at the time have been telling the story at parties around town. He says it's true.
HALTING BRITNEY'S TOP
Britney Spears got a lot of press Monday because her halter top started falling off while she covered Joan Jett's "I Love Rock 'n' Roll" and again during "Gimme More."
She caught the top before things got out of hand. Backup dancers helped reassemble the outfit then put a man's shirt on her for the duration of "Gimme More." No biggie.
But journalists love a good "wardrobe malfunction" story, although maybe it's time to come up with a new phrase. "Wardrobe malfunction" is so Janet Jackson/2004.
THE FAT-SHAMED CONTESTANT
Miss Iceland Arna Yr Jonsdottir was supposed to compete in the Miss Grand International competition Tuesday in the Westgate International Theater in Las Vegas.
But she went public with a claim that the owner of the beauty contest told her to lose weight.
"Stop eating breakfast, eat just salad for lunch and drink water every evening until the contest," the owner told her in a message, she claimed.
So she pulled out and posted photos on Instagram to show how she looks.
"He doesn't deserve me," she told the Iceland Monitor.
And now, Nike has hired her and her "sporty body" to represent the brand.
She's having fun in Vegas without the pageant.
"Guess what! I'm gonna stay in Las Vegas until 26th october. Explore the city, eat good food and enjoying the time I have here," she posted.
MADDEN BACKS VEGAS RAIDERS
NFL and video game hero John Madden told Sports Illustrated that the Raiders "don't have an alternative" to moving here.
"They can't continue to play in that stadium" in Oakland, said the former Super Bowl-winning coach for the Raiders.
The decrepit Oakland stadium recently had water pouring down the stairs, as seen in viral videos.
Madden said that if he and others were asked where they'd want the Raiders to play, it'd be Oakland.
"But there is no Oakland here," he said metaphorically, adding, "If they stay, where do they play?"
Doug Elfman can be reached at delfman@reviewjournal.com. He blogs at reviewjournal.com/elfman. On Twitter: @VegasAnonymous