Love, music unite couples at EDC weddings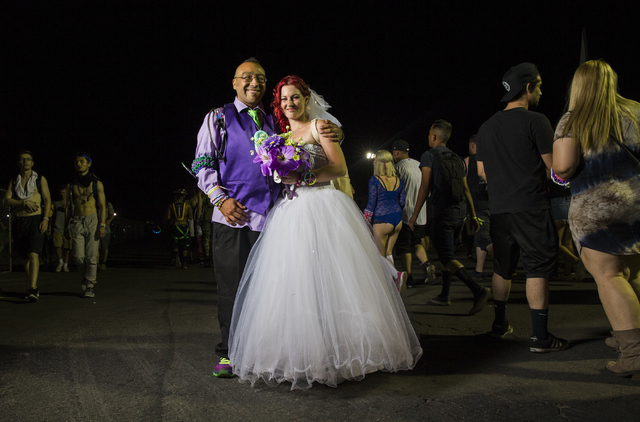 It started just like any other wedding, with a jittery bride in the back of the chapel and an equally nervous groom, head bowed, at the front.
"Do we stand up when they come in? Like what's the protocol?" Chris Russell, a friend of the couple, asks.
Then the electronic processional music begins, cuing the bride, Alyssa Needham, 25, to begin her walk down the short aisle inside the Chapel of Nature, a barn-like structure with a wooden roof with floral cut outs. Four rows of friends on makeshift wooden pews turn toward her.
Once she's standing before her groom, Dave Needham, 32, Rev. Jessie Tryon, 22, begins the ceremony in traditional Electric Daisy Carnival fashion: "Dearly beloved, we are gathered here today under the electric sky …"
After exchanging promises of love and forgiveness, sickness and health, the couple also vowed to care for each other even after one of them has partied a little too hard. Then comes the final question: "Do you promise to rave together forever?" They do.
"Hell yeah!" the newlyweds shout in unison.
"Dearly beloved we are gathered here under the electric sky…" #EDCLV pic.twitter.com/JeBzZAl7BI

— Sarah Corsa (@sarahcorsa) June 18, 2016
Just halfway through the first night of EDC, Tryon had already officiated about 20 weddings. And that doesn't count the weddings her husband, Brian Mills, 44, was officiating across the lawn at the Chapel of the Future, a structure of white arches and boxes. A third chapel, also on the same lawn, is just for fun — the officiants are not ordained, so the weddings are not legally recognized. There, couples recite the same vows, and exchange colorful plastic bead "kandi bracelets" instead of rings.
The brides and grooms are easily spotted around "EDC Town" in their veils and all-white outfits, some of which are more traditional, like Alyssa Needham's short lace dress, while some are more traditional rave attire, like the furry boots, fanny packs and shorts.
"Honestly EDC has always been a place of love and unity and people coming together," said Alyssa Needham, who lives in Orlando. She and her now-husband had considered getting married at EDC for about two years — they've been engaged for four — but decided to officially tie the knot at the festival about a month ago.
Afterward, they posed for photos and celebrated with friends. Despite sitting next to a massive stage in the midst of a packed lawn of thousands of fastival attendees, the mood was intimate and quaint.
Fifteen minutes later, another couple is already shouting their "hell yeahs!" and snapping photos.
Ruben and Stephanie got married tonight. "It was better than I could have ever imagined," he said. #EDCLV pic.twitter.com/au8x8ghzbv

— Blake Apgar (@BlakeApgarLV) June 18, 2016
RELATED
Take a look at the first night of the Electric Daisy Carnival: PHOTOS
EDC's opening night spectacle is breathtaking
Electric Daisy Carnival fly by from our eye in the sky
Activist whose daughter died from drugs wants prevention at EDC festivals