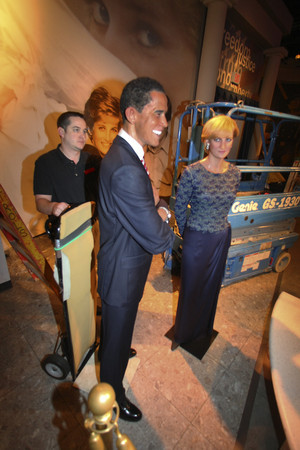 Whether the White House wants tourists to visit Las Vegas, one Las Vegas attraction wants tourists to visit the White House.
On Monday, Presidents Day, Madame Tussauds wax museum at The Venetian will unveil its latest display: a partial Oval Office photo op. The display in the Spirit of America room consists of a reproduction of the president's Resolute desk ringed from behind by a crescent of windows. President Obama's wax figure, introduced last year, will stand alongside visitors who sit at the desk.
"You can take this photo and fool your friends," said museum marketing chief Amy Helton.
Madame Tussauds London, New York and Washington, D.C., museums all have similar displays.
Helton said the Obama figure, which until now stood at a podium, is the most popular in Las Vegas. Twice, it has had to be removed for maintenance because of manhandling.
"You have the people who want to put their arm around him or they want to put their finger up his nose," Helton said, adding that the figure's ear was broken off a couple of weeks ago by a playful but misguided tug.
"When he's off the floor, we get a lot of complaints," Helton said. "And some people won't even buy a ticket if he's not here."
The fake President Obama sounds considerably more popular in Las Vegas right now than the real one. During a recent visit to New Hampshire, Obama said, "You don't blow a bunch of cash on Vegas when you're trying to save for college." It was the president's second diss of the valley in a year, and both Las Vegas Mayor Oscar Goodman and Nevada Sen. Harry Reid shot back with stinging public retorts.
"I take it as a great boost of confidence," Helton said, "because when President Obama tries to think of the most lavish, wild place you could go on vacation, the only thing that comes to mind is Las Vegas — which means we're doing a fabulous marketing job."
Obama is expected to visit the valley this month. Madame Tussauds said they sent him an invitation to drop by and view its latest display.
"I haven't had a call from the Secret Service yet," said Helton, who isn't holding her breath.
The new installation forces into retirement the wax Princess Diana, previous occupant of its semicircular alcove, although the British icon may be brought out for private functions. Helton admits it never quite belonged in a room called Spirit of America anyway.
"It was the only room where she did somewhat fit," Helton said. "But we do get comments saying, 'She's not from America, so why is she there?' "
Contact reporter Corey Levitan at clevitan@ reviewjournal.com or 702-383-0456.
Preview
Madame Tussauds Interactive Wax Attraction
10 a.m.-9 p.m. Sundays-Thursdays, 10 a.m.-10 p.m. Fridays-Saturdays
The Venetian, 3355 Las Vegas Blvd. South
$14-$24 (862-7800)