'Mamma Mia!' delivers exactly what fans expect
January 11, 2014 - 12:02 pm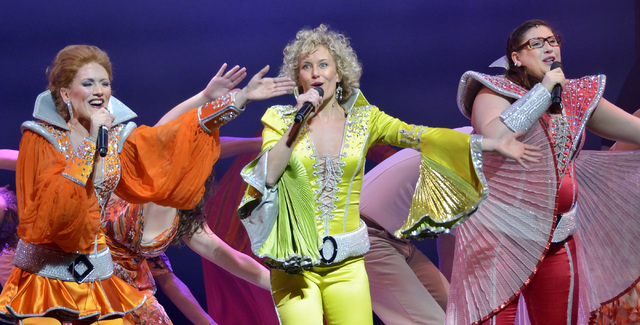 Here we go again.
"Again" being the operative word for legions of "Mamma Mia!" fans who can't get enough of the spangled, spandex-bedecked jukebox musical spouting all ABBA, all the time.
Back in the Swedish supergroup's 1970s and '80s heyday, whenever one of its bouncy tunes popped up, I hit the car-radio button to change the station. At the movies, I cheered the "Adventures of Priscilla, Queen of the Desert" scene in which one of the characters switches off a boombox blaring its tunes with a stern "I've said it before and I'll say it again: No more (expletive) ABBA!"
Yet a funny thing happened while watching the current "Mamma Mia!" tour cast do its thing at The Smith Center. (It'll be there through Sunday.)
Rather than squirm in discomfort, checking off the show's shortcomings (we'll get to them later), I found myself getting into the goofy, good-time spirit of things.
Not the way the primed-for-fun audience does, of course. In its case, familiarity breeds contentment, not contempt.
But enough to acknowledge that this touring production of "Mamma Mia!" delivers exactly what its fans expect: lots of ABBA hits, more than a few laughs (cheap or not, a laugh's a laugh) and a few lump-in-the-throat moments along the way.
The show establishes its tongue-in-cheek tone even before the curtain rises, as the stentorian voice directing you to turn off your cellphones warns, somberly, that "platform boots and white spandex are featured in this production."
Of course they are. Without them, "Mamma Mia!" would be missing its most deliriously ridiculous moments.
With them, "Mamma Mia!" intentionally strains your brain — reminding you to turn it off and enjoy the ride.
The cast members certainly do, approaching the show's outlandish antics with an appropriately goofy sense of humor. It's clear they're in on the joke, which makes those jokes a lot easier to sell.
"Mamma Mia!" needs all the jokes it can get, as Catherine Johnson's book painstakingly (and sometimes painfully) interweaves almost two dozen ABBA songs with a plot that touches on old love, new love, growing up, letting go — and embracing your inner disco diva.
The show transports us to an unidentified but idyllic Greek island, where former pop diva Donna Sheridan (Georgia Kate Haege) lives with her daughter Sophie (an endearingly sincere Chelsea Williams), who's about to marry the sunny Sky (Chris Stevens).
Sophie wants her father to walk her down the aisle. Trouble is, she doesn't know who he is, so she invites the three likeliest suspects from Donna's wild-child past: stiff-upper-lip Brit Harry (Mark A. Harmon), adventurer Bill (Michael Colavolpe) and architect Sam (Don Winsor), the guy who got away, breaking Donna's heart in the process.
Also converging for the wedding: Donna's former backup singers, down-to-earth Rosie (Carly Sakolove) and jet-setting Tanya (Gabrielle Mirabella), along with an assortment of locals who caper about with genial glee.
Alas, their enthusiasm can't compensate for the story's all-too-predictable twists and tissue-thin characterizations. Or the fact that ABBA's cheerful pop ditties (by Benny Andersson and Bjorn Ulvaeus) were never designed to carry any kind of dramatic load, even one as featherweight as this.
But never mind. Better to concentrate on this production's strengths, which range from Anthony Van Laast's energetic choreography to the cast's strong voices. (It's a good thing, too, considering the show's sometimes-muddy sound mix.)
As the feisty Donna, Haege provides a steady, consistently appealing anchor, showing off both technical chops and her rock sensibilities as she powers through the I'm-mad-as-hell "The Winner Takes It All" and the poignant ballad "Slipping Through My Fingers."
The latter provides a rare moment of genuine, noncampy emotion amid all the frivolous fun.
Ultimately, though, it's the frivolous fun that matters to the show's super troupers — and, on that score, this "Mamma Mia" scores.
Contact reporter Carol Cling at ccling@reviewjournal.com or 702-383-0272.
Review
What: "Mamma Mia!"
When: 7:30 p.m. through Sunday, also 2 p.m. Saturday and Sunday
Where: Reynolds Hall, The Smith Center for the Performing Arts, 361 Symphony Park Ave.
Tickets: $26-$129 (702-749-2000, www.thesmithcenter.com)
Grade: B-