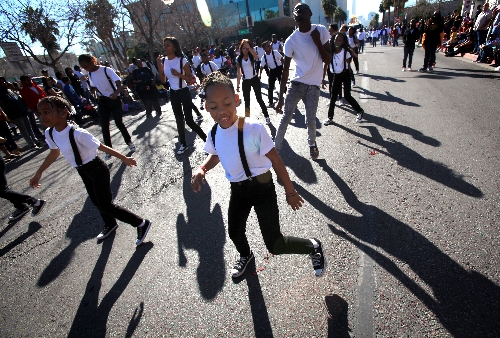 If you don't have to work on Martin Luther King Jr. Day, you should work on Martin Luther King Jr. Day.
According to Wendell Williams, founder of the Dr. Martin Luther King Jr. Committee and former state assemblyman, "The holiday is a day on, not a day off."
It's the only one of the 11 federal holidays to be observed this year that shouldn't be about picnics, barbecues or taking it easy at home, he says. King worked hard for a cause he deeply believed in. To truly celebrate the holiday, Williams encourages others to do the same, whether it's getting involved in community service or just helping a neighbor with a project.
What has become known in town as King Week will provide plenty of other opportunities to observe Martin Luther King Jr. Day, including the popular parade downtown on the holiday, Jan. 21.
Last year, the committee set a goal to include other organizations in the week's events. Reason being, Williams says, is that "we're not the panacea on how we celebrate this holiday."
With that objective, Wednesday is the fifth annual Education Forum, in which the Clark County Democratic Black Caucus "educator of the year" will be honored at Hoggard Math & Science Magnet Elementary School. On Jan. 17, the National Association for the Advancement of Colored People will have an education forum at Pearson Community Center discussing teen suicide and human trafficking.
Including other organizations with diverse causes is the way Williams and Martin Luther King Jr. Day Parade co-marshal Lillian McMorris imagine King would want it.
"This is really a time to realize that being there for everyone is what's important," McMorris says. "(King) wasn't just for African-Americans. He was for Americans."
If he were still around today, Williams suspects King would be appalled by the number of homeless people in the community. He guesses he would be fighting against that, as well as bullying and violence in schools.
That said, the cause King is most associated with, the equal rights of African-Americans, is a fight that still exists today. The keynote speaker at the 31st Anniversary King Banquet, set for 6 p.m. Jan. 19 at The Orleans, is former Saginaw, Mich., Mayor Gary L. Loster . Loster was at the forefront of town hall discussions involving the police shooting of an African-American homeless man in Saginaw last July .
Police said Milton Hall was acting aggressively with a knife and shot at him 46 times, striking him 11 times . Loster called it an "execution." His keynote speech will provide reflection.
Ensuring King's philosophies aren't lost on youth, the Young Dreamers Awards Program at 6 p.m. Tuesday at Second Baptist Church honors students who attend schools with African-American namesakes. One student from each grade is selected based on academic achievement and peaceful behavior.
King Week begins Sunday with the Gospel Explosion event that combines music and praise, and will be geared toward youth. Another Gospel Explosion will be held Jan. 20. Times and locations are to be determined, but both will be broadcast live on KCEP-FM (88.1) for those who can't attend.
The 31st Annual Martin Luther King Jr. Day Parade will take place from 10 a.m. to 3 p.m. Jan. 21 in downtown Las Vegas, starting at Fourth Street and Gass Avenue and proceeding north on Fourth Street to Ogden Avenue. About 100 entries will participate.
"The city of Las Vegas is telling us we're the largest attended parade in town," Williams says. "And we're very proud of that. … But the parade is just a celebration of Dr. King's birthday. We would like it to be a day of helping the community."
For more information on King Week, visit KingWeekLasVegas.com.
Contact Xazmin Garza at xgarza@reviewjournal.com or 702-383-0477. Follow her on Twitter @startswithanx.