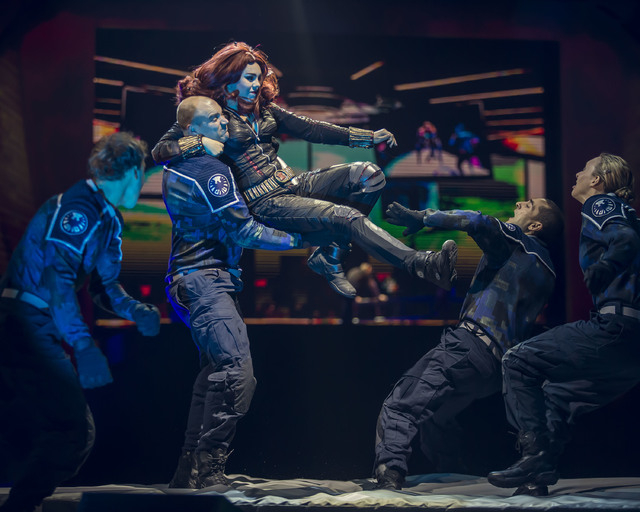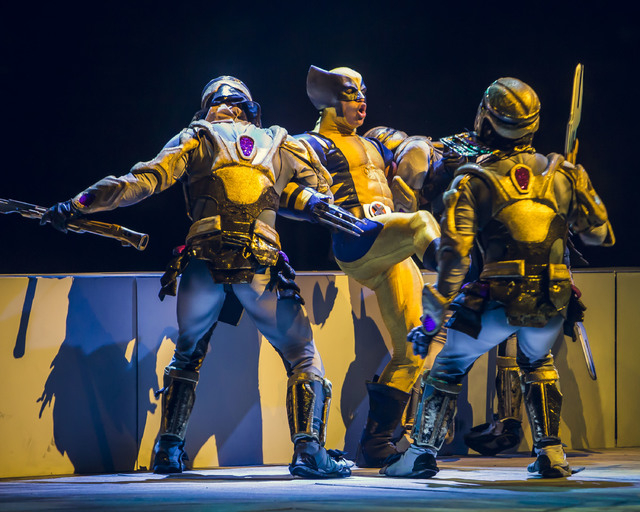 Last summer, Kirkor Kasparian was an average person, for Las Vegas. He did some graphic design, some art and performed gymnastics locally.
On April 23, Kasparian is set to return to Las Vegas as a full-fledged superhero — or perhaps as a super-villain, a henchman, a secret agent or maybe an alien.
Kasparian is a cast member of Marvel Universe Live, planned April 23-26 at the Thomas & Mack Center, 4505 S. Maryland Parkway. It's a different kind of show.
"It's got motocross, explosions, pyro, your favorite superheroes, stuntmen doing high falls, fighting, tricks and flips and cars flipping over," Kasparian said. "It's just an awesome show. Everyone should see it."
Randy Foster, the show's tour manager, said the show can be hard to describe.
"It's the largest show of its kind," he said. "It involves live-action stunts, live-action fight choreography, 3-D projection mapping and a lot of diverse elements. At its heart are the stories and characters taken from comics."
The show includes 25 Marvel characters portrayed by around 50 performers. On the good guys' side there is Spider-Man, Storm, Wolverine and much of the movie lineup from "The Avengers," including Captain America, the Black Widow and Hawkeye, among others.
For the bad guys, there is Loki, the Red Skull, Doctor Octopus, the Green Goblin, assorted Hydra agents and several Chitauri, the alien horde that ravaged New York in "The Avengers" film.
Kasparian was hired for his tricking, a combination of moves from martial arts, break dancing and gymnastics that lend themselves to flashy fighting.
"I've been tricking for about eight years," Kasparian said. "I learned a lot of it on my own or from friends or watching videos on YouTube. It's very free-form. You don't need a skateboard or a special place to practice; just some grass will do."
Several of his friends teach tricking classes at L'Oracle Las Vegas, 7020 W. Warm Springs Road, suites 170-180, and Hardcore Parkour Las Vegas, 3680 N. Fifth St.
Kasparian plays several roles in the show, switching costumes on the fly and slipping into the headline, spandex-clad characters from time to time.
"If I'm a bad guy, I get beat up by the superhero," Kasparian said. "If I'm the good guy, I do flips and beat up the bad guys."
Kasparian has been on the road with the show since September. The Advanced Technology Academy graduate grew up in Las Vegas, and the show has allowed him to see a lot of the country.
"It's a new city every week," Kasparian said. "We explore them all and try to figure them out. I meet up with fellow trickers from all over. It's been great."
The show uses a wide range of performers, including acrobats, stunt performers, stage combat and martial arts experts, dancers and actors.
"That's not even mentioning the finest motorcycle riders in the country," Foster said. "We've got an amazing set with some huge ramps they ride on. It's a big and heavy set; it fills the whole room. It takes up the same footprint as an ice show. The set is pretty static, but we do scenery changes by projection."
Foster was a big comics fan growing up, particularly of "The Uncanny X-Men" and "Thor." He said that just as the films reimagined the Marvel universe, so does the live show, creating a unique version of the Marvel universe that is not directly connected to the world of the comics or the films, but it borrows elements from both.
"The costumes are closer to the comics, for the most part," Foster said. "A few, like Hawkeye, are closer to the movies. The story involves a struggle for power, with characters from both sides trying to gather pieces of the Cosmic Cube. It's two hours of action. It takes your breath away."
Kasparian's parents and brother still live in Las Vegas. He has no fixed address at the moment and isn't sure if he'll move back or head on to Los Angeles when the tour is over. He isn't likely to return to graphic design any time soon.
"I really enjoy the flipping around thing," Kasparian said. "I think that's what I'm going to stick with."
He added that one of his favorite parts of the show is watching children from the audience after it's over.
"It's one of the coolest things, watching the kids practicing cartwheels and stuff," Kasparian said. "You can really see that you inspired them."
To reach East Valley View reporter F. Andrew Taylor, email ataylor@viewnews.com or call 702-380-4532.