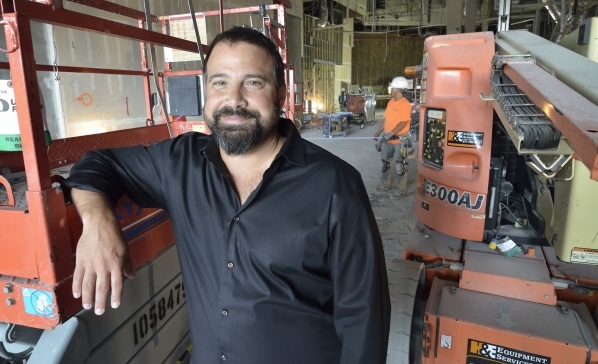 By late 2014, Andy Masi had overseen 26 nightclubs, restaurants and a topless pool in Las Vegas in a dozen years. But this mammoth venture, the Light Group, weighed heavy on his mind.
"Nothing was fun. Every day was a struggle just to get through the mundane. I said, 'I can't do this anymore,'" Masi told me in a private dining room at Red Rock Resort, as a server stood server-silent, pouring aqua in thin glasses.
Masi's partners were in agreement. Light Group (a management company operating businesses in hotel-owned properties) sold its remaining interests to rival Hakkasan for (reportedly) $36 million — and that was after Light Group had sold most of its interests to Morgans Hotel Group for (reportedly) $46.5 million.
"It was a pleasant sale," Masi said calmly, as if we were discussing eBayed sneakers.
Masi next repaired to San Diego with his wife and two children.
"I love them," he said. "Life was great. Everything was good."
But big-money, power-brokering, industry-creating CEO types just can't leave well enough alone.
Two weeks into Masi's San Diego breeze, an old friend phoned.
"Bill McBeath called and said, 'I'm the new president of Cosmo, let's get working on something,'" Masi recalled. "When Bill McBeath calls you up and says, 'Do you want to build a bar in the middle of the Cosmopolitan,' you're a fool to say no."
So Andy Masi, club legend, is back on the scene but not in clubs. He's CEO of CliQue Hospitality, working with Light fixtures Shane Monaco (head of development) and executive chef Brian Massie.
Let's be real. Masi never let go of Vegas. His partners held onto the new Red Rock Resort restaurant Hearthstone. Since then, they have launched Salute restaurant in Red Rock (where we were talking over water).
And ambition resumes. CliQue soon will remake Red Rock's Mercadito restaurant, rebranding it Libre; CliQue is opening two restaurants at Green Valley Ranch (an Italian light farmhouse, and a Mexican place); CliQue will open The Cosmopolitan's "avant-garde" CliQue Bar and Lounge by New Year's Eve.
"And then we have a project I'm not technically supposed to announce, in Mirage, in the next six months, " Masi said. (Masi used to run Mirage's 5,000-square-foot Revolution Lounge.)
The most pressing of these developments is Cosmopolitan's CliQue, a 3,300-square-foot elegant bar with dark, sexy warm colors, designed to hold a boutique number of people, 250.
Unlike Masi's club ventures, CliQue bar will have no cover charge, no $5,000 bottle service, offering itself as a more democratic meeting place, a la his old Lily lounge in Bellagio.
Get this: CliQue's intention is to be patterned similar to downtown Las Vegas' hipster scene.
Downtown has become so successful, these storied club executives are now looking to spread downtown's not-a-club vibe to the Strip.
"I think there's pushback" to the expensive club scene that Masi helped create, Masi said.
"I think the reason downtown is getting cooler and cooler is because you're able to walk into a bar, and get a drink, talk to the girl next to you, talk to the guy next to you, talk to the bartender, pay 20 bucks and you actually get some change back," he said.
"I don't want to take away the incredible thing (the nightclub scene) is for most people," he said. "If you're from anywhere in the world and you walk through that, you'll go, '(Expletive), this is awesome.'"
But he claims he's done with clubs.
"Trying to figure out what a 21-year-old girl wants in a nightclub is something I've long passed wanting to do," Masi said.
His timing is right.
"A lot of clubs didn't make any money last year — a lot of clubs," he said. "I don't mind working 20 hours a day, seven days a week. But tell me I made no money out of it? I've got a problem with it."
The problem: Clubs overbuilt, and DJ and performer prices ran amok, costing hundreds of thousands per night, a cost passed onto customers.
"It's hurt Vegas," Masi said.
At CliQue in the Cosmo (where Book & Stage was), Masi is aiming for a demographic he calls "psychographic," a psychological demographic capturing twentysomethings who crave maturity and fortysomethings and fiftysomethings desiring youth.
"So you hit this sweet spot of what you would think of, psychologically, as mid-30s: 35 years old; and what that customer wants."
Yes, 35 is the new 35.
What does Masi miss least from clubs?
"Getting home at 5 a.m. And my kids waking up at 6," he said.
But he has returned. He remains friends with his clique of club rivals.
"It's a very, very small circle — me, Sean Christie, Jesse Waits, Jason Strauss — we all grew up in this business together," he said. "Sure, there have been days where you're like, '(Expletive) him, (expletive).' But the next day, you're out having a drink with the guy, it didn't mean anything that somebody spent more money than you did on a DJ, move on."
Fortunately for Masi, he abided Las Vegas' No. 1 rule: Don't burn any bridges; it's a go-along-to-get-along town.
"I can sleep at night," he said. "I didn't (screw) anybody over. I'm not crying over a dollar I got or didn't get. Tomorrow is a new day. What can I do tomorrow?"
Doug Elfman can be reached at delfman@reviewjournal.com. He blogs at reviewjournal.com/elfman. On Twitter: @VegasAnonymous