Mayweather, Pacquiao fight 'will shatter every record'
February 20, 2015 - 10:36 pm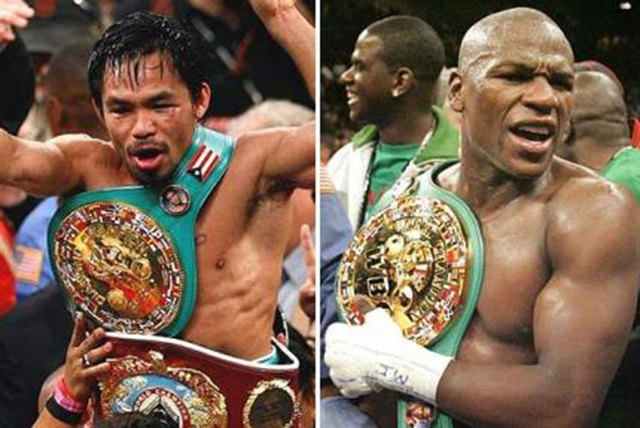 Seats might cost as high as $5,000 each for the first 25 rows of the May 2 fight at MGM between Floyd Mayweather and Manny Pacquiao — a match that "will shatter every record," ticket broker Ken Solky predicts.
"It will be the largest live gate. It will be the largest pay-per-view. It will be the largest purse for both fighters," Solky, owner of LasVegasTickets.com and 1-800-Las-Vegas, told me Friday.
"The exact face values for the fight have not been officially announced, but it's believed the top face value will be around $5,000, roughly three times more than (Mayweather's) last fights," he said.
The next rows of seats could be somewhere in the $3,500 range.
Solky's understanding is pay-per-view purchases will cost in the $85 range, or $95 for high definition.
The much-anticipated fight was announced Friday while I was talking with Solky, and his phone immediately started ringing from boxing fans. One Toronto client demanded 10 seats.
"I hope you've been saving your money," Solky said with a laugh to his VIP client.
"People have been waiting for this announcement forever," Solky said. "This is the fight of all fights."
The match happens 10 weeks from Saturday, the same weekend as Cinco de Mayo celebrations, and the Kentucky Derby.
Solky said he'll sell lots of access for rooms, meals, and pre-fight hospitalities to those fans — who will fly in from around the world, especially since Pacquiao is from the Philippines.
Solky expects our hometown Mayweather will win.
"I think both fighters are excellent. I believe Floyd will win the fight easily," Solky said. "He is 'TBE,' the best ever."
The fight is good economic news for Las Vegas in a year that has already been earning a "fantastic reaction" from tourists for concerts, Solky said.
Solky usually tells me which big-name celebrity shows are hurting for sales. But he doesn't have bad news, he claimed.
"It's all positive" thus far in 2015, he said. "There's a definitive shift — and a positive reaction from the buying public — to the top-name, many residencies" across the Strip.
"To book headliners like Diana Ross," he said, means promoters and bookers "are aiming pretty high. They're doing a great job of filling rooms with stuff the buying public wants to see."
He said promoters are pleasing a variety of fan tastes, with Mariah Carey, Elton John, and Reba McEntire/Brooks & Dunn at Caesars Palace; Britney Spears at Planet Hollywood; Rascal Flatts, Journey, Kiss, and Mötley Crüe at the Hard Rock Hotel; and the many acts at the Cosmopolitan and House of Blues.
He said price points for shows are being well-thought-out for fans of varying means, often ranging from $60 to $300, with big demographic "feeder" tourists calling him from Southern California, Canada, London, the rest of Europe, Mexico, South America, Brazil, and Asia.
"This is the most optimistic I've heard you in five or six years," I said.
"It's true," he said. "It's a rising market. It's a definitive sign that the economy throughout the country, the world, and right here in Las Vegas has been on the rise.
"You've got people out there whose houses have appreciated in value, whose job situation is getting steadier, interest rates are still low, and it's making it a lot more affordable to come here and be entertained."