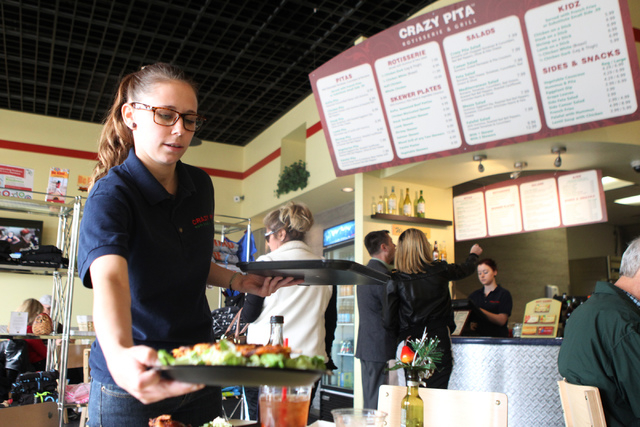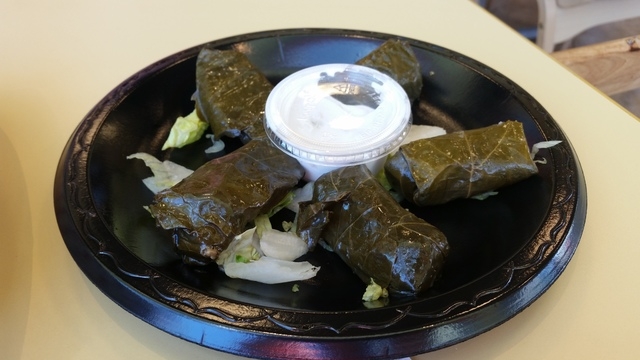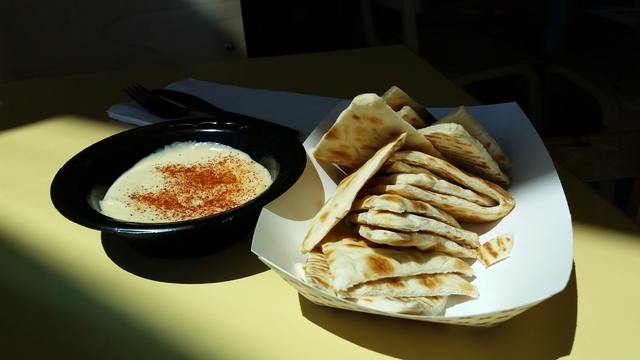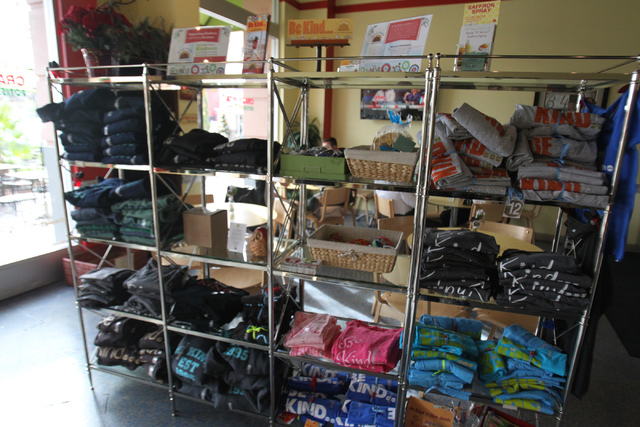 There are a lot of fast-casual places where you have to sacrifice some flavor and quality for a speedier meal. Crazy Pita Rotisserie & Grill is not one of those places.
A recent visit to the local franchise's third location, at Downtown Summerlin, saw me ordering, paying for and enjoying my lunch within a time span of less than 10 minutes. You're probably thinking, "So what? I can get a burrito at Chipotle in that amount of time." Sure, you can, but anyone can direct burrito assemblage. Here, the ingredients in your chicken, steak, shrimp, lamb or kefta (seasoned ground beef patties) pita have been artfully combined by someone who probably has a more sophisticated palate than you do when it comes to Mediterranean food: Crazy Pita owner Mehdi Zarhloul.
A native of Morocco, Zarhloul has poured his culinary heart and soul into his Crazy Pita restaurants, which serve a selection of — along with pitas — salads, skewer plates and rotisserie chicken. I started with a regular-size order of hummus and pita ($4.29, which could easily feed two to three people). The hummus was fresh and creamy, while the pillowy pita bread was served warm and was savory enough to be enjoyed on its own. If you're low-carbing it, the salads here won't leave you feeling like you're missing out: the Mediterranean can be topped with any skewer meat and includes romaine, tomatoes, cucumbers, red onions, roasted red bell peppers, roasted cauliflower, artichoke hearts and olives ($7.99).
Those roasted red peppers also made an appearance in my marinated chicken pita, melding well with the grilled chicken, diced cucumber and light hummus sauce. Pitas are $8.99 ($7.99 for vegetarian or falafel options) and come with french fries, or you can substitute a small side for 99 cents.
The rest of the main menu features the rotisserie chicken meals, served with hummus and feta salad ($7.99 to $19.99 for a whole chicken), and grilled skewer plates ($8.99 to $12.99) with the same meat choices as the pitas, along with salmon, or you can select two skewers for a mixed grill. Plates come with hummus, feta salad and vegetable couscous.
The Sides & Snacks menu includes grape leaves ($3.99 for a regular order or $6.99 for a large), which are served cold and are stuffed with a vegetarian-based filling.
The Downtown Summerlin location featured a large, family-friendly dining room with tables and chairs, plenty of windows, a couple of flat-screen TVs and an open kitchen. There's also one of the popular high-tech soda machines that allows you to select from multiple flavors and combinations, as well as bottled beverages.
The restaurant also sells a selection of merchandise to benefit the Josh Stevens Foundation, of which Zarhloul is an active supporter, including the "Be Kind" T-shirts sported by many of the wait staff.
During the summer, happy hour is 2 to 6 p.m. daily, with half off beer and wine, and Crazy Pita at Town Square Las Vegas recently debuted its Paint-Drink-Dine events, done in partnership with Paint and Party Las Vegas. For $30 per person, you can enjoy beverages and one appetizer per table while creating your own masterpiece to take home. The next one is set from 6 to 8 p.m. June 30. Reservations are required.
Catering packages are available. Crazy Pita Rotisserie & Grill is open from 10:30 a.m. to 9 p.m. Monday through Saturday and 10:30 a.m. to 8 p.m. Sunday.
Crazy Pita Rotisserie & Grill
The District at Green Valley Ranch, 2225 Village Walk Drive, No. 175, 702-896-7482
Town Square Las Vegas, 6587 Las Vegas Blvd. South, No. 190, 702-778-3310
Downtown Summerlin, 10975 Sage Park Drive, No. 100, 702-750-2118
crazypita.com