Members of Huun-Huur-Tu sing from the throat
November 14, 2008 - 10:00 pm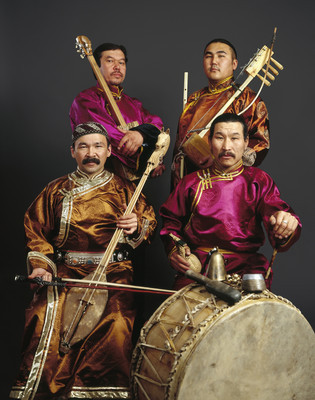 Questionable connotations surely KO'd calling them The Deep Throats.
Which, of course, leaves Huun-Huur-Tu.
Exotically named, they practice an exotic art called throat singing, producing a primal power and gravelly beauty along with a flutelike lilt that will envelop the Winchester Cultural Center on Sunday for the next entry in the World Vibration Concert Series.
The sound largely defies description, but the technique doesn't. Known also as overtone chanting, the style requires a performer to sing not just the note but its overtone by manipulating harmonic resonances that are created as air travels from the lungs and past the vocal folds. That enables singers to control two tunes simultaneously.
Very Music 101-ish for those fascinated by vocal mechanics, but the more basic pleasure is letting this strangely seductive sound wash over your ears and settle into your brain. Born in Tuva, a small republic in Southern Russia on the Mongolian border, it is rooted in human mimicry of domestic animals, as well as sounds perceived as emanating from elemental forces of nature — mountains, grasslands wind, water and light. And Tuva's open landscape is ideally suited for the music, allowing it to echo far into the distance.
Still can't quite hear it in your head? Try the DVD of "The Simpsons Movie," featuring Homer throat-singing with an Inuit woman in search of an epiphany. Or an episode of HBO's "True Blood," the music wafting through some scenes as a background soundtrack. Or a CD of death-metal band Job For a Cowboy, which employs a vocal effect in which the singer creates such deep movements in the throat that it releases a higher-pitched overtone that blends with the music to approximate the sound of a little piggy squealing, dubbed, appropriately enough, the "pig squeal" technique.
Translated variously as "Sunbeams" and "Sun Propeller," Huun-Huur-Tu lend their singular talents of tonal duplication to traditional Tuvan folk songs, enhancing their throaty exertions with exotic instruments known as the igil, khomus, doshpuluur and tungur (shaman's drum), among others.
Ladies and gentlemen … The Deep Throats.
Contact reporter Steve Bornfeld at sbornfeld@ reviewjournal.com or 702-383-0256.
Preview World Vibration Concert Series featuring Tuvan Throat SingersHuun-Huur-Tu 2 p.m. Sunday Winchester Cultural Center Theater, 3130 S. McLeod Drive $7-$10 (455-7340)