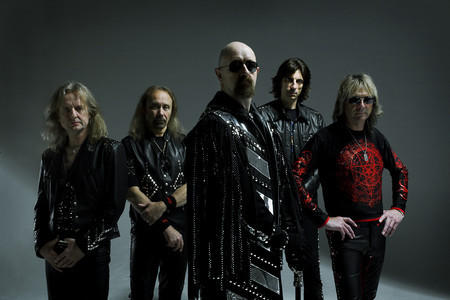 He remembers not sleeping very much, getting awakened in the middle of the night by a sound that soon would galvanize longhairs the world over.
It was close to 30 years ago, and Judas Priest frontman Rob Halford and his bandmates were tracking their most seminal, influential album, 1980's "British Steel," a record that would double as sort of a heavy-metal Mount Olympus.
"We recorded and wrote most of the music for 'British Steel' in John Lennon's former residence just outside of London," Halford recalls from a tour stop in California recently, speaking softly and deliberately. "If you're familiar with the very famous John Lennon 'Imagine' song where he's playing the white piano, that was the room where Glenn (Tipton, guitarist) was cranking out the chords to 'Living After Midnight' at three o'clock in the morning. My bedroom was right above that room. That's what inspired that title. It's a very, very vivid memory. I can see the whole house in my mind as I'm talking to you now."
Three decades later, Priest is celebrating that watershed disc on tour by playing the album in its entirety.
And what an album it is, nine tracks of cheetah-fast twin-guitar leads, a stampede of hydraulic-sounding double bass drumming, great major melodic chord patterns and Halford's inimitable, glass-shattering, banshee-boiling-in-a-vat-of-tar scream.
Whereas peers such as Black Sabbath and Motörhead were all about feel and a kind of ragged, riff-heavy, stoned, go-for-broke bluster, Priest was more preoccupied with precision, technical explosiveness and incisor-sharp hooks, all of which the band sharpened to a fine point on "British Steel," an album of direct, straightforward, fist-in-the-air anthems.
"Steel" certainly wasn't the first heavy metal album, but it was among the very first self-aware heavy metal albums. Metal as a genre didn't exist when Priest debuted in the early '70s. They didn't have many precursors, save for Sabbath, and the culture of metal was something that gradually began to develop around the band.
By 1980, Priest had come to embrace this fledgling genre, penning some of the first self-referential metal calls-to-arms and establishing the scene's soon-to-be-trademark, leather-and-chains-smothered aesthetic.
Basically, Priest gave metal a look, a uniform that others could embrace and feel like they were a part of something bigger than themselves.
"It was a meshing of a lot of things, wasn't it?" Halford says of the impact that "British Steel" had on the popularization of metal. "We'd been around the world a couple of times and we'd made our mark. We'd talked to the press and we'd talked to radio, and everybody was aware of this growing development of this specific type of sound in rock 'n' roll called 'metal,' and it was gaining a foothold at a remarkable speed.
"It was as though everybody was waiting for something new to happen," he continues, "much like some of the things we've seen since that time, with the Seattle scene and bands like Nirvana and more recently, with bands like Linkin Park. All of these things happen as they need to in rock 'n' roll, to keep things fresh and new. That was definitely the vibe that was surrounding 'British Steel.' Looking back, you see everybody coming together and saying, 'Yeah, this is for me. This is my music for my generation. I am now officially a metalhead because I've found a music that belongs to me.' And the movement suddenly started to swell and grow."
And it hasn't stopped since.
In many ways, Priest was the first band to establish heavy metal as an identity, giving a face to a style of music that was just beginning to impact the mainstream. (Some lightweights like to call bands like Led Zeppelin and Van Halen metal, which is kind of like equating Budweiser to whiskey. As great as those groups might have been, they were hard rock, not heavy metal.)
But no one has ever questioned Judas Priest's metal bona fides.
And a lot of that has to do with an album as lasting as "British Steel," whose durability rivals that of its namesake.
"I don't think you realize the potential of what your music is doing until many years after the fact, and that's certainly the case with 'British Steel,' " Halford says. "Thirty years later, we kick off the set with 'Rapid Fire' and it's just amazing. It fits so well into the 2009 metal scene. It's just a bunch of songs that have stood the test of time. They're still able to provoke and create a reaction. And that's what rock 'n' roll should be all about."
Contact reporter Jason Bracelin at jbracelin@ reviewjournal.com or 702-383-0476.
Preview
Judas Priest
7 p.m. Saturday
Thomas & Mack Center, Tropicana Avenue and Swenson Street
$28 (739-3267)