Michael Grimm says he feels blessed to be a part of 'America's Got Talent,' hitting Caesars today
October 7, 2010 - 11:00 pm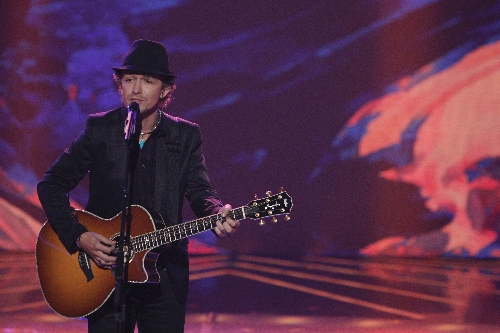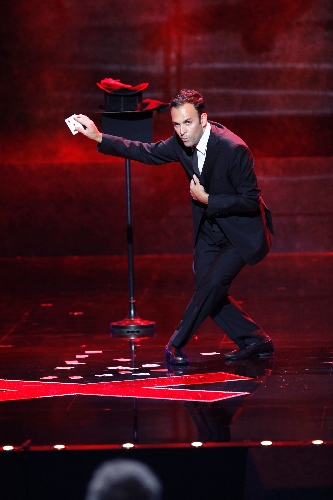 "America's Got Talent" steps off the TV screen and onto the Vegas stage tonight, bringing us two Michaels with amazing claims:
1. A singer from Las Vegas who beat the odds-on-favorite to win the thing.
2. A magician who isn't from Vegas.
The week-old tour includes the soulful voice of winner Michael Grimm — once a steakhouse entertainer at Green Valley Ranch — and the illusions of Michael Grasso.
"I mean this in a positive context, but it's like going on a circus with all these different acts. I'm just blessed to be a part of it," Grimm says of the tour that rolls into the Colosseum at Caesars Palace today.
The circus comparison is certainly fair when you factor in host Jerry Springer, an operatic peacock named Prince Poppycock, the black-light acrobats Fighting Gravity, 12-year-old ballroom dancers Anna and Patryk and Jackie Evancho, the 10-year-old with the big voice who seemed destined to take it all home.
The day after the finals, the 30-year-old Grimm proposed to his girlfriend, Lucy Zolcerova, on "The Ellen DeGeneres Show." He also reportedly signed a deal with Epic Records. "I'm just not sure what's going on," he says, "and I just feel like I would jinx myself" to talk about it before the details are ironed out.
The singer also has been "on the phone a lot" with the architect designing the Mississippi house he promised to build for his grandmother after hers was destroyed by Hurricane Katrina.
Fans of the NBC talent show know his grandmother raised him and two other grandchildren, after seven of her own children. "I'm just so happy I can do something for them," Grimm says. They were the ones who motivated him. "I need them to see that I made it."
Last year, Grimm says he went on the road as Righteous Brother Bill Medley's guitarist after nobody showed up for a Los Angeles showcase he staged for record label executives.
"I wound up taking Bill up on the offer to go play with him and get my thoughts together on what I want to do with my life," he says. That's when he got the surprise call from "Talent," encouraging him to fly out and audition again, even though his tryout the previous season didn't even result in a callback.
"Winning the thing, I still can't believe that. I was down in the dumps, bad, man," he says. "Whatever my ambition was, I lost it."
Now he's trying to get his arms around the notion of playing the Colosseum. "That's probably going to be very surreal."
"I can't wait for the day there will be a big billboard of me at one of the big casinos on the Strip," he adds. "That's my next goal here."
Magician Grasso not only bested three local illusionists — Murray SawChuck, wild-card winner Dan Sperry and fire-wielder Antonio Restivo — but has managed to make a living outside Las Vegas.
Grasso instead worked high-end parties and opened for musical acts by setting his magic to live music.
"We have a three-piece band, and the front man's basically a magician," he explains. "If it is at a rock venue, they still get the feel of live music."
Like SawChuck, Grasso realized his manipulation wouldn't get the big wows on television, so he stepped up to showier magic.
"I kind of knew that Murray was coming with some large-scale illusions, so I'm thinking, 'What are they going to want to see? An unbelievable skill of dexterity?' "
He credits his victory in part to new assistant Lindsay Browning. "She's a powerful female presence, which isn't really seen a lot in magic." And Grasso notes that he kept his own look "classic and timeless."
"You've really got to portray this character of a magician," he explains. "You've got guys coming out in jeans, they're all rocked out. They look like someone from the audience."
Wonder who that could be?
Like Grimm, Grasso expects the former competitors will pull together as a team and enjoy their time on the road. "Even during the competition, everyone was really cool," he says.
"Everyone knew how much hard work was going into these acts. In the green room, everyone had their fingers crossed for everyone else."
Contact reporter Mike Weatherford at mweatherford@ reviewjournal.com or 702-383-0288.
Preview
"America's Got Talent Live"
7:30 p.m. today
Colosseum at Caesars Palace,
3570 Las Vegas Blvd. South
$39.50-$99.50 (731-7333)