Miss District of Columbia crowned Miss USA in Las Vegas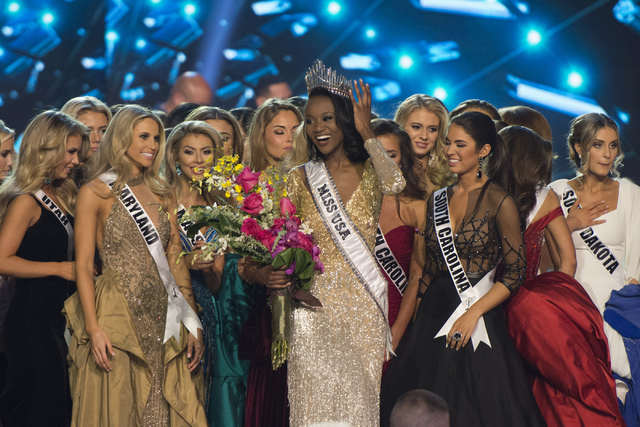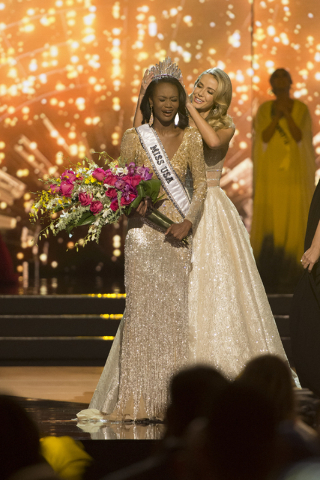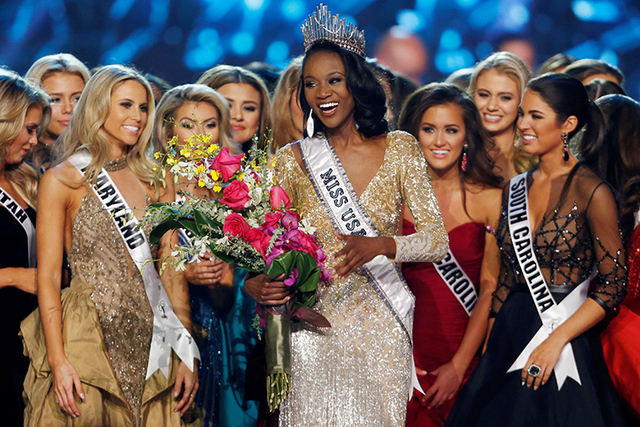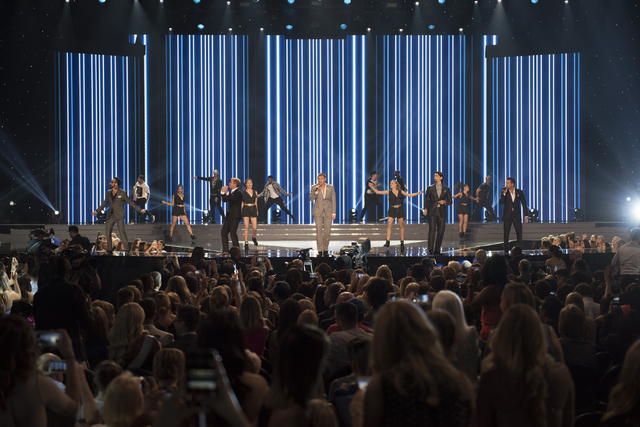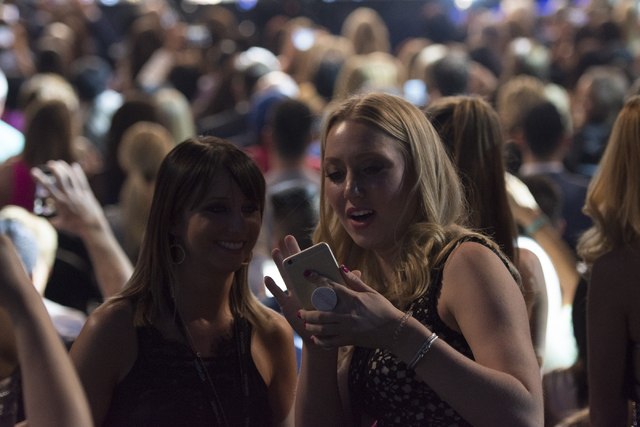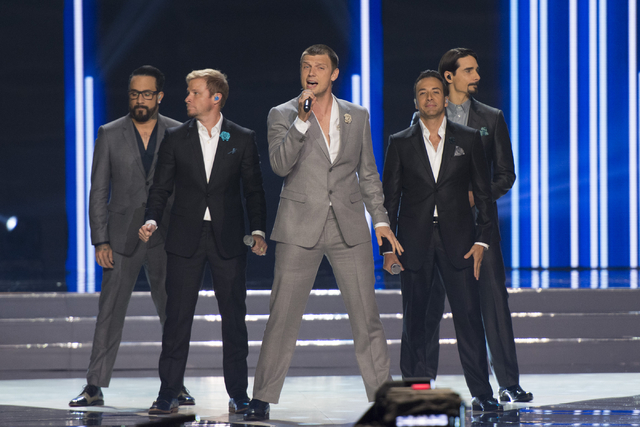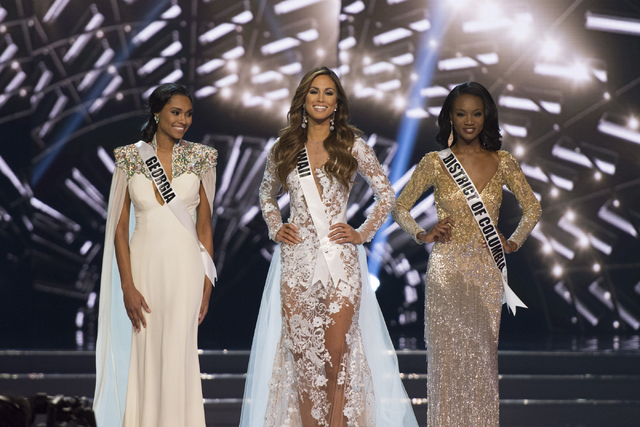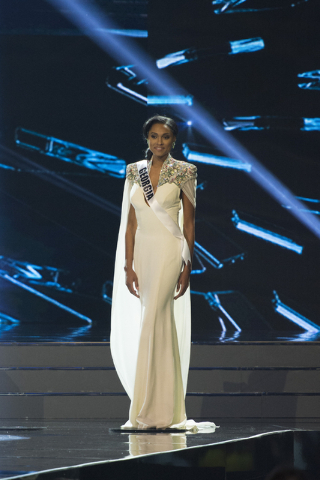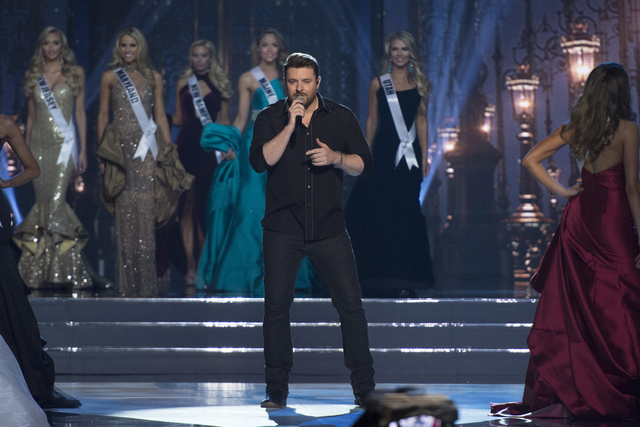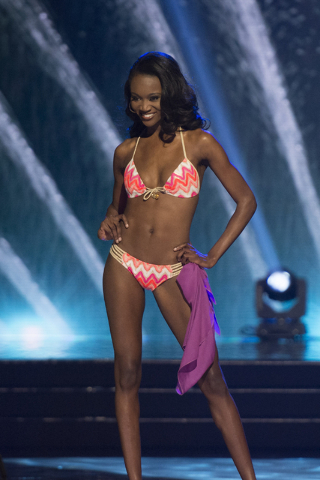 Wearing a gold-spangled gown, Deshauna Barber from the District of Columbia was crowned Miss USA Sunday night, a glamorous contrast to the camouflage uniform she wears as a 26-year-old commander in the U.S. Army Reserves.
The Miss USA 2016 pageant promoted the importance of positive self-image while airing videos, photos and rear-end close-ups of thin, like-bodied women in barely-there bikinis and workout clothes.
Plus-size supermodel and backstage host Ashley Graham was kept, well, back or offstage, even during much of the live broadcast, which was at the T-Mobile Arena.
"I am so happy to be here as a curvy woman," she said at the end of the swimsuit competition, sharing her optimism that the world of pageantry will someday include all shapes and sizes of women.
Except for those remarks, the Sports Illustrated cover girl's brief body acceptance testimony at the beginning of the show and minute-long segments from the women's dressing room, where she stood in a tight, shimmering gold gown in front of scantily-clad contestants getting ready in the background, the competition's unofficial campaign was heard only from the beauty queens.
Miss California, 20-year-old Nadia Mejia, echoed Graham's sentiment in a video announcing her matriculation to the top 15 swimsuit portion of the competition after winning the fan vote.
"I let someone else's opinion of me determine myself worth," she said.
After winning her battle with anorexia, she vowed that wouldn't happen again.
Some of the other contestants were featured in a video with the slogan "define beauty." In it, adjectives unrelated to looks, like "adventurous," alongside video of a woman jumping out of a plane, were used to describe what makes someone beautiful.
The quantity of adventure each woman had in her life had little to do with her placement in the competition, since judging was based on a swimsuit catwalk and evening gown modeling. Only a spray-tanned few were selected to open their mouths and speak to those who would decide their futures. An interview determined the final outcome.
Still, co-host Julianne Hough affirmed, "it takes a lot more than good looks to take the Miss USA title," while introducing a video themed "confidently beautiful," which boasted one contestant in the military and one with a doctorate, who "defy the (beauty pageant) stereotype," according to Miss Washington, Kelsey Schmidt. That phrase would come up again when the top three contestants, from Georgia, Hawaii and District of Columbia, would describe it in the final round as loving oneself, staying humble and the idea that everything is not about appearance.
Dismissing the months, maybe years, of training and coaching, co-host Terrence "J" Jenkins, formerly with E! News, described the anxiety each woman must feel before being interviewed with, what he called, "no preparation."
"Take a deep breath, and let the nerves go," judge Ali Landry said as asking the first question.
Apparently no amount of oxygen could spare some of the women from questions about the economy, women's rights and the presidential race.
Miss California lost her footing when asked how she felt about the class gaps in America, then was forced to stop midanswer as her time expired; Miss Georgia struggled when she said educating children would help remove the challenges associated with recent changes to voting guidelines; and Miss Alabama knew only of the late Muhammad Ali's contributions to sports when prompted to explain what he should be remembered for.
But Barber handled a question about the Pentagon's decision to allow women to perform all combat duties deftly. She smiled broadly and relished the moment to weigh in on a topic close to her heart.
"I think it was an amazing job by our government to allow women to integrate into every branch of the military," she said, the crowd roaring in approval."We are just as tough as men. As a commander of my unit I am powerful, I am dedicated, and it is important that we recognize that gender does not limit us in the United States Army."
The final decision was in the hands of former Miss USAs Crystle Stewart and Landry, the last woman to wear the crown after sporting a one-piece swimsuit over 40 years ago, Laura Brown of Harper's Bazaar and Joe Zee, editor-in-chief and executive creative officer at Yahoo Fashion, who judged.
Barber, replaces last year's winner, Olivia Jordan of Oklahoma, as Miss USA.
Miss Nevada, Emelina Adams, was out in the first round, along with the first-ever fan-voted contestant, Alexandra Miller, who wasn't on the official contestant list reporters received before the show.
Las Vegas Review-Journal writer Sarah Corsa contributed to this report. Contact Kimberly De La Cruz at kdelacruz@reviewjournal.com or 702-383-0381. Find her on Twitter:@KimberlyinLV.