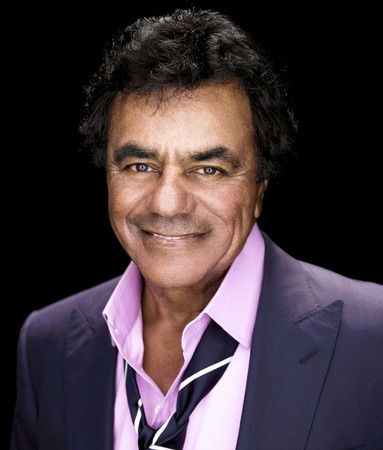 When I was a little kid, I heard a comedian joke about Johnny Mathis' level of attractiveness. Mathis was known for singing "Misty": "Look at me, I'm as helpless as a kitten up a tree." The comedian sang his joke like this: "Look at me, I'm as pretty as a person can be."
Not a year has gone by that I haven't sung that joke at least once. I told that to Mathis — who performs today in Primm — and naturally he laughed, then he went down memory lane about the creation of "Misty."
"When I was about 13 years old, I used to frequent a jazz club in San Francisco, and I heard the guy, Erroll Garner, who is the composer, play that song," Mathis says. "He was a big star."
In fact, when Mathis was 13 in 1948, "Misty" already was a wordless standard in jazz circles. Eventually, Johnny Burke wrote the lyric.
"And," Mathis says, "if you can imagine a 13-year-old kid talking to the great Erroll Garner, I told him I certainly was going to record his music whenever I got my record contract."
Years passed. Mathis was discovered and promoted as a phenom. Then at age 24, he finally got to "Misty."
"I ended up in a recording studio with that song to sing. And who walks in the studio but Erroll Garner, and he sat there and listened to me sing his song."
At the time, Mathis' "Misty" charted well but didn't make the top 10 pop chart. It became "just, you know, another pretty song," Mathis says.
"But over the years, I got associated with it, and it really kind of made a big impact on my career."
Garner's "Misty" was resurrected in 1971 as the theme for Clint Eastwood's sinister stalker movie, "Play Misty For Me." So for a while in the 1970s, "Misty," was just Creepy Song.
The movie faded, but the song has not, in its world of soft vocal standards.
Mathis' career propelled upward thanks to other movies. He sung on screen in some. For others, he vocalized themes.
The one movie theme he missed out on was 1958's "The Long, Hot Summer," the William Faulkner drama that led to the romance and marriage of co-stars Paul Newman and Joanne Woodward.
Mathis was asked to record the single for "Long, Hot Summer." But he already was slated to vocalize a film single called "A Certain Smile."
Mathis was faced with a tossup: to sing either "A Certain Smile" or "The Long, Hot Summer," which was recorded instead by Jimmie Rodgers.
"But other than that," he says, "I've been pretty lucky and been able to record any of the good stuff that was given to me."
Oddly, quite a few of Mathis' non-"Misty" records were not transferred to CD until the summer of 2008, which seems unlikely. But Mathis has a cold-eyed view.
"The record companies probably realize kids nowadays, who buy records, have never heard of me," he says.
Mathis says some of his records still sell pretty well, especially Christmas music.
More important, he's excited to play Primm's Star of the Desert Arena.
"I'm looking forward to having a new venue to play. I'm performing with a good buddy of mine, (comedian) Gary Mule Deer. I met him at a golf tournament years and years ago. He's a very, very nice guy and very funny."
Mathis spends his days as he has for years. He goes to a gym by 6 a.m. and works out until 7:30 a.m. He stops by a food market, goes home, cooks, leaves the food behind to go golfing, then returns home to eat.
"I've been on this program for about 12 years," ever since a golfing buddy (a kinesiologist) heard Mathis complain about his hip and put him on an exercise routine, he says.
The exercise is good for his voice, though he doesn't worry about that.
"After you get to a certain age, you get pretty secure about what you can do, vocally. At least, I do. I spend a lot of time not talking. That wears the voice down, too much talking or too much anything, really.
"It's a demeanor you learn over the years. Instead of talking aimlessly, you limit yourself. It suits my personality anyway. I'm kind of a low-profile person.
"I've got my routine down. It seems to work."
Apparently so. He turns 75 this year.
Contact Doug Elfman at delfman@reviewjournal.com. He blogs at reviewjournal.com/elfman.
Preview
Johnny Mathis
9 p.m. today
Star of the Desert Arena at Buffalo Bill's, Interstate 15 South at Primm
$49.45-$71.45 (800-386-7867)