Mixed competition: Bartenders flex creativity in Las Vegas cocktail contest
January 1, 2017 - 9:06 pm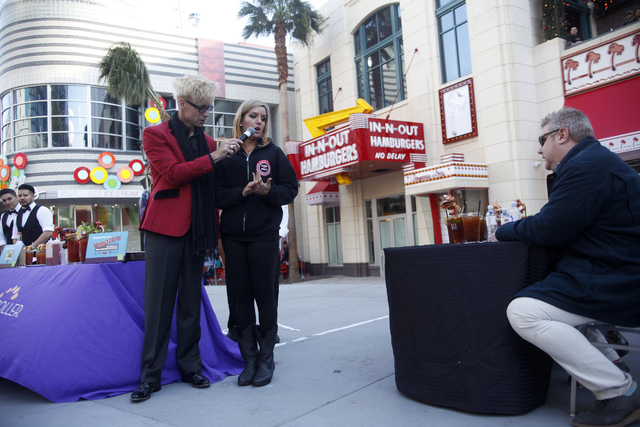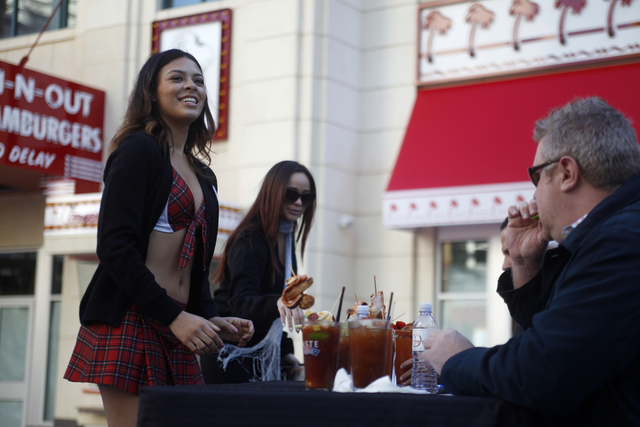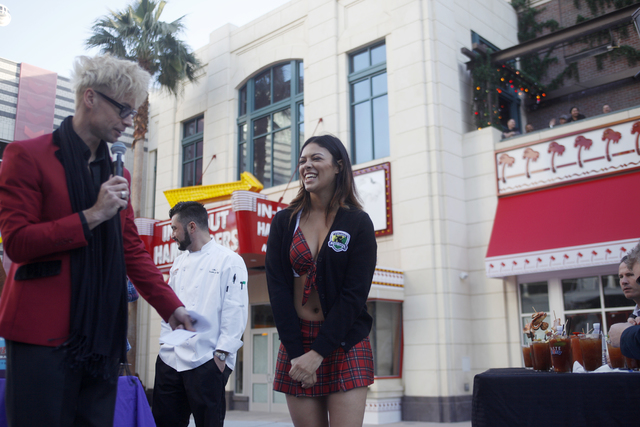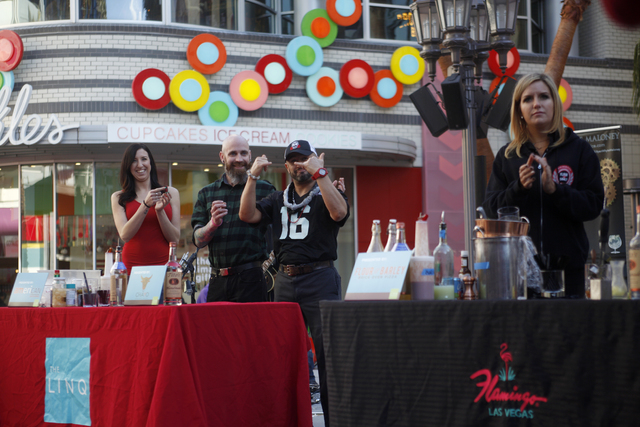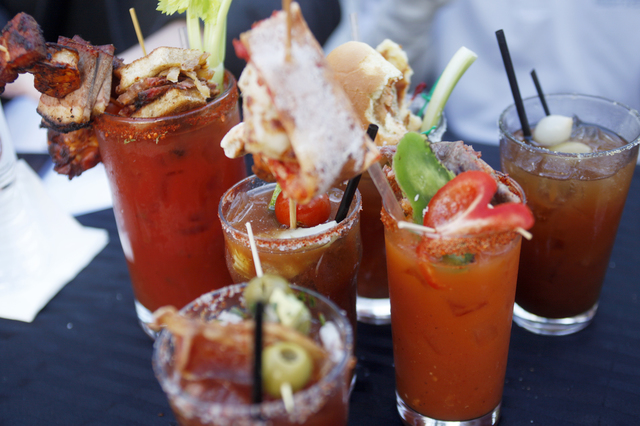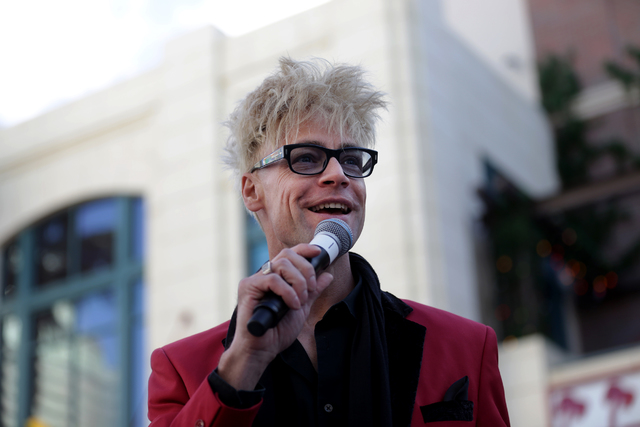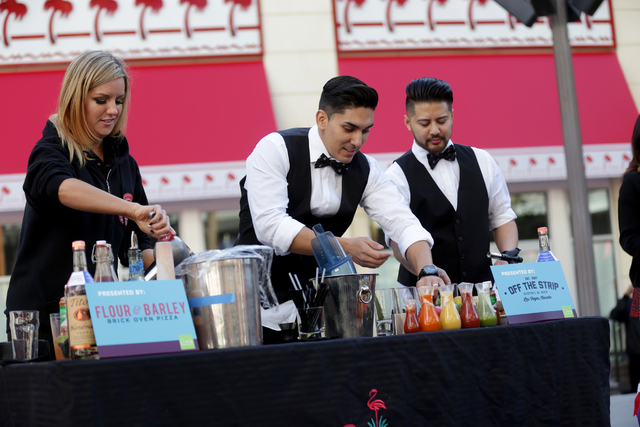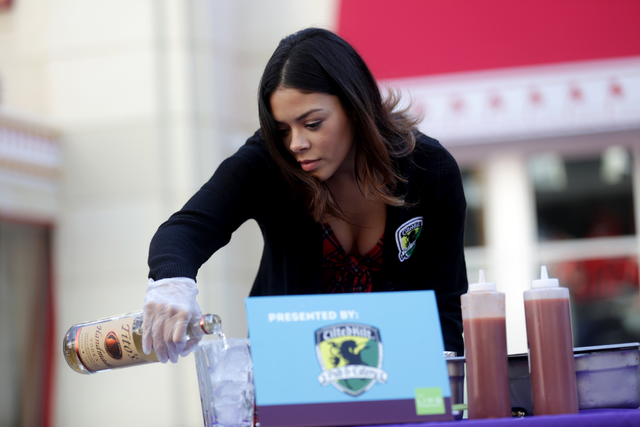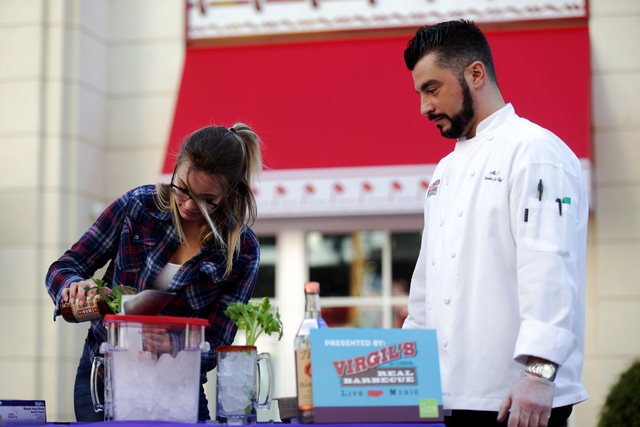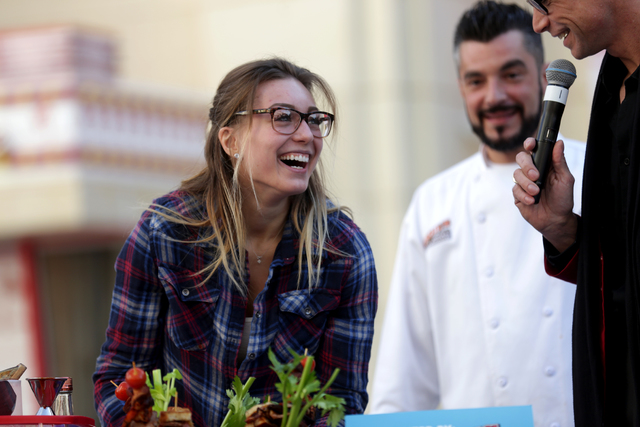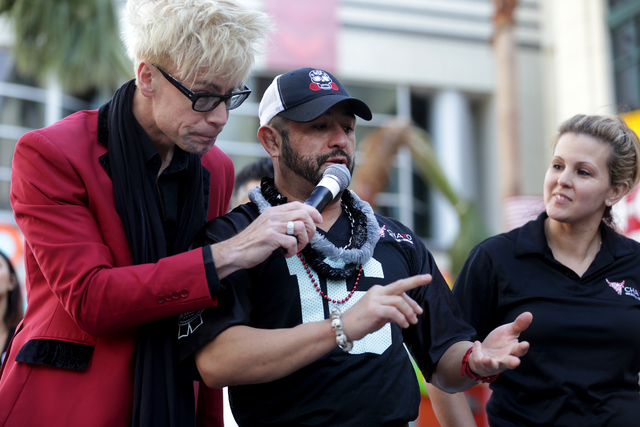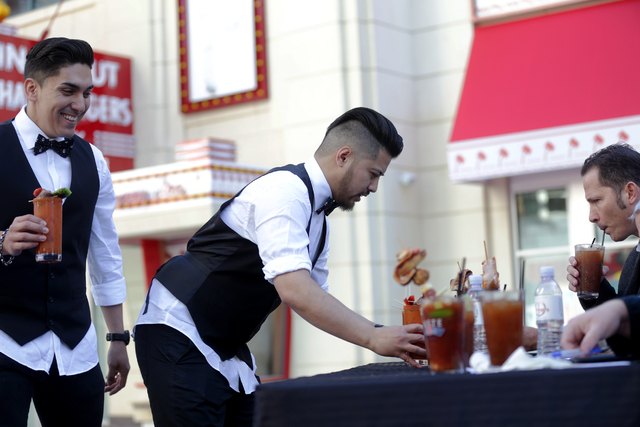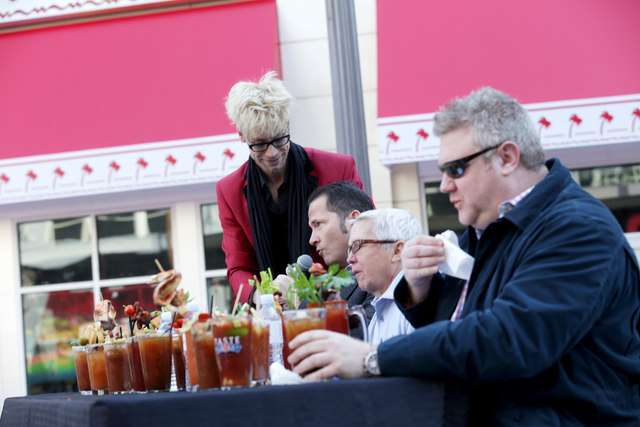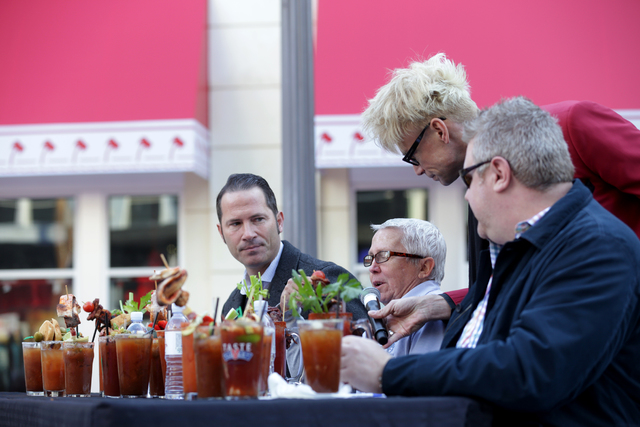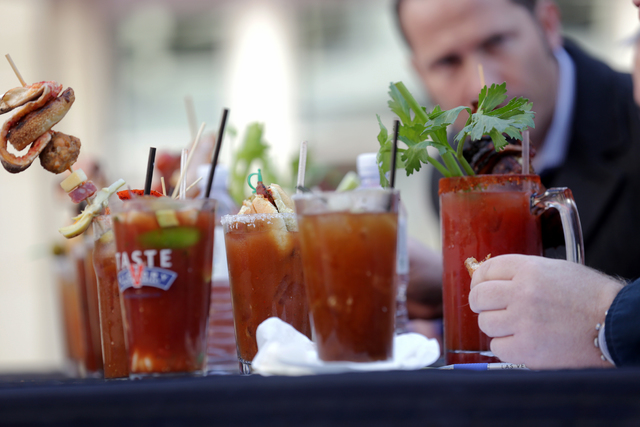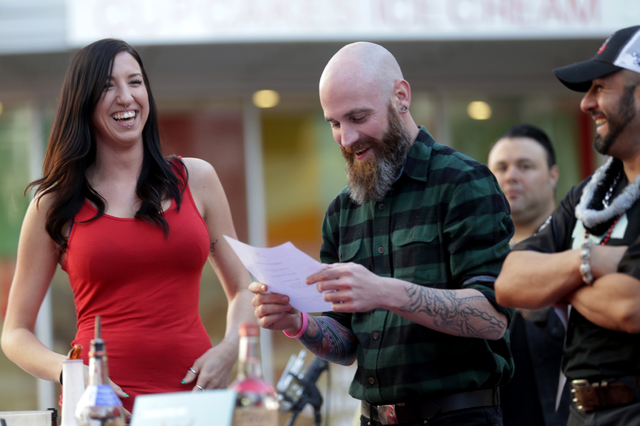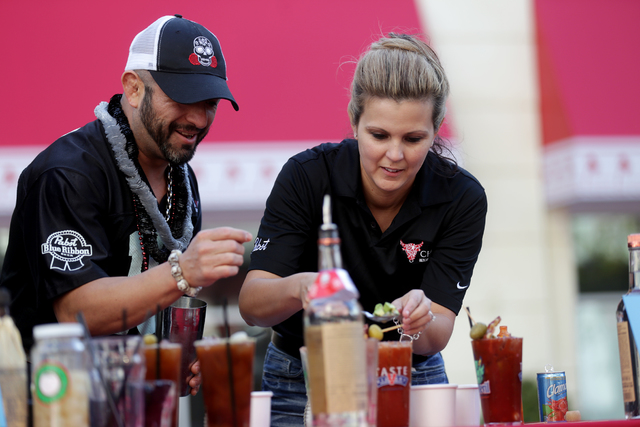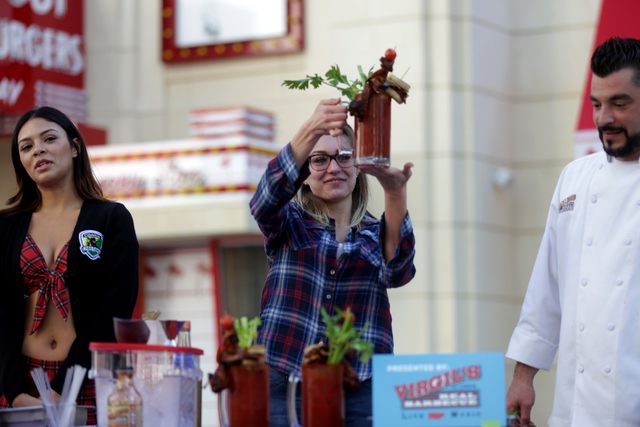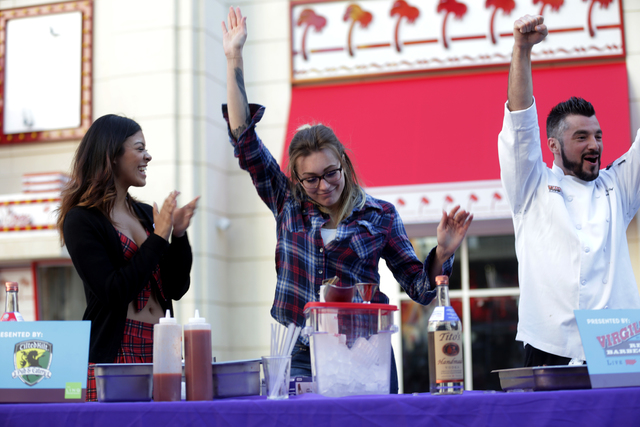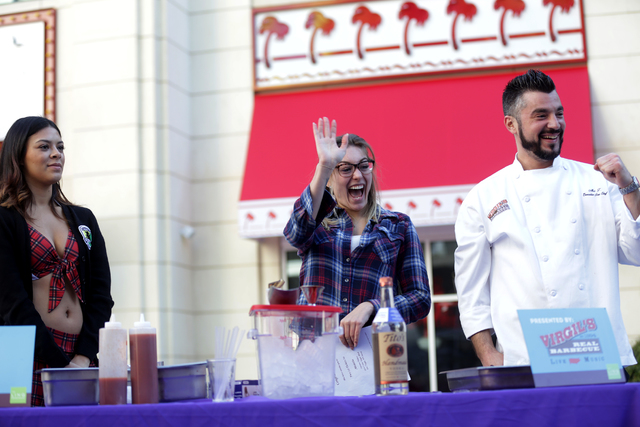 New Year's Day is a time for friends and family, new beginnings and, for many, the dreaded hangover.
But instead of dispensing aspirin, or declaring the New Year's revelry over, The Linq Promenade on Sunday embraced the hair of the dog. It hosted its inaugural National Hangover Cocktail Competition at the Fountain Stage.
"A hangover drink must consist of plenty of booze (because nothing will cure a hangover more than booze) zest and enough flow to wake us up on this cold afternoon," said Rob Kachelriess, Las Vegas writer for Thrillist who was one of three judges in the competition. "As judges, we looked for a few things including creativity, flavor and spiciness."
Master of ceremonies Murray Sawchuck, the celebrity magician at Planet Hollywood Resort's Sin City Theater, welcomed six Linq bar teams as contestants: The Tilted Kilt Pub & Eatery, Chayo Mexican Kitchen + Tequila Bar, ameriCAN Beer & Cocktails, Virgil's Real Barbecue, Off The Strip Bistro & Bar and Flour & Barley — Brick Oven Pizza.
The teams had roughly 30 minutes to prepare their best bloody mary. Mixologists and bartenders shook, stirred and garnished their creations, fusing elements of drinks and meals. The top three drinks were ranked, winning prizes for their teams.
There were the traditional garnishes, like olives and peppers, and then there were garnishes with chicken, mini burgers and even a slice of pizza.
Jim Begley, a freelance food writer for Las Vegas Weekly and Scott Harris, a freelance food and beverage writer for Luxury Las Vegas and The Daily Meal, joined Kachelriess as event judges. They seemed thrilled to start 2017 with the spicy tomato-based drink.
"It was very difficult to pick the winners because all three were so distinctive," Kachelriess said. "There was something special going on in each one, but Virgil's really stood out. They did a good job of incorporating their barbecue sauce to give it a sweet twist."
Bartender Claudia Durenberger and executive chef Abram Tsavalakoglou of Virgil's Real Barbecue won first place and received a pair of show tickets to "Absinthe." She made her drink, the "Bloody Bullrider," with blended spices and herbs, Virgil's signature bloody mary mix and barbecue sauce, Tito's Handmade Vodka and green olives stuffed with jalapeños. The garnish consisted of a smoked chicken wing, brisket caramelized with barbecue sauce and mounted on rye bread with cheddar, apple smoked bacon and a cherry tomato.
"This is my first cocktail competition and my first win," said the 21-year-old Durenberger. "It was so much fun. I just started mixing drinks a few weeks ago."
Head bartender at Chayo Mexican Kitchen + Tequila Bar Hared Grajeda, 41, took second place and tickets to seen Penn & Teller. He started mixing drinks before he turned 18 in his homeland of Mexico.
"When my family threw parties, I would mix drinks for my friends," Grajeda said. "I know that a good bloody mary that flows well can help anyone recover from a hard night of drinking."
Drawing on flavors of his home country, he added Tequin spice made from chile peppers, salt and dehydrated lime juice and chopped pieces of crispy bacon along the rim. The drink was mixed with fresh tomato juice, soy sauce, Worcestershire sauce, lime juice and Clamato. It was topped with ceviche and garnished with bacon, olives and avocado.
Third place and tickets to Mat Franco's magic show went to Anji "Yoshi" Hastings, 28, bartender and mixologist, and Jesse Barrett, 34, bar manager, at ameriCAN Beer & Cocktails. The bar focuses on craft beer, but the duo got creative.
"We put the drink together ourselves after a few nights of experimenting and testing," Hastings said. "It was challenging because it's not our forte, so we focused more on flavor rather than presentation."
What was their special ingredient?
"As an ode to our bar we added an oatmeal stout on top," Barrett said.
They also used traditional spices, Clamato, tomato, olive and onion juice and a salt-and-garlic powdered rim.
All of the bloody marys were available to the public Sunday.
"I've been drinking since noon and I've never had a hangover," said Mike Rodriquez, 35, a visitor from Sacramento, California, who watched the competition. "I don't need a drink to cure my hangover, but I'll be honest, all of those drinks looked great. I think this is a cool way to kick off the New Year because what's better than drinking?"
Contact Sandy Lopez at slopez@reviewjournal.com or 702-383-4686. Follow @JournalismSandy on Twitter.
RELATED
New Year's Eve bash in Las Vegas, with lots of glamour, stays peaceful
Las Vegas Strip swept clean within hours of New Year's celebration
Las Vegas rings in 2017 with New Year's Eve celebrations on Strip, downtown – PHOTOS