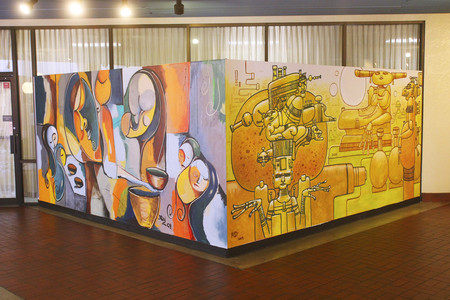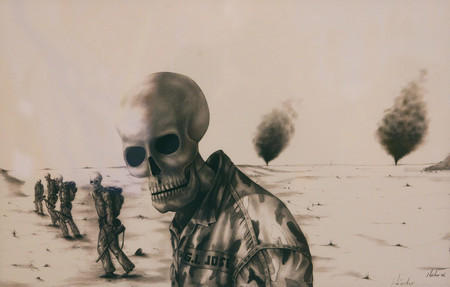 Dictionaries can differ over definitions. Consider how ours defines "Mix":
"Gay homeboys, futuristic Mayans and bugs."
Found nowhere in Webster's. But this is art. And attempting to define art robs it of magic and demystifies its charm.
"It's called 'Mix It Up' because I wanted to bring all sorts of art in," says Brian Paco Alvarez, curator of the show on display through late August at the Hispanic Museum of Nevada. "The Latino community in Las Vegas is big, but the misconception is that Hispanics are one people. They're multiple cultures and nationalities. The beauty of the Hispanic Museum is it tries to bridge those gaps by creating a community to enjoy art from different backgrounds."
In the "Mix" spirit, the exhibit includes works by six artists, three of them Hispanic, three not. Three from the LGBT (lesbian-gay-bisexual-transgender) community, three not. Two artists and four muralists, addressing themes from politics to entomology.
"Guests could come through and watch the artists create," Alvarez notes of the murals. "A lot of time you see art, but never see the artist create. That was exciting about bringing them to this public space."
"I explore themes of cultural identity because as Latinos, we are often erased from the social portrait." — artist's statement, Hector Silva
Beating at the heart of the modest but powerful exhibit are Silva's striking prints, rich in imagery of the Chicano experience in Los Angeles. Depictions of skulls — a notable Mexican symbol, given the importance placed on honoring the dead — are prominent, such as those on the soldiers in "G.I. Jose," referring to Hispanics fighting in Iraq. Closer to home, "His Six Dollar Bag of Terror" portrays a man selling fruit on the sidewalk, a grenade subtly tucked in one of the boxes.
"His explanation," Alvarez says, "is that in many instances, Hispanics have been labeled terrorists." In the portraits of muscled "homeboys" comes a theme not readily apparent. "He does a lot of erotic art, which wouldn't be appropriate given the public space," Alvarez says. "But he is the first to do the 'gay homeboy' aesthetic. I had no idea that existed, but apparently there is a huge population of gay homeboys in Los Angeles."
"Painting an object means seeing it in a way few people take the time to. … You study the details, take in the colors, notice subtle nuances. It's almost a kind of worship." — artist's statement, Michael Gustavo Vasquez
Delicately rendered in watercolors, Vasquez's entomological drawings depict wasps, bees, moths and a praying mantis, among other creatures. Curiously, Alvarez mounted them with clips. "Watercolors are beautiful if left in the raw," he says. "He asked me about framing the work, and I told him, 'No, the beauty of watercolor is the effect it has on paper.' "
"Art is a language that all people speak … and it is necessary in establishing culture in any community." — artist's statement, Dray Wilmore.
Faces drawn in sweeping loops — large, small, round, heart-shaped, balloonlike, smiling broadly, physically abstract but emotionally authentic — distinguish Wilmore's mural, representing the bond of mother and child, protector and protected, dipped in warm pastels. "This is a huge theme among Latinos," Alvarez says. "And you really see the richness of his palette."
"There are lots of reasons I have chosen to dedicate my time and actions to being an artist. Peace, calmness and individuality are at the top of the list." — artist's statement, Alexander Huerta
Bright, busy and crowded, Huerta's mural is kaleidoscopic: a swirl of musical notes, piano keys, painter's brush, tube of paint spraying red, and numerals on a clock — the 9 and 3 reversed — in a montage of music, art and time. "When he paints, he doesn't think of time," Alvarez says. "At first it was hard to see it, but after I watched him put the colors together, it started to coalesce."
"This mural is my personal view of the magic and mythical past, a golden utopia in conjunction with futuristic ideas of tomorrow." — artist's statement, KD Matheson
Explosions of gold startle the eye in Matheson's mural, robotic images applied to ancient figures like some time-warped industrial dream. Cue the Mayans. "What I've gathered from this is that if Mayans existed 5,000 years in the future, this is them being brought together," Alvarez says. "He works with creatures from other dimensions, his ideas from other worlds."
"Occupation: Fabricating artificial comedy." — artist's statement, Vezun
A "Flintstones" aesthetic? At first glance, Vezun (no last name) seemingly borrows from the animated palette and stone-lined setting of the TV classic, his painting streaked with yellows, pinks and greens and infused with contradictory imagery: a goat watching a stone TV hitched to a cable box, a dog counting on an abacus, two women, one in contemporary clothes balanced on a modern stool, another in cultural garb on an ancient totem pole, a man pedaling a prehistoric motorcycle. What's it all mean?
"Vezun tried to create the ancient culture and modernize it," Alvarez says. "The old, new and the absurd. He spent weeks on this, put in the most time and just went crazy."
Few collections so deftly "Mix" images, "Mix" emotions, "Mix" themes, "Mix" styles.
No dictionary would dare disagree.
Contact reporter Steve Bornfeld at sbornfeld@ reviewjournal.com or 702-383-0256.
Preview
"Mix It Up" exhibit
9 a.m.-6 p.m. Monday-Fridays; 9 a.m.-5 p.m. Saturdays
El Museo Hispano de Nevada (Hispanic Museum of Nevada),
Embarq Building, 330 S. Valley View Blvd.
Free (773-2203)