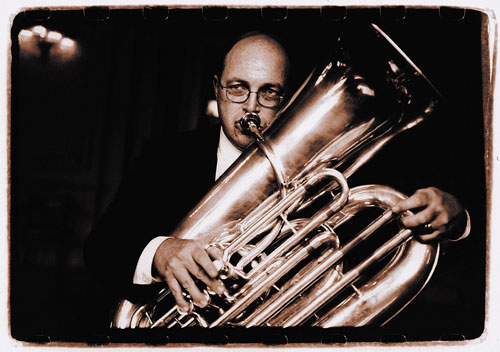 Meet the tuba, the most maligned instrument in all of musicdom, pigeonholed unfairly as a staple of faux oompah bands and comic relief for marching bands.
Now meet Gene Pokorny, who makes a living playing the unwieldy but more-versatile-than-you'd-imagine instrument.
This weekend, Pokorny will play a recital at the University of Nevada, Las Vegas, in an effort to have some fun, sure, but also to prove that the tuba can do things most of us don't realize.
Pokorny has been playing professionally since 1975, and his resume includes five years with the Utah Symphony and three with the Israel Philharmonic. Currently, he's principal tuba player with the Chicago Symphony Orchestra.
But Pokorny is on a seven-month sabbatical. During his break, he is traveling across the country and playing recitals along the way.
"I like to do solo recitals and convince people the tuba can actually play a melody," Pokorny explained last week during a phone interview while on the road to Omaha, Neb.
Pokorny recalled that, while playing with the Utah Symphony, he and his fellow musicians would travel around the state playing high school gyms and other atypical venues.
"I've always remembered that, and I always thought that, sometime in the future, I'd like to go back to some of these places and play some music for these people again," Pokorny said.
When Pokorny found that his itinerary would take him as far south as St. George, Utah, he decided to add a Las Vegas recital, too.
Pokorny's introduction to the tuba came during his youth in Los Angeles, when he was in the eighth grade.
"I was playing clarinet at the time," he recalled, "and the junior high tuba player was graduating to high school and there was no one to play tuba in the back row.
"I didn't like sitting with all the other junior high clarinet players. So, I figured it was just as easy to sit in the back and kind of be my own person and be closer to the door. When the snack period bell hit, I'd be the first out the door."
"It seemed like a win-win for everybody," Pokorny added.
But Pokorny found that he was pretty good on the tuba. "I guess it's just big sinus cavities or something," he said.
He became interested in classical music and eventually began taking lessons with Roger Bobo, who played with the Los Angeles Philharmonic for 25 years, and renowned tuba player Tommy Johnson.
"Tommy Johnson was a really famous tuba player in Hollywood recording studios," Pokorny explained. "His ability at playing the instrument was really tremendous. In fact, composers started to write special pieces for him that would be more than oompah parts, more than just bass lines."
Among them was John Williams, the composer best-known for scores to such films as "Jaws," "Close Encounters of the Third Kind" and the Indiana Jones films. In fact, Johnson's tuba is heard as the shark's theme in "Jaws."
Johnson, Pokorny said, "was my teacher, so his incredible abilities as a player got me to play more than just oompahs."
Take Pokorny's potential selections for this weekend's recital. He may play a Bach violin concerto transcribed by Johnson, or a John Williams score, written with Johnson in mind, that serves as the theme for the Jabba the Hutt character from the "Star Wars" saga.
Or, perhaps, a bit of Gershwin. "Who doesn't like Gershwin," Pokorny said, "although hearing it on the tuba might make people flinch."
Basically, Pokorny said, "I just want to try to give the illusion that the tuba is a musical instrument."
Pokorny's joking, self-deprecating remarks do make an obvious point: The tuba is a much-maligned, little-appreciated instrument, even among avid and knowledgeable concertgoers.
"When you look out at an audience at a tuba recital and you say you've talked to everybody in the audience, that means you've talked to both of them," Pokorny joked.
"When you come to a tuba recital, you have to admit it's a conscious decision. It's not like you wake up from a daze and all of a sudden you're in an incredible place and here's a guy honking a big moose caller at you."
Contact reporter John Przybys at jprzybys@reviewjournal.com or 702-383-0280.
Preview
What: Tuba recital with Gene Pokorny
When: 7 p.m. Saturday
Where: Beam Music Center Recital Hall, University of Nevada, Las Vegas, 4505 S. Maryland Parkway
Tickets: $10, or $8 for seniors (895-2787)