Mötley Crüe's Vince Neil wins control of his Facebook account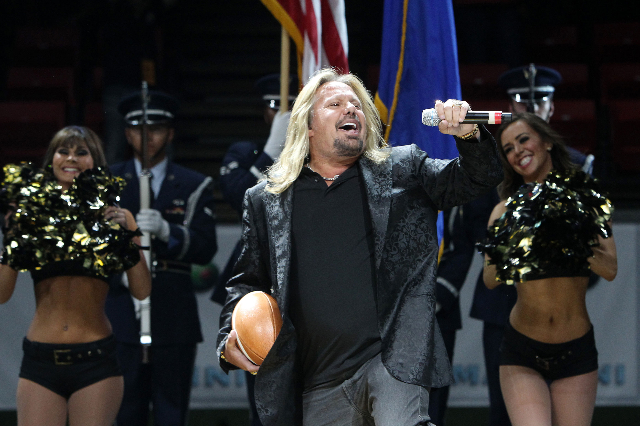 Mötley Crüe frontman Vince Neil has regained control of his Facebook account, his lawyer said.
Neil filed a lawsuit in March that claimed Oregon resident Kristy Sinsara was refusing to relinquish control of his social media accounts. According to the lawsuit, filed in Clark County District Court, Sinsara was making unauthorized posts that the public and his fans believed were being made by him.
"Sinsara maintains control over the accounts because she is using them to trade on Neil's fame and celebrity as a means of promoting Sinsara and her works," the complaint alleged.
In a March telephone interview, Sinsara denied the allegations and said she suspected the lawsuit stemmed from her dispute with Neil's girlfriend, Rain Hannah.
Sinsara said she gave Neil the password to his Twitter account when he asked for it, but he never asked for the password to his Facebook account. She said she had "absolute access to Facebook" but had not posted anything on Neil's behalf since January.
"The last time I posted something was with his approval," Sinsara said in March.
Las Vegas attorney James Kohl, who represents Neil, said his client voluntarily dismissed the lawsuit last month after Sinsara turned over the singer's Facebook password.
"That's what he wanted the entire time," Kohl said.
The attorney said the resolution involved no financial settlement. Sinsara's lawyers could not be reached for comment.
According to the lawsuit, Sinsara approached Neil in Nevada and offered to manage his social media accounts.
"Neil agreed to give Sinsara access to and administrative control over his accounts, but Neil retained ownership of the accounts," the complaint stated.
Late last year, the lawsuit alleged, Neil terminated the agreement and asked Sinsara to return control of the accounts to him.
Sinsara said Neil never paid her to manage his social media accounts. Instead, she said, he agreed to help promote her as a social media strategist.
"He held up his end of the agreement," Sinsara said in March.
Neil is currently on tour with his rock band. The tour schedule includes performances this week in Oregon and Washington.
Contact reporter Carri Geer Thevenot at cgeer@reviewjournal.com or 702-384-8710. Find her on Twitter: @CarriGeer