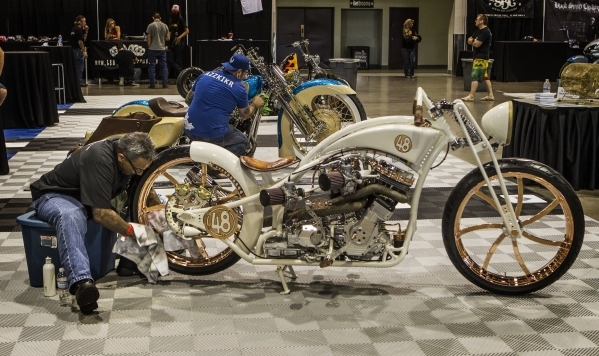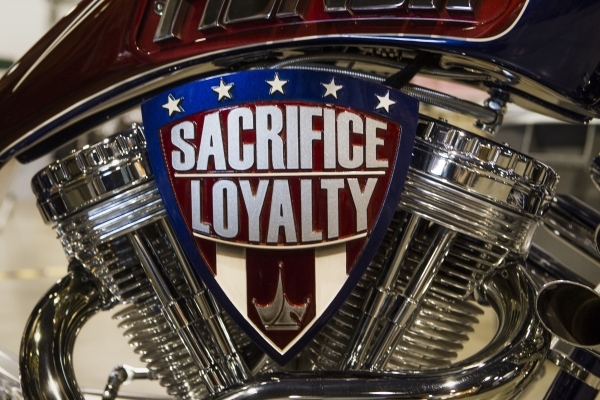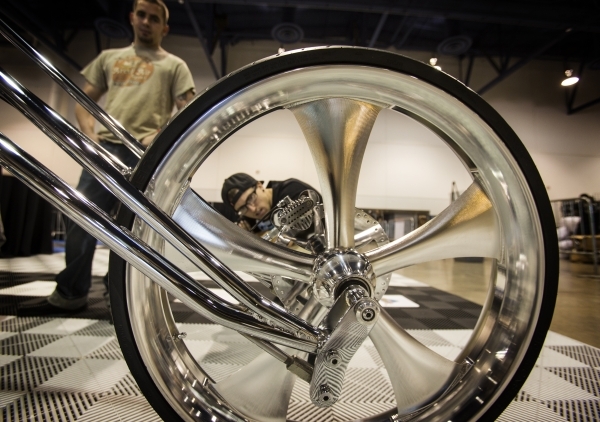 Rev your engines.
Motorcycle riders and enthusiasts are heading into town for Las Vegas BikeFest.
The 15th annual Las Vegas BikeFest returns Thursday through Sunday, featuring manufacturer demonstration rides, a custom bike show, an array of contests, motorcycle-related vendors and entertainment.
After years of being at Cashman Center, the festival is setting up the four-day event in downtown Las Vegas between Eighth and 10th streets.
"Unlike other rallies that are out in the middle of nowhere, Las Vegas BikeFest is in the heart of a city that never sleeps, which makes it more appealing to motorcycle riders," says Candice Cooley, the marketing manager for the festival. "The party never stops."
Cooley says the change of location came after organizers heard requests from attendees and vendors.
"They wanted something that had more of a rally feel," she adds.
Bringing it back to Fremont Street — just past Container Park — attendees will be able to walk and ride around more easily.
Admission is $15 Thursday through Saturday and $5 on Sunday.
More than 33,000 people, both bikers and enthusiasts, attended the 2014 event.
Cooley says they are excited by the change of venue and what crowds it might draw.
The festival started in 2001 on Fremont Street as a way to gather members of the biker community and motorcycle fans.
"Some of our owners had been to many other motorcycle rallies throughout the United States," Cooley says. "They felt that the West Coast was in dire need of a motorcycle rally and what better place to hold an exciting rally than in a 24-hour town like Las Vegas."
Though it started on Fremont, Cooley says it soon moved.
"We stayed down there two years before moving to the Cashman Center for 12 years," she says.
Through the years, the event has mostly grown.
"We have had dips in vendors over the years," Cooley says. "But with a new location, we foresee a spike in numbers."
More than 140 vendors are expected to be at the event with merchandise ranging from motorcycle parts to accessories such as leathers and apparel.
Throughout the event, there will be performances from '80s rockers Slaughter, Vixen, Steelheart and Paul Rodgers at the Downtown Las Vegas Events Center.
"Time to break out the Aquanet and spandex," Cooley says.
This year will also have guest appearances on Saturday from "Sons of Anarchy" including Tommy Flanagan who played "Chibs," Mark Boone Jr. who played Bobby, and Ryan Hurst who played Opie.
"Even though the show has been off (TV) for almost a year, it still has a following," Cooley says.
The weekend is also filled with an array of contests such as the best facial hair, beer belly and tattoo.
It will also have the 12th annual Artistry in Iron Master Builders Championship. More than 20 participants from across the country who are known for trends in custom-built motorcycles are invited to take part.
"Each year, we invite those on the cutting edge as well as some past participants," says Mindi Cherry, the events producer for the festival. "There are no rules or guidelines on the builds so it is always exciting to see what each builder brings to the competition." Shaun Ruddy from Chop deVille in Las Vegas is representing the local front.
The winner is expected to be announced Saturday and will win $10,000.
Contact reporter Michael Lyle at mlyle@reviewjournal.com or 702-387-5201. Follow @mjlyle on Twitter.