5 Christmas-themed horror-comedies besides 'Krampus'
December 3, 2015 - 3:54 pm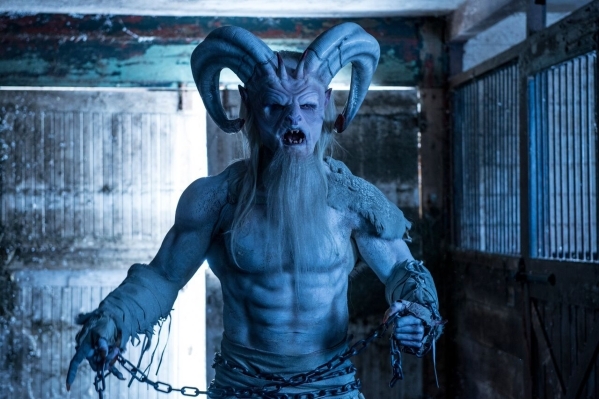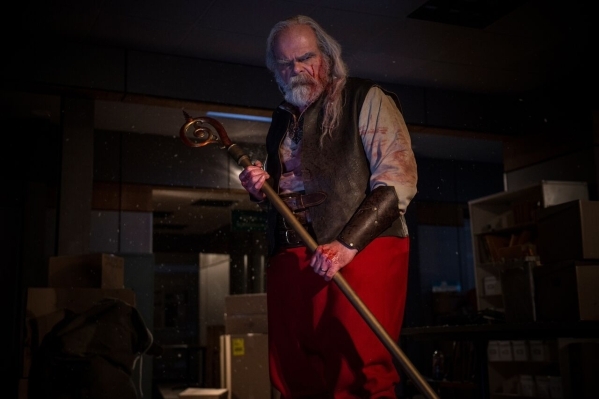 "Krampus" is far from the first Christmas-themed horror-comedy.
The genre has produced everything from perennial favorites such as "Gremlins" and "The Nightmare Before Christmas" to enough also-rans to fill a bargain bin at the video store — back when there still were video stores.
But since this weekend's "Krampus," in which the lack of Christmas spirit unleashes an ancient pagan demon, isn't being screened for critics, here's a look at five other horror-comedies for the holidays:
"A CHRISTMAS HORROR STORY" (2015)
The villains: Zombie elves, a changeling, a murderous ghost and not just one but three Krampuses — or is it Krampi?
The plot: The residents of Bailey Downs are under attack on Christmas Eve as three students investigate brutal murders that happened exactly a year ago, a couple's young son begins acting strangely, a family is menaced in the woods and Santa Claus fights a Krampus.
Familiar face: William Shatner
Body count: A handful of humans bite the dust, but the real tragedy is the number of elves Santa has to put down following a zombie outbreak at the North Pole. RIP, Shiny and Jingle.
Sample quote: "I love Rudolph. I love cranberries. I love baby Jesus — before he went all hippie with the sandals and the long hair."
Selling points: There's the requisite blood and teen sex. But aside from getting to see a Krampus for less than the cost of seeing "Krampus," the only draw is William Shatner as "Dangerous" Dan, a radio disc jockey who gets blitzened on egg nog.
"BLACK CHRISTMAS" (1974)
The villain: Billy, a barely glimpsed psychopath
The plot: During Christmas break, the girls of Pi Kappa Sigma are menaced by an obscene phone caller before they're murdered.
Familiar faces: Margot Kidder, Andrea Martin
Body count: The residents of the house are suffocated, impaled with a hook and stabbed to death with the horn of a glass unicorn.
Sample quote: When told to be careful because a town girl was recently raped, Kidder dryly responds, "Darling, you can't rape a townie."
Selling points: Bob Clark, the writer-director of "A Christmas Story," directed this darker holiday classic that's the best pure horror tale of the bunch. There's also the bizarre performance by Marian Waldman as the house mother who's always swilling booze she's hidden around the house in everything from a hollowed-out book to the toilet tank. (Mmm, toilet booze.)
"RARE EXPORTS: A CHRISTMAS TALE" (2010)
The villain: Santa Claus
The plot: After a businessman digs up the remains of Santa Claus from beneath Finland's Korvatunturi mountain, children, hair dryers and radiators begin disappearing from nearby homes. Then, when a young boy's father captures a raggedy, naked old man he believes is Santa, he and his friends try to ransom the stranger.
Familiar faces: None.
Body count: Very low. Not so much scary as weird, the most frightening thing about "Rare Exports" is the graphic nudity.
Sample quote: "The real Santa was totally different. The Coca-Cola Santa is just a hoax."
Selling points: The subtitled Finnish drama starts with the premise that Santa Claus was murdered to stop his evil ways and only gets darker from there.
"SINT" (2010)
(released on video as "Saint Nick")
The villain: Saint Nicholas
The plot: On Dec. 5, 1492, Saint Nicholas and a band of armed men plunder a village before the fed-up townsfolk kill his followers and burn Saint Nicholas alive on his ship. Now, whenever there's a full moon on Saint Nicholas Eve — that's Dec. 5 to you and me — he and his minions embark on a killing spree. Now, it's up to a grizzled detective, whose family was slaughtered by Saint Nicholas when he was a boy, to stop them.
Familiar faces: None
Body count: Limbs are severed, walls are splashed with blood, a head is blown off with a flare gun and, offscreen, an entire wing of a children's hospital is murdered.
Sample quote: "He's set in his ways. And he won't rest until he completely massacres Amsterdam."
Selling points: The atrocious dubbing in this Dutch export is the most entertaining thing about the nonsensical movie that has high school students gifting each other with sex toys during class and Saint Nicholas performers running around in blackface. Stay classy, Amsterdam.
"JACK FROST" (1997)
The villain: A killer snowman
The plot: After killing 38 people in 11 states, drifter Jack Frost is about to be executed when the State Executional Transfer Vehicle that's transporting him collides with a van belonging to a genetic research company. Covered in acid, Jack dissolves into a bloody pile of snow but emerges as a killer snowman, who sets out to destroy the sheriff who arrested him just in time for the annual Snomonton County snowman festival.
Familiar face: Shannon Elizabeth
Body count: A bully is decapitated by a sled, his mother is strangled with Christmas lights and her husband has a shovel handle rammed down his throat, among other brutalities. But the only thing anyone remembers about "Jack Frost" is the scene in which that bully's sister (a pre-"American Pie" Shannon Elizabeth) grieves her brother by breaking into the crime scene to have sex with her boyfriend, only to end up getting raped to death by the snowman in the shower.
Sample quote: "Don't eat yellow snow!"
Selling points: Full of horrible puns and stiff acting, "Jack Frost" tries way too hard to be outrageous (e.g. Shannon Elizabeth getting raped to death by a snowman). But there's obviously a market for lowbrow holiday horror because there's a sequel: "Jack Frost 2: Revenge of the Mutant Killer Snowman."
Contact Christopher Lawrence at clawrence@reviewjournal.com. On Twitter: @life_onthecouch
Like Neon Las Vegas on Facebook: