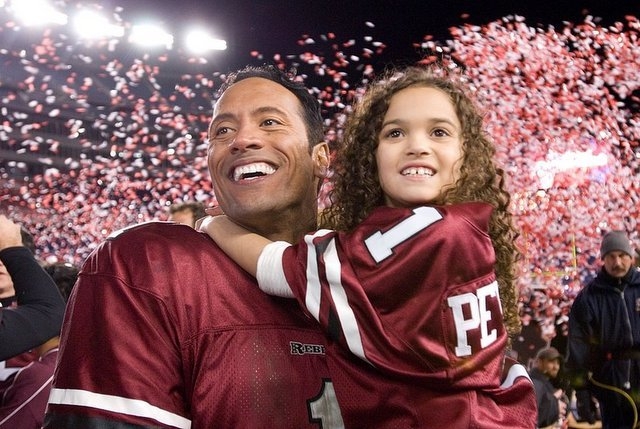 With the NFL Draft underway and the recent release of the film "Draft Day," we thought we would look at five actors who played college football. They wanted to be superstars in the NFL, but had to settle for being famous actors instead.
"The Rock" played defensive tackle for the Miami University Hurricane's national championship team in 1991. Unfortunately, an injury sidelined his hopes of playing in the NFL. Johnson tried his luck in the CFL after graduation, but he was cut soon afterward.
After football, Johnson turned to pro wrestling, which lead him in to a career in acting. He did play a pro football player in "The Game Plan."
"The Rock" earns more money anyway as an actor. He was named Forbes magazine's highest-grossing star, thanks to the $1.3 billion his films earned at the box office in 2013.
Before John Wayne was a movie legend, he was just Marion Morrison, a strong USC offensive tackle. The rumor was that Wayne broke his collarbone while body surfing at Newport Beach before his junior year and had his football scholarship taken away. He quit college and went to work for a film studio, and the rest is history. As if being the manliest man in movie history was not enough, knowing he was a USC football player just adds to the legend.
If you watch college football, you will probably notice that Burt Reynolds always seems to be on the sidelines at Florida State University football games. He is a huge Seminole fan because he played fullback for FSU from 1954-1957.
Reynolds' career stats are not very impressive. He had 19 carries for 146 yards and two touchdowns, six pass catches for 76 yards and a handful of kick and punt returns. He suffered a few major injuries that hampered his career. He was inducted into the Florida State Hall of Fame in 1977.
Reynolds did get a chance to show off some of his football skills in the movie "The Longest Yard," where he played a quarterback.
Remember Al Bundy always bragging about his high school football glory days? Well, O'Neill actually played past high school and almost in the NFL. He played football for Ohio University for a couple years before transferring to his hometown of Youngstown, Ohio, and Youngstown State. He was a defensive lineman for the Penguins in 1967 and 1968.
O'Neill was signed by the Pittsburg Steelers in 1969, but was cut before the season started. He was able to use his knowledge about football when he was a head coach of a little league football team in "Little Giants."
James Caan has played some pretty tough guys in a lot of movies. Well, it turns out he is a pretty tough guy in real life as well, because he played football for Michigan State.
One of Caan's most famous roles is the part of terminally ill NFL player Brian Piccolo in the classic TV movie "Brian's Song." He is also the head coach of a college team in "The Program." Now we know where Caan gets his game face for his serious acting roles.
Honorable mentions:
Curtis Linnell is a communications graduate from Brigham Young University and writes for ok.com