Battles continue on home front for young Marine in 'Hell and Back Again'
December 2, 2011 - 2:15 am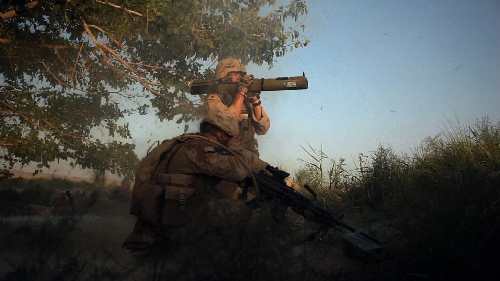 You can take the soldier off the battlefield.
But, as "Hell and Back Again" makes so chillingly clear, the soldier's battle rages on — even on the home front.
Such is the nature of the ongoing conflict in Afghanistan, as experienced by a young U.S. Marine, badly wounded just before his deployment ends, who wonders whether war's aftermath isn't worse than war itself.
Photojournalist Danfung Dennis' award-winning documentary — recently short-listed for this year's Academy Awards — takes no sides, and no prisoners.
It's content to present Sgt. Nathan Harris' perspective and allow us to make up our own minds. If we can.
A multiple award-winner at this year's Sundance film festival, "Hell and Back Again" (playing a limited run through Monday at the South Point) doesn't have a defined viewpoint, political or otherwise.
As Sgt. Harris says at one point, that's above his pay grade.
Or, as Alfred, Lord Tennyson once wrote in "The Charge of the Light Brigade" — different war, different century, but the same bloody reality — "Theirs not to reason why, theirs but to do or die."
The documentary opens with stark 2009 footage of Echo Company (Second Battalion, Eighth Marine Regiment) launching a major helicopter assault on a Taliban stronghold in southern Afghanistan.
True to its title, however, "Hell and Back Again" doesn't offer a linear, forward-march account of Sgt. Harris' ordeal.
Instead, its impressionistic, back-and-forth narrative contrasts Harris' intensely focused combat-zone existence with his less perilous, yet equally harrowing post-combat battles.
Somehow, Harris knows exactly what to do when the spectral Taliban fighters — unseen, but far from unfelt — start shooting.
Yet, back home in North Carolina, the sight of a crowded Walmart parking lot, or the prospect of a noisy fast-food drive-thru lane, trigger greater unease than flying bullets ever did.
Despite the fact that one of those Taliban bullets ripped through Sgt. Harris' hip, and leg, forever changing him — and his status as a Marine grunt who, until that moment, lived only to kill.
Oh, Sgt. Harris still has his pistol close by, fondling it frequently — and perhaps a bit too lovingly for his wife, Ashley's, comfort.
And he still loves to play violent video games that enable him to mow down enemy combatants without the intrusion of such messy realities as mud and blood and splintered bone.
Better yet, playing video games means never having to confront the Afghan villagers the Marines say they're only trying to help — even as those same villagers keep telling the Marines they can help only by going away and letting them live in peace.
Because of his injury, Sgt. Harris always has battles to fight, involving painful physical therapy — and the endless struggle to control the pain with ever more powerful pills.
If only he could take a pill to counteract the rage that spills out at random moments — a rage that prompts his wife to utter the phrase that gives "Hell and Back Again" its gung-ho title.
As we watch Dennis' you-are-there combat footage, the camera moves inexorably forward, capturing the Marines preparing to confront whatever's out there. It gives the documentary a propulsive rhythm — and an undercurrent of dread.
Meanwhile, back in the States, the stakes may be lower but the tension seems equally high; flashbacks and match cuts make the haunting point that, no matter how far away Afghanistan may be in body, Sgt. Harris always carries it with him in spirit.
It's a daunting journey, one that's surreal, yet all too real.
Years and generations ago, observers dubbed Vietnam the "living-room war" because network news coverage brought the conflict's immediacy home to Americans every weeknight at the dinner hour.
In these fractured times, the ongoing war in Afghanistan seems more like a matter of out of sight, out of mind — and that, to borrow the late, great Walter Cronkite's signature sign-off, is just the way it is.
But, as "Hell and Back Again" reminds us, the fact that nobody's forcing us to look doesn't mean we can evade our responsibility to bear witness. Especially to the casualties of a war supposedly being fought for all of us.
Contact movie critic Carol Cling at ccling@reviewjournal.com or 702-383-0272.
Review
"Hell and Back Again"
88 minutes
NR; combat violence, profanity, mature themes
grade: B
South Point