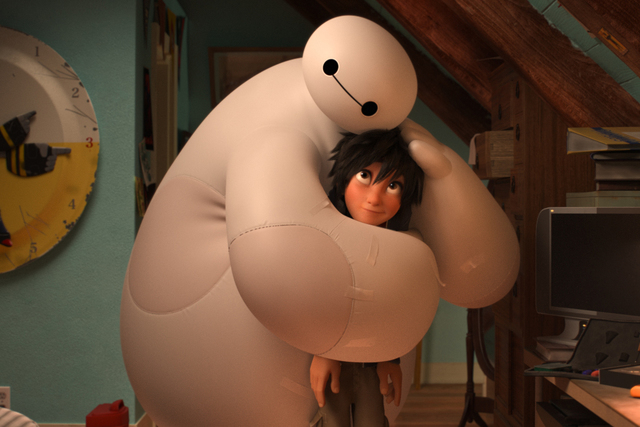 "Big Hero 6" looks like another cash cow for Disney.
And it opens the pipeline for more potential billions down the road by successfully blending the studio's animation division with origin tales from its corporate sibling Marvel.
The story of a young robotics prodigy (voiced by Ryan Potter) who modifies his personal healthcare companion, a squishy inflatable robot named Baymax ("30 Rock's" Scott Adsit), and forms a high-tech crime-fighting team is beautiful, full of heart and silly in all the right places.
But how did it play with its target audience?
I wasn't about to start approaching small children after the screening. That's the sort of thing that will get you arrested. Or, at the very least, placed on a watchlist.
Thankfully, there was a young one sitting across the aisle from me who was being highly, and audibly, entertained.
The little fella (or gal — again, I wasn't about to get too close to a stranger's child in a dark room) hadn't yet successfully mastered the art of laughing.
What came out at first sounded like "hih-hihhih-hih-hihhihhih-hihhih-hih" and, eventually, "ccckkkkkttttthhhhhhhhppptttthhhhhhh."
But then things smoothed out and began sounding like something more closely resembling giggling.
"Big Hero 6" is impressive from an adult perspective. But it may have actually taught a small child how to laugh.