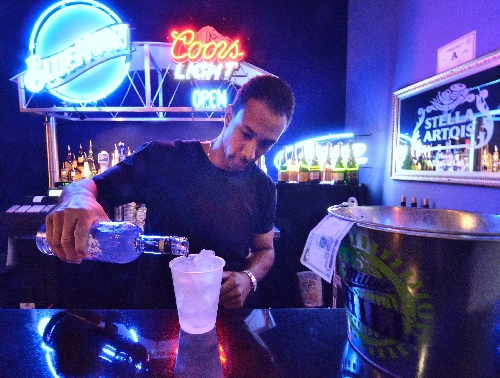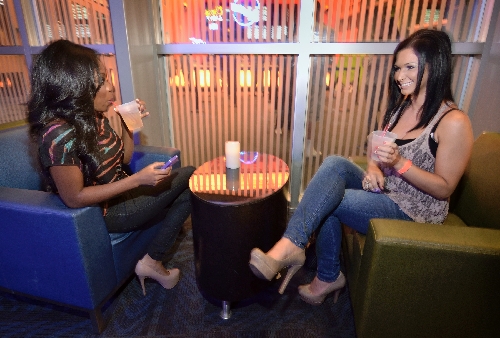 You could sip a martini starting Friday while watching James Bond in "Skyfall."
And if there should ever be another "Sex and the City" movie – God forbid – you could order your entire row a round of Cosmos.
But only at Rave Motion Pictures at Town Square, 6587 Las Vegas Blvd. South. After a test run earlier this year, the theater's lounge is now as permanent a part of the lobby as movie posters and awkward blind dates.
"The response has been great. Much better than I ever could have thought," says Troy Freeman, owner of BlockBuster Cocktails, which operates the theater's alcohol concessions.
Rave isn't the first local theater to sell alcohol. The old MGM Grand offered cocktail service during its movies decades ago. In 2009, beer sales at the Galaxy Theatres at the Cannery dried up after six months due to lack of interest.
It likely won't be the last, either. Galaxy is pursuing a license for beer and wine sales at the former Green Valley 8 multiplex it's renovating. ("It will be a very interesting theater and be unique in Las Vegas," Galaxy President Rafe Cohen says of the "luxury plus" cinema, scheduled to open early next year.)
But for now, Rave is the only place in the valley where, if you're in the mood for a drink, you don't have to smuggle a flask into a flick.
To sell alcohol, the cineplex must maintain a strict 21-and-older environment, says Greg Brewton, the theater's general manager. Moviegoers must be at least 21 to enter the lounge area, and the only movies during which alcohol may be consumed are special "21-plus" screenings offered daily.
Brewton says he tries to get at least one such showing a night of every new release, "if it makes sense," with children's movies being the obvious exception.
"We can't do that across the board, because we want to appeal to families and all ages," he says. "But there are certain movies that we'll target for the 21-plus."
Tonight through Thursday, for example, there are 21-plus showings of "Argo" at 7:40 and 10:25, "Flight" at 8:30 and 11:30, "The Man with the Iron Fists" at 9 and 11:15, "Cloud Atlas" at 5:30 and "Taken 2" at 6:10.
But regardless of the movie you're seeing, as long as you're at least 21, you're always welcome in the lounge, before, after or – in the case of guys seeking refuge during a romantic comedy – during your film.
"It's funny, because they'll say they're going to the bathroom," Freeman says of chick-flick escapees who belly up to the bar. "And it's the longest bathroom break you can imagine."
The lounge opens daily at 5 p.m. and closes about 15 minutes into the final movie. Cocktail servers roam the 21-plus theaters until the feature begins, but they'll bring you another round (or several) during the film if you request it in advance.
Given the markup on most movie concessions, drink prices are more reasonable than you might expect: $7 to $8 for beer, $9 to $11 for cocktails, with bottle service starting at $50 and topping out at $225 for a bottle of Moet Rose Nectar.
"You get the same level of service you'd get at a nightclub getting that," Freeman says of his bottle sales.
"When we did 'Magic Mike,' we could not keep bottles of wine," he adds. "Women were buying bottles of wine two or three bottles at a time."
But while moviegoers are having a good time, it's a closely regulated good time. Brewton notes that rules governing alcohol are stricter at Rave than for the city's other all-ages entertainment venues.
If you want to bring a drink from the lounge to the theater, a cocktail server must carry it for you. And you can expect to have your ID checked up to four times: when buying a ticket, when entering the lounge, when entering the theater and when ordering drinks inside the theater.
"We check everyone's ID," Freeman says. "I don't care if they're 21 or 71."
So far, the reaction from customers has been "overwhelmingly positive," Brewton says.
And the additional regulations have created an unintended benefit: Moviegoers are choosing screenings offering alcohol just for the atmosphere.
Advance tickets for 21-plus showings of "The Twilight Saga: Breaking Dawn: Part 2" are outselling the regular screenings, Brewton says. That's driven by women who want to turn the movie into a ladies' night out, without being surrounded by younger fans, even if they don't plan on drinking.
"It's not just about the beverages. It's a chance to get away from the teens and the crying babies," he explains. "And we have people that, they don't drink, but they love coming to those shows because it's an adults-only environment."
Contact Christopher Lawrence at clawrence@reviewjournal.com or 702-380-4567.