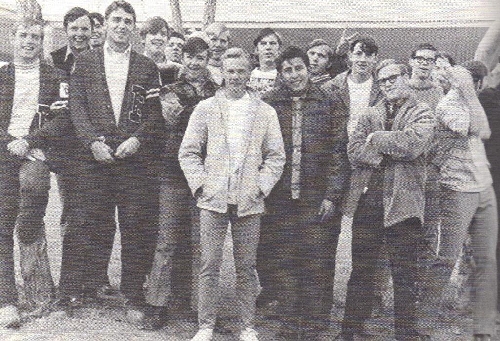 Local filmmaker Stan Armstrong specializes in making the invisible visible, mining history for little-known nuggets on subjects as varied as "Black Confederates: Forgotten Men in Gray" and "Invisible Las Vegas," which explores the history of historically black West Las Vegas.
But Armstrong's latest documentary, "The Rancho High School Riots," hits particularly close to home.
After all, he was there.
As a Rancho High student in the turbulent late '60s and early '70s, Armstrong directly experienced the racial tension and violence he explores in the documentary, which is playing on the government-access cable station Clark County Television this month, Black History Month. (A complete CCTV programming schedule is available online at www.ClarkCountyNV.gov; a clip from the documentary may be viewed at www.YouTube.com/ClarkCountyNV.)
Although racial conflicts extended throughout the Clark County School District during the era, Rancho's North Las Vegas campus emerged as a focal point, Armstrong recalls.
Describing Rancho as "a true urban school," Armstrong — who graduated in 1972 — noted the mix of students from military families, the traditionally black West Las Vegas neighborhood, Paiute tribe members and Mormons.
Whatever their backgrounds, members of the melting-pot student body found themselves "pretty much caught up in the social issues of the time," he says, citing the Vietnam War and the assassinations of Martin Luther King Jr. and Robert F. Kennedy as particular trigger points.
The 56-minute documentary, hosted by Las Vegas-based actor Antonio Fargas (who, later in the '70s, played Huggy Bear on "Starsky and Hutch"), focuses on Rancho's class of 1971, who experienced fights and arguments between black and white students — some triggered by outsiders hoping to stir things up on campus.
Armstrong recalls one incident, in which North Las Vegas police sprayed Mace in a school bus full of students. On another occasion, he adds, a rock-throwing student hit a police helicopter, which was forced to make an emergency landing at J.D. Smith Middle School.
Along with newspaper coverage of the turmoil, the documentary includes personal recollections of several Rancho students Armstrong interviewed during the class of 1971's 40th reunion last fall.
Among the interview subjects: local basketball star Lionel Hollins , now head coach of the NBA's Memphis Grizzlies, and Lee Gray, an All-America basketball center Armstrong describes as "a gentle giant" who felt "torn between the kids he grew up with on the Westside" and his teammates — and prevented numerous confrontations between different student factions.
Other interview subjects range from Louise Randall, one of Rancho's first black cheerleaders, to former principal Larry Olsen. Local historian Michael Green of the College of Southern Nevada also provides insight into an era only eight or nine years removed from Las Vegas' "Jim Crow"-style racial divide, the filmmaker notes.
Armstrong, who teaches in the African-American Studies department at the University of Nevada, Las Vegas, has his own memories of those stormy times — including the day a Rancho coach "saved" him from rioting classmates when "he grabbed me and threw me into the equipment room. I heard helicopters — and police screaming."
After some time, the coach returned, put Armstrong on the school bus and sent him safely home.
Some of Armstrong's fellow Rancho alumni "spoke very freely and openly" of the tension they experienced during their high school years, he says. "Some joked about 'riot season.' It's been 40 years — a lot of people have grown."
Contact movie critic Carol Cling at ccling@reviewjournal.com or 702-383-0272.