'Hair Love' director shines light on 'policing hair' in Texas
February 9, 2020 - 2:41 pm
Updated February 9, 2020 - 3:37 pm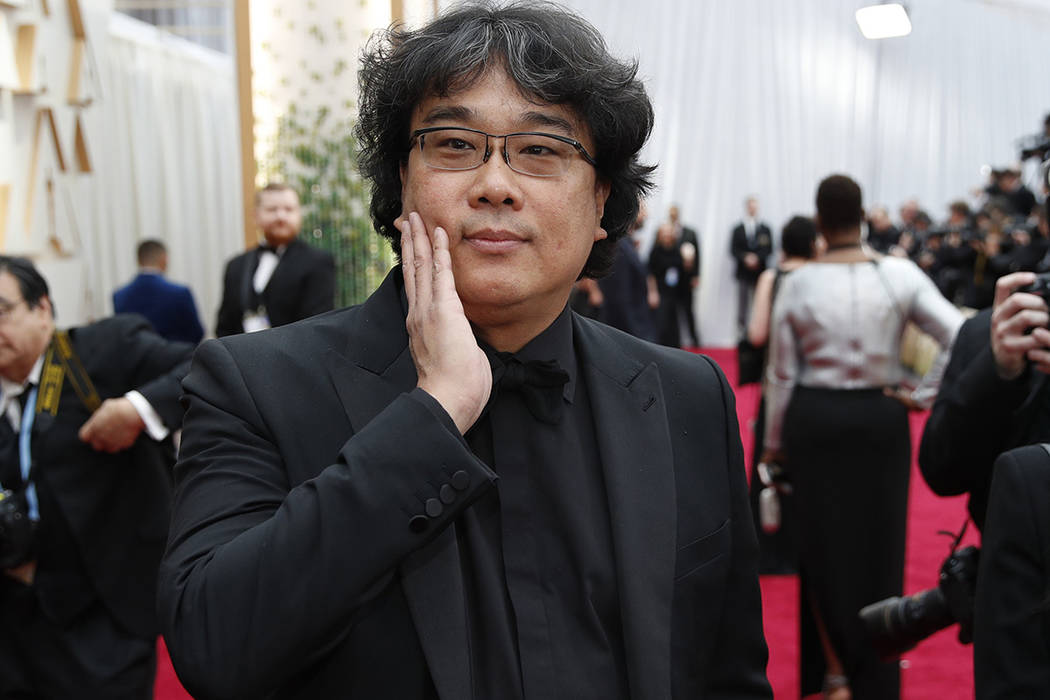 LOS ANGELES — The Latest on the 92nd Academy Awards, which are being bestowed Sunday at the Dolby Theatre (all times local):
3:15 p.m.
"Hair Love" director Matthew A. Cherry has brought a special guest to the Oscars red carpet — Deandre Arnold, a Texas high school student who was told he couldn't attend graduation unless he cut his dreadlocks.
Arnold's story brought national attention and prompted the Texas Legislative Black Caucus to work up a bill that would ban discrimination based on hair textures and styles commonly associated with race. Cherry was eager to lend his support — his film about a young black girl who asks her inexperienced father to help style her hair is nominated for best animated short.
"It means the world to us to have him here with us," Cherry said. "We wanted people to see how good of a kid he is, but also there's no reason people should be policing our hair."
Arnold said it's been "validating" to get backing from Cherry and other celebrities, including Ellen DeGeneres, who gifted him $20,000 toward his education.
"I'm standing strong because of the support system I have behind me," Arnold said.
3 p.m.
Win or lose, "Parasite" director Bong Joon Ho is confident a foreign-language film will soon win an Oscar.
"Regardless of the outcome, I think the door has been opened," the director from South Korea said. "I think as long as we continue this effort, the door will just open wider and wider."
"Parasite" has a chance to be the first non-English film to win best picture — a credit to its poignant story about income inequality, a talented ensemble cast and an academy membership that has grown more international in recent years. Bong walked the red carpet with eight actors from the film, noting that actors and others from the American film industry were excited to meet them.
"I don't necessarily think it's fair to separate films into English and non-English," he said. "I think as long as they're beautiful, it's cinema."
Bong isn't sweating whether he leaves with a trophy. Mostly, he's excited that the Oscars end a five-week trip away from his home in South Korea.
"After the ceremony, there will be a party, and after the party I will get to go home," he said. "So thinking about those two things, doesn't make me nervous at all."
1:15 p.m.
The Oscars red carpet has started with an unwelcome guest — hard rain and a blast of cold air.
Rain was a possibility for Sunday, so the carpet is protected with a large tent. But just as stars like Billy Porter and Tamron Hall arrived, the skies above the Dolby Theatre in Hollywood opened up in a downpour.
The position of some camera crews had them just outside the tent, sending them scrambling to find tarps and plastic to protect their gear.
"Oh my God the tent is leaking," said one photographer who noticed a hole over the massive Oscars sign.
Harried staff are running around with squeegees trying to bump excess water off the tent.
Temperatures were in the high 50s on Sunday, which is considered cold in Los Angeles.
The downpour didn't dampen the red carpet looks of early arrivals, including Porter. The "Pose" star wore a glistening, gold metallic top with a feather effect and a full skirt depicting the interior of the Cupola Room at Kensington Palace.