'Hitman's Bodyguard' tops lackluster weekend at box office
August 27, 2017 - 8:48 am
Updated August 27, 2017 - 11:29 am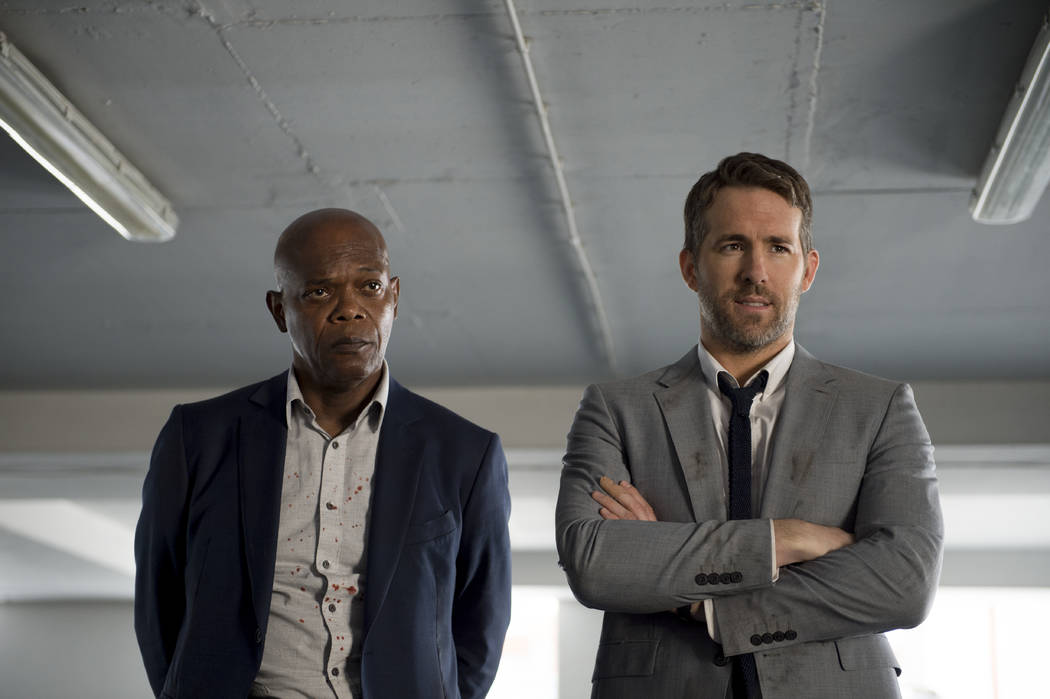 LOS ANGELES — There's no getting around it: this weekend's domestic box office is a catastrophe.
In the grand scheme, it can seem like a small issue when compared with Hurricane Harvey — the deadly natural disaster that tore through the Gulf Coast of Texas on Friday, dumping more than 20 inches of rain, according to the National Weather Service. But Harvey also had at least some impact on the business, forcing theater closures in South Texas. Still, the degree to which the storm hurt the bottom line of moviegoing is up for debate.
Another factor under inspection is Saturday evening's boxing match, which saw Floyd Mayweather beat Conor McGregor with a 10th-round TKO. The fight was estimated to reap as much as $1 billion in revenue, and among the biggest pay-per-view draws in history. Numbers regarding the amount of viewers will be released later in the week, but some analysts predicted the highly-anticipated brawl could keep those who would ordinarily see a movie, out of theaters.
All that said, no amount of outside factors can excuse the reality that no major releases this weekend managed to connect with audiences in a significant way.
That means that, once again, "Hitman's Bodyguard" and "Annabelle: Creation" will top the charts for Lionsgate and Warner Bros., respectively. "Bodyguard" is expected to earn $10.1 million from 3,377 theaters — combined with last weekend, its total domestic gross should be $39.6 million. And "Annabelle" will make $7.4 million from 3,565 locations, raising its current domestic cume to $77.9 million.
"We expect it to continue to perform well right into September," said Lionsgate's distribution president David Spitz.
Otherwise, TWC made two of the weekend's biggest plays with the animated feature "Leap!" and the expansion of Taylor Sheridan's "Wind River." The former opened at 2,575 locations in North America, and is expected to take in $5 million. Under its title in every market outside of the U.S., "Ballerina" has already picked up $58.2 million from foreign locations. It's billed as a musical adventure comedy about an orphan girl who aspires to become a dancer. The voice cast is led by Elle Fanning, and also includes Maddie Ziegler, Carly Rae Jepsen, Nat Wolff, Kate McKinnon, and Mel Brooks. Critics smushed it to 37% on Rotten Tomatoes, but audiences earned the film an A CinemaScore.
"Wind River," meanwhile should make an additional $4.4 million this weekend from 2,095 locations. The film, now in its fourth week of release, is intended as the conclusion of a trilogy that includes "Sicario" and "Hell or High Water." During its first weekend at four theaters, the thriller scored one of the year's best per-screen averages, but its mass appeal seems more questionable. "Hell or High Water," which earned a best picture nomination at the Oscars, also made $4.4 million during its fourth weekend, but from fewer locations (1,303).
Also, "Birth of the Dragon" is opening at 1,618 locations to $2.5 million. That's below the $3.25 million goal set by the distributor. BH Tilt and WWE Studios co-acquired the film after its premiere at the 2016 Toronto Film Festival. The marketing campaign was inexpensive and focused on digital promotion, and targeted events. The movie — an homage to Bruce Lee's style of martial arts films — lends its inspiration's name to the main character, played by Philip Ng. Set in 1960s San Francisco, Lee challenges kung fu master Wong Jack Man (Xia Yu) to an epic fight.
And Sony's "All Saints," from Affirm Films and Provident Films should earn $1.55 million from 846 locations. The faith-based film has a low budget, and is generally embraced by critics (89% on Rotten Tomatoes) and audiences (A- CinemaScore). John Corbett and Cara Buono lead the cast of the flick, directed by Steve Gomer. Steve Armour wrote the script, based on a true story, that centers on a salesman-turned-pastor and a group of refugees from Southeast Asia.
Despite the recent popular assertion that movie releases are moving to a year-round schedule with fewer dead zones, August remains a predictably sleepy month for theaters. Still, years past have managed bigger successes than we are seeing in 2017. Last year at this time, for example, Sony's Screen Gems launched "Don't Breathe," which grossed $26.4 million in its opening weekend. While a similar sort of horror hit would be difficult to position between "Annabelle" and September release "It," there is potential for movies to perform well at the tail end of summer. That "Wonder Woman" and "Baby Driver" saw their theater counts upped only adds as further emphasis that studios see the hole in the schedule — they just aren't quite sure how to properly fill it.