'Jason Bourne' adds iconic shots to Vegas film lore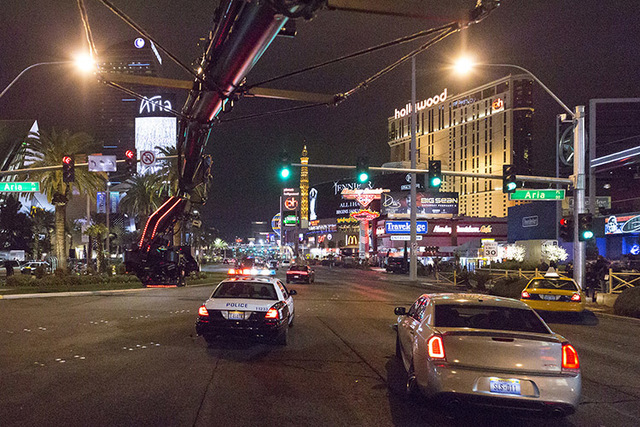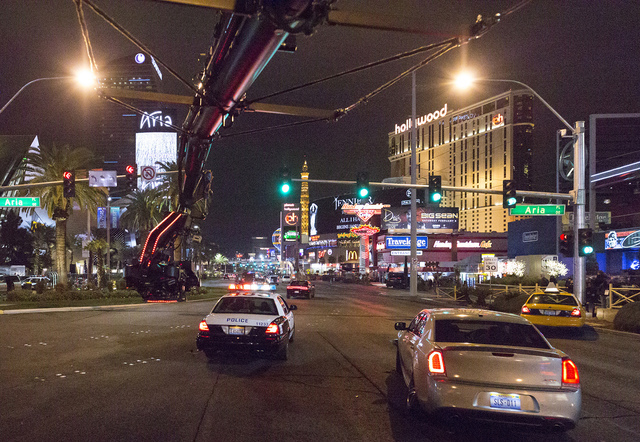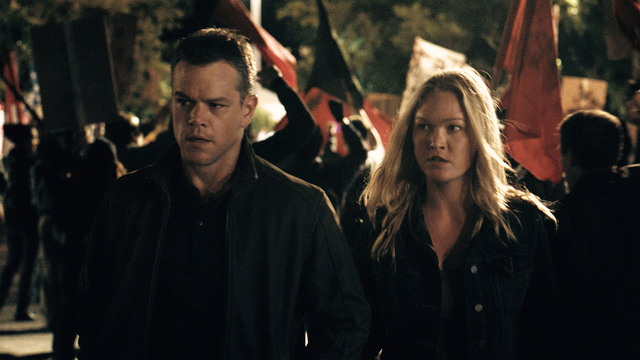 "I've shot so much in Vegas over my career," Matt Damon says, referring to the "Ocean's" franchise and "Behind the Candelabra," HBO's acclaimed Liberace movie. "I mean, I've really shot some of my favorite stuff that I've ever been in there."
That list got a bit longer this year with the roughly six weeks of local filming on "Jason Bourne," the nine-years-in-the-making sequel opening Friday, whose centerpiece is an unprecedented chase scene that closed the Strip for three nights.
As the focal point of the marketing of one of summer's most anticipated blockbusters, that scene is putting Las Vegas in front of millions of eyes around the world and could impact tourism for years to come.
"It's probably one of the most significant productions we've ever had here in Nevada," says Eric Preiss, director of the Nevada Film Office, "just due to the sheer size of it and the magnitude of what they were trying to accomplish."
Bourne's car swerves against oncoming Strip traffic before jumping the median. Dozens of vehicles are sent flying through the air in front of Bellagio. A SWAT BearCat crashes through the Riviera. And it's all done practically, without the aid of computers.
"That challenge was probably the toughest challenge I've had," says Frank Marshall, whose producing career is in its fifth decade and, in addition to the "Bourne" films, includes everything from the Indiana Jones movies to the "Back to the Future" franchise to "Jurassic World."
And it's a challenge almost no one thought could be met.
'YOU AIN'T SHUTTING DOWN THE STRIP'
"When they first told me they wanted to do that, I was, like, 'You guys are Europeans,' " Damon says of writer-director Paul Greengrass and others on the crew. "'You don't understand how this works. You ain't shutting down the Strip. That'll never happen.'
"It was a big deal when we shut down the sidewalk at the Bellagio at the end of 'Ocean's Eleven,' " the actor adds. "That was hard to get permitted for."
Preiss first met with "Jason Bourne" producers March 3, 2015, 10 months before filming began. "And of course," he says, "the initial reaction is, 'That is a big ask. That is a BIG ask.' "
Once some initial ideas were bandied about, Preiss says, "That's when we really started to get down to the nuts and bolts of it, and say, 'OK, we need to get Clark County involved and the City of Las Vegas and the department of transportation and Metro and fire.' And then that's when all those meetings start to happen."
Marshall estimates those negotiations lasted five or six months.
"We knew it was going to be a challenge, but we also knew that the Jason Bourne franchise and Matt Damon and what that would bring to the city of Las Vegas as far as exposure, that we wanted to all work to make that happen," Preiss says. "And, really, everybody in every one of the agencies did a fantastic job to say, 'We don't want to say, "No." How do we get to "Yes" here?' "
Not that every request was granted. "Literally, there were so many 'no's," Preiss says, laughing. At one point, there was talk of getting a car up on the monorail track and, Preiss says, "launching cars off parking structures and things of that nature."
Six months later, Damon still seems surprised by the experience.
"Vegas was awesome for us," he says. "And we asked a lot of the city, more than any film that I've ever been a part of. And they were incredible. And the fact that we were even allowed to shoot that car chase on the Strip was insane."
'IT HAD TO BE THE BIGGEST'
"The whole movie was scheduled around that sequence," Damon reveals.
It ultimately was agreed that a portion of the Strip could be closed to traffic for three weeknights, from around midnight until 5 a.m., and only in early January, traditionally the least busy time of the year in Las Vegas.
"So we came barnstorming in. And we just prepped everything way more than we've ever had to and just knocked it out," Damon says. "Because we knew it had to be big. If we were going to get something that iconic, it had to be the biggest (chase) we've ever done."
Roughly 200 vehicles — 150 cars driven by extras, 50 by stunt drivers — were involved in the scene.
"We shut down so much of the Strip, and we had to be safe," Marshall says. "So we had to station somebody at every driveway, every door. So it took almost four hours every night just to get ready."
Filmmakers had two takes at the stunt that involved Bourne's nemesis, known only as The Asset (Vincent Cassel, Damon's "Ocean's Thirteen" co-star), stealing a SWAT vehicle and crashing it through traffic like a snowplow.
"That's the thing about these movies," Damon says. "We do everything in camera. So it's not green screen. We really ran a truck into all those cars." The only cheat, he says, was digitally removing some of the numerous cameras that were needed to fully cover the spectacle.
REVIVING THE RIVIERA
With so much focus on the chase itself, it's almost an afterthought that both Bourne's car and The Asset's SWAT vehicle end up inside the Riviera.
"That was a stroke of luck," Damon says, "because we found out that they were going to demo the Riv. And we went, 'Wait, before you do it, would you mind if we, like, dress it up and run some cars through there?' They were, like, 'Yeah, it's no problem at all.' "
By that point, the hotel was a mess, so supervising art director Caty Maxey went to work.
She also dressed Aria, where much of "Jason Bourne's" Vegas scenes take place, to look like the fictional EXOCON, a gathering of hackers, cyber security and surveillance firms, that lures the characters to town. Other locations include the Greyhound station, McCarran International Airport and the Henderson Executive Airport.
Working from photos taken just before the Riviera closed in May 2015, Maxey brought a small portion of the hotel back to life.
"We just went in and decorated it, put things in the lobby, and redressed it," producer Marshall recalls. "And then when you hit the marquee and you smash in the doors (with the vehicles), it's real. It just has a different feel" than computer-generated effects.
"I was really happy we got to do that," Damon says, "and also to put the Riv onscreen one more time before it went away."
THE 'BOURNE' LEGACY
"Jason Bourne" marks Damon's first time playing the character since 2007's "The Bourne Ultimatum." And, from the sound of things, fans should savor this experience. It could be awhile before America's answer to James Bond returns.
"If Paul (Greengrass) wants to do it, I would definitely come back and do it with Paul," Damon says of another sequel. "But that's years away."
Until that happens — if that happens — Bourne fans' most recent memories will be of Las Vegas. That, in turn, could be a boon for the city.
"When a movie like 'Bourne' comes to town," Preiss says, "and they shoot such an iconic scene down the Las Vegas Strip — cars flying in the air, passing by Aria, passing by Paris, Bally's, crashing into the Riviera — people see that in the film, and they say, 'I wanna go to Las Vegas.' So that just does great for the city to drive that additional tourism."
For his part, Damon seems nearly as pleased with what that chase means for the city.
"I think people in Vegas are gonna be really proud of the movie when they see it. Vegas looks awesome," he says. "And I think it's gonna turn out to be one of those iconic (stunts) with those cars flying right in front of the Bellagio. I mean, literally, there's that one tracking shot, and you just see the fountains going off in the back. And it was just, like, luck."
"I'll never do anything that big again," Damon adds of the stunt. "It was really special."
Contact Christopher Lawrence at clawrence@reviewjournal.com. On Twitter: @life_onthecouch.