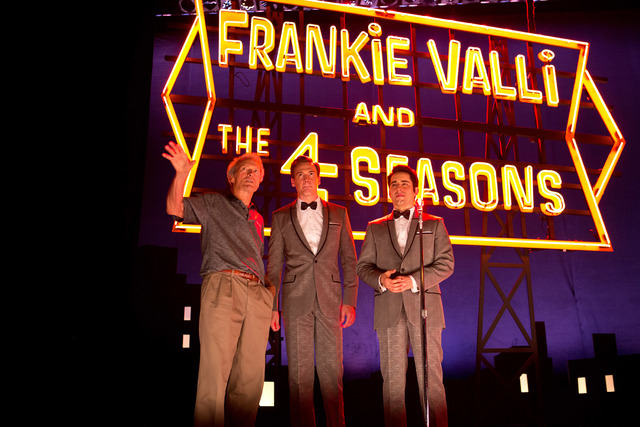 Erich Bergen had the last laugh. Or maybe it was Clint Eastwood.
Either way, Bergen is playing Bob Gaudio in the "Jersey Boys" movie after being fired from the Las Vegas cast of the stage musical more than four years ago.
"Even though I had let go of 'Jersey Boys' — and I'm doing air quotes right now for 'let go' — it was always in the back of my mind as unfinished," says Bergen, who co-stars in the film version of the Broadway blockbuster as the young songwriting wunderkind behind Frankie Valli and the Four Seasons.
And Bergen did not play Gaudio again until cameras started rolling on the Eastwood-directed movie version last summer.
"You have to let go of it so you can move on to the next thing. You have to lie to yourself and pretend that you are not wishing that every job you do had the same energy as 'Jersey Boys,' " Bergen said by telephone last week.
"I love that show so much, if I had not been let go, I promise you I'd still be there."
But Bergen's may still become the performance of record if the movie that opened Friday matches the musical's popularity. Eastwood cast three of the four leads from stage productions of "Jersey Boys" — including John Lloyd Young from the original Broadway cast as Valli — alongside Vincent Piazza of "Boardwalk Empire" as Tommy DeVito.
Eastwood traveled to watch different versions of the show, including the one at Paris Las Vegas. He ended up casting Renee Marino, who worked in Las Vegas for weeks at a time as a vacation "swing," as Valli's wife, Mary. And Rob Marnell, who recently ended a three-year run as Gaudio in Las Vegas, is seen as one of the replacement Seasons after the original group breaks up.
But "Clint never saw me in the show," Bergen says, because he had not played Gaudio since he was dismissed in September of 2009.
The director "couldn't find what he was looking for," Bergen was told, so he went to the real Gaudio (an executive producer on both the musical and movie) and asked him for suggestions.
"I hadn't talked to Bob since Vegas. When I found out I was surprised, because I didn't know how he felt about me," Bergen says.
Bergen had previously auditioned when the movie was in development with director Jon Favreau, but didn't get anywhere before that version went into turnaround and Eastwood came on board.
"I went back to the daydream I'd always had sitting in the wings of the theater thinking, 'Boy I would love to do the movie of this one day.'
"But also having that same thought as I always did, which was, 'And that'll never happen.' "
Bergen, now 28, did go on to TV episodes of "Gossip Girl" and "Person of Interest," and was part of another touring musical, "Anything Goes," which visited The Smith Center for the Performing Arts early last year.
He first played Gaudio for two years in a touring company of "Jersey Boys," then opened the Las Vegas edition in 2008. He worked at the Palazzo (before the show moved to Paris Las Vegas) for 14 months.
Beyond his nightly role, Bergen was part of an emerging performers community taking shape around the Composers Showcase, helmed by "Jersey Boys" music director Keith Thompson.
Combining that momentum with his adoration of Michael Jackson, Bergen helmed an August 2009 tribute to the recently fallen superstar, with performers from various Las Vegas shows raising money to help fund music programs in schools.
A few weeks later, he got his letter of dismissal, with no public comment from the producers to explain it.
"I think all of my side projects were not looked at well, but at the end of the day I was never given a specific reason by the producers."
There was press speculation that however noble the cause, the Jackson tribute had caused him to miss too many performances of his day job.
"They're not bad people, I can't imagine it was that," he says. "You know what? If I thought about me at the time and I was a producer I would have done the exact same thing."
Members of the production who do not have the authority to speak about personnel decisions remember Bergen had a reputation for tardiness and calling in sick. The final straw was missing a performance and then attending "Peepshow" the same night and posting his presence there on Facebook.
But, as Bergen says now, "the show producers had nothing to do with the movie." Months passed after his initial audition before he was surprised to learn the part was his, even though he never had a callback or a screen test.
Eastwood's direction was as stoic as his screen heroes.
"He was so adamant that I don't adjust my performance (from the stage version). He hired us to do what we do," he says. "He really got out of our way and wanted to see what our first instincts were."
Bergen now moves on to a recurring role on "Madam Secretary," a new CBS political drama, next fall. "Jersey Boys" shows his dramatic range, as he ages from virginal whiz kid to tough-minded brain of the Four Seasons operation, his loyalty never wavering from the business partnership he and Valli forged with a handshake.
Bergen's history with the role mirrors at least part of the movie's aging process. He was 20 when he was first cast and 22 when the show came to Las Vegas. "From first audition to DVD it will have been my entire 20s," he says. "I've given my 20s to Frankie Valli."
Contact reporter Mike Weatherford at mweatherford@reviewjournal.com or 702-383-0288.