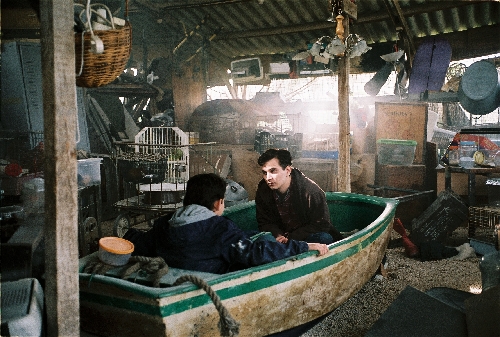 The way Joshua Abbey sees it, one thing is keeping the Las Vegas Jewish Film Festival from reaching a broader audience. Its name.
"For years, I've been trying to convince the Las Vegas community that the quality of the films are such that anybody that appreciates really good independent cinema will have a great experience," says Abbey, director of the 12th annual festival, which runs Sunday through Jan. 27.
"But because the word Jewish is in the title, it's really hard to get past the stigma of people misperceiving that as somehow being exclusive."
When booking the local fest, Abbey attends similar film festivals across the country, keeps track of the more popular movies and looks for variety – dramas, documentaries "and some comedy, if possible," as well as entries from Israel and other countries.
But unlike past installments, when local nonprofits would sponsor and help choose individual films, this year's selection process involved only two other people: Elliot B. Karp, president and CEO of The Jewish Federation of Las Vegas, and Paul Schiffman, Head of School at The Adelson Educational Campus, 9700 Hillpointe Road, which is hosting all but one of this year's films.
"Suskind," the Dutch drama about Jewish resistance hero Walter Suskind, is playing at 7 p.m. Jan. 24 at the Century theaters at the South Point, 9777 Las Vegas Blvd. South. (Tickets are $10 per film or $50 for a festival pass. For more information, visit www.lvjff.org.)
"It's the kind of film that probably should have gotten a U.S. release, and I'm not sure why it didn't," Abbey says of "Suskind." "It's on a par with 'Schindler's List.' It's a really important, extremely well-made, big production."
He's also looking forward to the screening of the Israeli drama "Mabul" (1 p.m. Sunday), about a family's struggles with an autistic child. Dr. Shannon Crozier, director of the University of Nevada, Las Vegas Center for Autism Spectrum Disorders, will moderate a discussion.
"I'm excited that people that may have autism in their family will have the opportunity to share their experience," Abbey says, "and learn about local resources that are available."
He calls "Life in Stills" (3:30 p.m. Jan. 27), a documentary about the efforts to preserve an extensive Israeli photographic archive, "probably my sentimental favorite, because it's just such an amazing, touching portrait of the importance of family."
Other films set to play the Las Vegas Jewish Film Festival:
■ "Follow Me: The Yoni Netanyahu Story" (3 p.m. Sunday), a documentary about the leader of the 1976 raid to free hostages at Uganda's Entebbe airport.
■ "Would I Lie to You" (5 p.m. Sunday), a French comedy about a Parisian Gentile mistaken for a Jew.
■ "It Is No Dream, The Life of Theodor Herzl" (7 p.m. Jan. 19), a documentary about the man behind the political movement that led to the founding of Israel.
■ "Hava Nagila" (1 p.m. Jan. 20), a documentary about the history of the party song, featuring interviews with the likes of Harry Belafonte and Leonard Nimoy.
■ "Gainsbourg: A Heroic Life" (7 p.m. Jan. 26), a dramatic look at French singer-songwriter Serge Gainsbourg.
■ "Brothers" (1 p.m. Jan. 27), a Swiss drama about siblings divided over the separation of state and religion in Israel.
■ "Remembrance" (5 p.m. Jan. 27), a German romance about two lovers, each of whom believed the other died during the Holocaust.
"One interesting nuance," Abbey says, "is that the majority of the highest quality new films still seem to address the Holocaust as their subject matter. … Jewish audiences, to a certain extent, have what I call 'Holocaust fatigue,' where they've just been really overexposed" to such films.
But they're so good, Abbey says, he can't avoid showcasing them, either.
"There's a large survivor community" in Las Vegas, he adds, "and for them, it's also important that Holocaust-themed films are included in the program."
But, as evidenced by the other titles, there is still plenty of variety in the festival, which Abbey calls "a celebration of Jewish life, history, culture and identity, and an opportunity to expose non-Jewish audiences to the incredible diversity and depth of the Jewish experience."
Contact Christopher Lawrence at clawrence@review journal.com or 702-380-4567.
PREVIEW
What: 12th annual Las Vegas Jewish Film Festival
When: Sunday-Jan. 27
Where: Adelson Educational Campus, 9700 Hillpointe Road
Tickets: $10-$50 (lvjff.org)