Las Vegas cult filmmaker Ted V. Mikels dies at 87
October 17, 2016 - 11:02 pm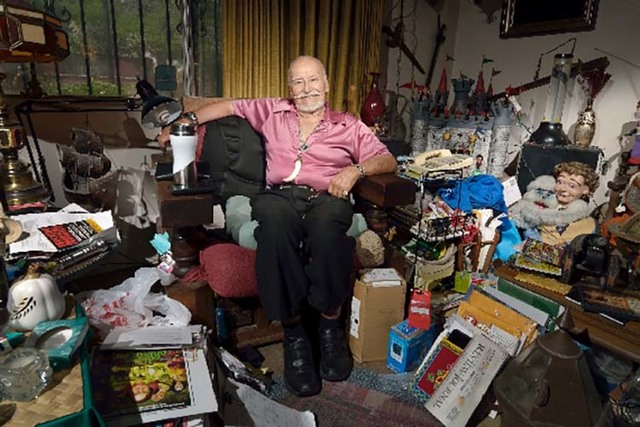 Cult filmmaker Ted V. Mikels, a longtime Las Vegan whose cinematic claims to fame include such B-movie favorites as "The Corpse Grinders" and "The Astro-Zombies," died Sunday at his Las Vegas home following a long illness. He was 87.
Mikels had been under hospice care in his home for about three months — and had been battling health problems for about eight years, according to John Cornett, a longtime colleague and caregiver.
"He lived a good life — 87½ years," said Mikels' daughter, Cherisse Gomez of Las Vegas. "He did have a goal, which was 104. He always would tell people he was going to live to 104. … I wish he would have lived to 104."
The indefatigable Mikels was still working on his final movie, a sequel to 1982's "10 Violent Women," until "late spring, early summer" of this year, Cornett said.
The fact that Mikels wasn't able to complete the movie means "I know he's an angry soul," said psychologist Wendy Altamura, who had a close relationship for 28 years with the director and appeared in more than a dozen of Mikels' movies, billed as Shanti.
Mikels himself was as outlandish as the movies he created; his trademarks included a giant tooth pendant, a neatly trimmed goatee and a curly, waxed moustache. To say nothing of the gleeful chuckle that often accompanied descriptions of his latest productions.
Although eccentric, Altamura acknowledged, Mikels "was very moral, very kind, very focused." Moviemaking was his passion, she added.
Cornett, who knew Mikels for 24 years and helped the filmmaker open his TVM Studios in 1994, echoed that assessment.
"He really enjoyed his craft," he said, "and he was very much in his element directing," whether calling the shots on one of his cult movies or a TV commercial for Arizona Charlie's casino.
In a 2013 interview with the Review-Journal's Christopher Lawrence, accompanying the debut of "The Corpse Grinders 3" at a local film festival, Mikels estimated he'd done "a million-and-a-half camera setups" during his career producing, directing, editing — and sometimes scripting — movies ranging from "The Black Klansman" to "Blood Orgy of the She-Devils."
He filmed a Brylcreem commercial with baseball legend Joe DiMaggio and shot a promotional reel for comedian Chris Rock. In addition to "Astro-Zombies," his 1968 output included a documentary that taught elementary school students how to use a dictionary.
During his long filmmaking career, Mikels also worked on light, sound, stunt and special effects crews.
Born Theodore Mikacevich on April 29, 1929, Mikels' first camera was a Kodak Brownie; he developed the film in his bathtub. He graduated from still photos to movie cameras, working his way up from 8 millimeter to 35 millimeter, then videotape, eventually shooting millions of feet of footage.
His daughter Gomez remembers seeing a couple of her father's movies at the drive-in, where his horror creations were a staple.
"Somehow he got a genre," Gomez said. "One of my favorites was 'Corpse Grinders' " — in which the owner of a struggling cat food company found a source of cheap meat in the graveyard, inadvertently giving hungry felines a ravenous appetite for human flesh — "because I thought that sounded like a real possibility."
But of all her father's movies, she and her three sisters preferred his first, a 1963 thriller, shot in black-and-white, titled "Strike Me Deadly."
When Mikels moved to Las Vegas in 1985, "he was going to start a movie production school," Gomez recalled. Although the filmmaking academy never came to fruition, Mikels helped many aspiring filmmakers get their start as he continued to make movies — often with low, or no, budgets.
Mikels closed his TVM Studios about seven years ago "with great sorrow and agony and pain," he told the Review-Journal, "because I literally had to Dumpster all the equipment I had gained over the years."
But he told the Review-Journal he was "enjoying the digital world. At first it was an adversary, because it literally altered the entire business that I'd spent my life in," but it enabled him "to do things that would cost thousands of dollars and take weeks to do, and I can do it in two seconds with my mouse."
Regardless of the format, making movies remained Mikels' passion.
"Valentine's Day would come and go, and I would remind him … but he had a film to finish," Altamura said, noting that he told her, "There's always time to say I love you."
In addition to Gomez, Mikels is survived by daughters Michele LaComb, Celine Martens and Janine Rasmussen, all of Cave Junction, Oregon; sons Theodore Mikels Jr. of Cave Junction, Oregon, and Troy Mikels of Las Vegas; 23 grandchildren and 50 great-grandchildren.
The family anticipates a memorial service "in the next three weeks," Gomez said.
Contact Carol Cling at ccling@reviewjournal.com and follow @CarolSCling on Twitter.