Las Vegas wasn't always kind to late Burt Reynolds
Updated September 6, 2018 - 6:43 pm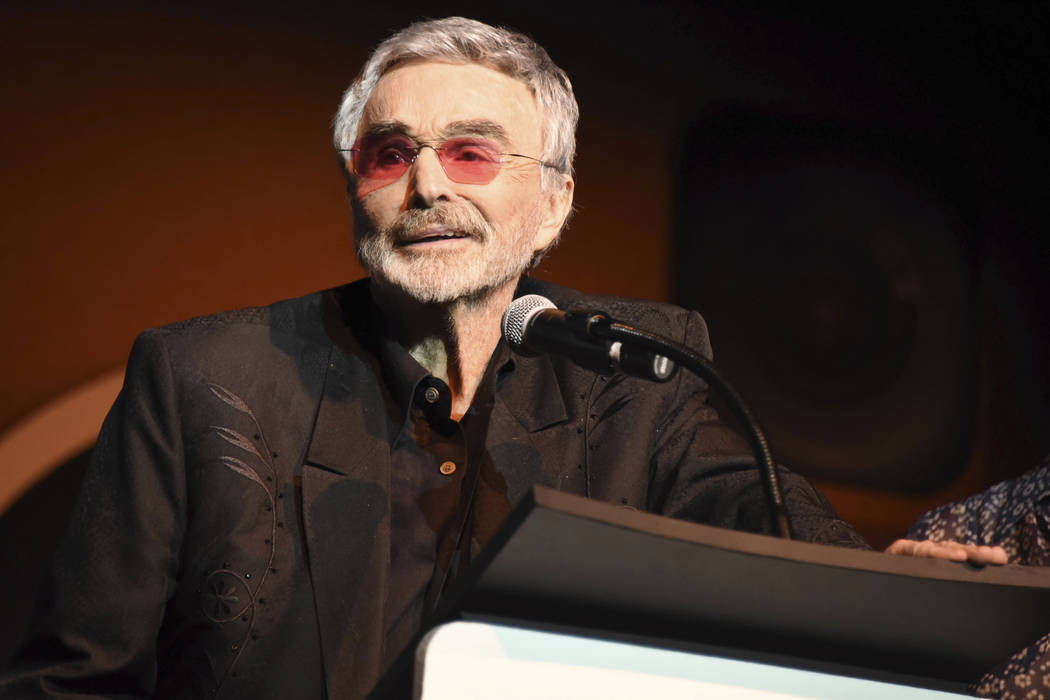 Burt Reynolds, the fun-loving Hollywood icon known in the 1970s and '80s as much for his sex appeal as his box-office appeal, died Thursday before he could film what could have been yet another peak in a roller coaster of a career.
The 82-year-old actor, who suffered a cardiac arrest, had been poised to shoot "Once Upon a Time in Hollywood," Quentin Tarantino's star-studded movie about Sharon Tate, Charles Manson and the summer of 1969, alongside Brad Pitt, Leonardo DiCaprio and Margot Robbie.
Born in Lansing, Michigan, and raised in Florida, Reynolds was an all-conference running back at Florida State University. When a knee injury and an automobile accident ended his professional prospects, Reynolds dropped out of college and drifted to New York, where he worked as a dockhand, dance-hall bouncer, bodyguard and dishwasher before returning to Florida in 1957 and enrolling in acting classes at Palm Beach Junior College.
Reynolds parlayed his infectious laugh and mustachioed machismo into a string of theatrical hits, including the "Smokey and the Bandit" and "Cannonball Run" movies, that made him Hollywood's top-grossing star from 1978 through 1982.
Over the years, Las Vegas smacked Reynolds around the way he once lovingly slapped Dom DeLuise in the "Cannonball Run" films, which focused on cross-country car races and co-starred Strip legends Dean Martin and Sammy Davis Jr.
Production of 1980's "Smokey and the Bandit II" passed through Clark County, when Reynolds and his co-star Sally Field were near the end of their five years together. "Throughout the rest of the filming, from Georgia to Las Vegas, Sally and I had perhaps the most heated affair of our relationship," Reynolds wrote in "My Life," his 1994 memoir. "The sex was angry — well, wonderful and mean — but we couldn't keep from it. Before returning to L.A., Sally simply said, 'It's over, pal.' "
Six years later, Reynolds came to Las Vegas to film the thriller "Heat," in which he played a bodyguard and gambler. "There's never been a movie about Las Vegas that's been terribly successful," he told reporters shortly after the cameras started rolling.
Despite being written by William Goldman ("Butch Cassidy and the Sundance Kid," "All the President's Men"), "Heat" wouldn't change that. The movie was a disaster, cycling through multiple directors and earning just $2.8 million at the box office, a figure that barely covered the star's reported $2 million salary.
"Heat's' reception helped send Reynolds into a string of forgettable roles before he found a new career on TV, as well as an Emmy, in 1990 with the CBS comedy "Evening Shade." His only Oscar nomination came in 1998, in the midst of yet another comeback, for his role as porn director Jack Horner in "Boogie Nights."
Contact Christopher Lawrence at clawrence@reviewjournal.com or 702-380-4567. Follow @life_onthecouch on Twitter.