Latest DVDs, CDs, books: Dec. 27
December 27, 2011 - 1:59 am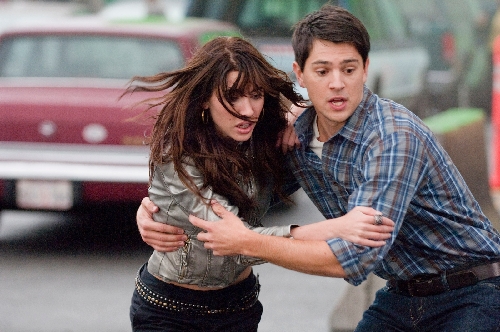 A look at some of the DVDs, CDs and books hitting stores this week
DVDS
"Apollo 18" (PG-13): Decades-old "found" footage of NASA's final moon shot — captured by American astronauts (Warren Christie, Lloyd Owen) dispatched on a secret mission to the moon — inspires a what-if horror voyage.
The chills continue in "Final Destination 5" (R), as survivors of a suspension-bridge collapse (led by Nicholas D'Agosto, Emma Bell and Arlen Escarpeta) discover there's still no way to cheat Death. The focus shifts to comedy in "A Good Old Fashioned Orgy" (R) as 30-year-olds (led by Jason Sudeikis and Tyler Labine), friends since high school, attempt to celebrate summer's end with the title bash. And in the Bollywood drama "Rockstar" (not rated), featuring music by "Slumdog Millionaire" Oscar winner A.R. Rahman, a college student (Ranbir Kapoor), hoping heartbreak will transform him into a successful musician, pursues a relationship with a fellow student.
Turning to movies that never made it to local theaters, Helen Mirren, John Hurt and Sam Riley ("Control") headline an adaptation of Graham Greene's gangster tale "Brighton Rock" (R) set in 1964 mods-vs.-rockers Britain. Peter Dinklage, Tim Roth, Steve Buscemi and Rosie Perez, among others, turn up in the quirky comedy "Pete Smalls Is Dead" (not rated). Two women (Kristen Scott Thomas, Ludivine Sagnier) play a dangerous game of manipulation in the French thriller "Love Crime" (not rated), while a married man forces himself to choose between wife and mistress in Romania's "Tuesday, After Christmas" (not rated).
Leading today's TV-to-DVD transfers (all unrated): "The Borgias: The First Season," "Shameless: The Complete First Season," "The Increasingly Poor Decisions of Todd Margaret: Season One" and "Jersey Shore: Season Four (Uncensored)."
CDS
Trent Reznor/Atticus Ross, "The Girl with the Dragon Tattoo Soundtrack": It's deja vu in bondage pants.
Earlier this year, Trent Reznor won an Oscar for a soundtrack to a David Fincher film.
Next spring, perhaps he'll do the same for another Fincher flick.
After scoring "The Social Network," Reznor returns with the foreboding, tense, throbbing soundtrack to gothy murder mystery "The Girl with the Dragon Tattoo," highlighted by a seductive thrashing of Led Zeppelin's "Immigrant Song" by Yeah Yeah Yeah's singer Karen O., which breathes plenty of dragon-worthy fire.
BOOKS
"77 Shadow Street" by Dean Koontz: Ghosts reawaken at The Pendleton, once a grand home marred by suicide and murder that now has been turned into an apartment building.
Author Tami Hoag returns to her Oak Knoll series with "Down the Darkest Road," in which the California community holds a disturbing surprise for Lauren Lawton, who's still haunted by her daughter's disappearance.
Also hitting shelves this week: "Conqueror: A Novel of Kublai Khan" by Conn Iggulden; "Dark Revelations" by Anthony E. Zuiker; "Death Benefit" by Robin Cook; "Deliciously G-Free: Food So Flavorful They'll Never Believe It's Gluten-Free" by Elisabeth Hasselbeck; "The Innocent" by Taylor Stevens; "Life Is Not a Reality Show: Keeping It Real with the Housewife Who Does It All" by Kyle Richards; "Magic of the Moonlight" by Ellen Schreiber; "Sleepwalker" by Karen Robards; and "Why We Broke Up" by Daniel Handler.