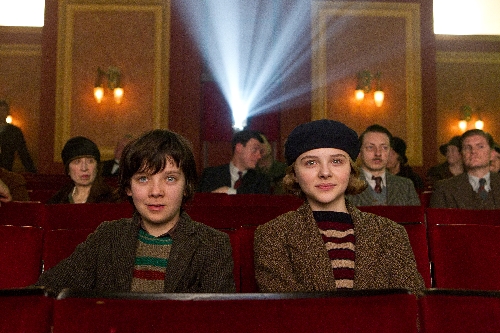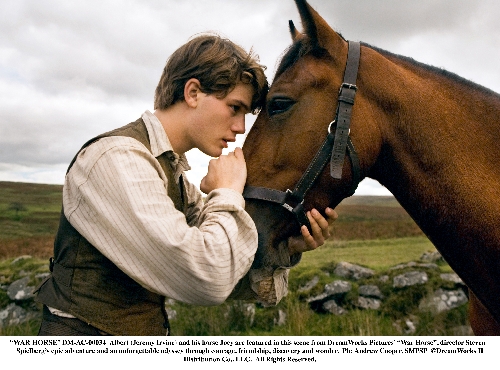 Turkey on the holiday table = yummy.
Turkey on the movie screen = crummy.
It's still too early to tell whether this season's cinematic feast will warm hearts — or trigger heartburn.
But at least the Thanksgiving arrivals seem to herald a pleasing season at the movies.
After all, this week's harvest boasts the latest from some of our greatest, including director Martin Scorsese, embracing 3-D for the first time in the fanciful "Hugo," plus "Sideways"/"About Schmidt" ace Alexander Payne, teaming up with George Clooney for Oscar-buzz favorite "The Descendants." Actress Michelle Williams is generating a new wave of raves for her performance as "My Week With Marilyn's" title character, screen goddess Marilyn Monroe.
And let's not forget those lovable "Muppets," whose Wednesday arrival led this season's wave of favorite returnees, from Tom Cruise's latest "Mission: Impossible" to Robert Downey Jr., who's back in a second Sherlock Holmes adventure.
Director Steven Spielberg delivers two adventures over four days in late December: the animated "Adventures of Tintin," plus the live-action "War Horse." Director David Fincher follows last year's "The Social Network" with Hollywood's adaptation of the best-selling "The Girl With the Dragon Tattoo." And, leading the art-house Oscar sleepers, there's "The Artist," a French valentine to silent, silver-screen Hollywood.
To help whet your appetite for all those and more, here's the movie menu for what's left of 2011. (Remember that many year-end awards hopefuls will open in New York and/or Los Angeles this month but won't hit local theaters until next year.)
And so, we fervently pray: Happy moviegoing to all, and to all a good night … or matinee!
Dec. 2
"Hell and Back Again" — Photojournalist Danfung Dennis' documentary, one of 15 in the running for an Academy Award nomination, follows an injured Army sergeant from Afghanistan to North Carolina, contrasting life-or-death combat situations with life on the home front.
Dec. 9
"New Year's Eve" — After directing "Valentine's Day," director Garry Marshall returns with another all-star holiday comedy, as Oscar winners Robert De Niro and Hilary Swank, plus Michelle Pfeiffer, Katherine Heigl, Ashton Kutcher, Jessica Biel, Zac Efron, Sofia Vergara, Sarah Jessica Parker and Josh Duhamel (among others) ring out the old and ring in the new.
"The Sitter" — A suspended college student (Jonah Hill) isn't prepared for the wild night that awaits when he agrees to keep an eye on the kids next door in this comedy from "Pineapple Express" director David Gordon Green.
Dec. 16
"Alvin & the Chipmunks: Chipwrecked" — It's chipmunk overboard in this animated adventure, as cruise passengers Alvin, Simon and Theodore accidentally find themselves marooned on a tropical island. Jason Lee returns to lead the human cast; Justin Long, Jesse McCartney and Las Vegas Academy alumnus Matthew Gray Gubler voice the title trio.
"Sherlock Holmes: Game of Shadows" — The title sleuth (Robert Downey Jr.) and sidekick Dr. Watson (Jude Law) take on nefarious nemesis Professor Moriarty (Jared Harris) in this sequel to the 2009 hit featuring Rachel McAdams and Noomi Rapace (the original Swedish "Girl With the Dragon Tattoo").
"Young Adult" — A divorced writer (Charlize Theron) returns to her Minnesota hometown, hoping to rekindle a romance with her high school boyfriend (Patrick Wilson), now married with children. Patton Oswalt co-stars in this character study from "Up in the Air" director Jason Reitman and "Juno" screenwriter Diablo Cody.
Dec. 21
"The Adventures of Tintin" — Director Steven Spielberg teams up with producer Peter Jackson ("Lord of the Rings") for this motion-capture animated adventure, inspired by the comic-strip exploits of the title character (Jamie Bell), his dog Snowy and a boozy sea salt (Andy Serkis) as they embark on a treasure hunt that puts them on a collision course with a sinister adversary (Daniel Craig, who also stars in "The Girl With the Dragon Tattoo").
"The Girl With the Dragon Tattoo" — The 2009 Swedish adaptation of Stieg Larsson's blockbuster novel gets the Hollywood treatment, with "Social Network's" Rooney Mara as haunted title hacker Lisbeth Salander, who helps an embattled journalist ("Tintin's" busy Daniel Craig) track a woman who's been missing for 40 years.
"Mission: Impossible — Ghost Protocol" — Ethan Hunt (Tom Cruise) and his team go rogue when the Impossible Mission Force is shut down after being implicated in a Kremlim bombing; "The Incredibles" director Brad Bird tries his hand at live action in this sequel featuring Jeremy Renner and Paula Patton.
Dec. 23
"We Bought a Zoo" — Matt Damon, Scarlett Johansson, Elle Fanning and Thomas Haden Church headline this fact-based heartwarmer, from writer-director Cameron Crowe ("Jerry Maguire"), about a Southern California family trying to revive a rundown menagerie.
Dec. 25
"The Artist" — In 1927 Hollywood, a movie star (Jean Dujardin) wonders whether the advent of talking pictures will derail his career, while a young dancer (Berenice Bijo) dreams of her big break, in a French romance (filmed in glorious black and white) that captivated Cannes film festival audiences.
"The Darkest Hour" — In Russia, an alien invasion leaves an embattled group (led by Emile Hirsch, Olivia Thirlby and Max Minghella) struggling to survive.
"War Horse" — Director Steven Spielberg returns with this live-action tale of a young man (Jeremy Irvine) who braves the trenches of World War I to save his beloved horse; Emily Watson, Benedict Cumberbatch, David Thewlis and "Thor's" Tom Hiddleston co-star.
Contact movie critic Carol Cling at ccling@reviewjournal.com or 702-383-0272.