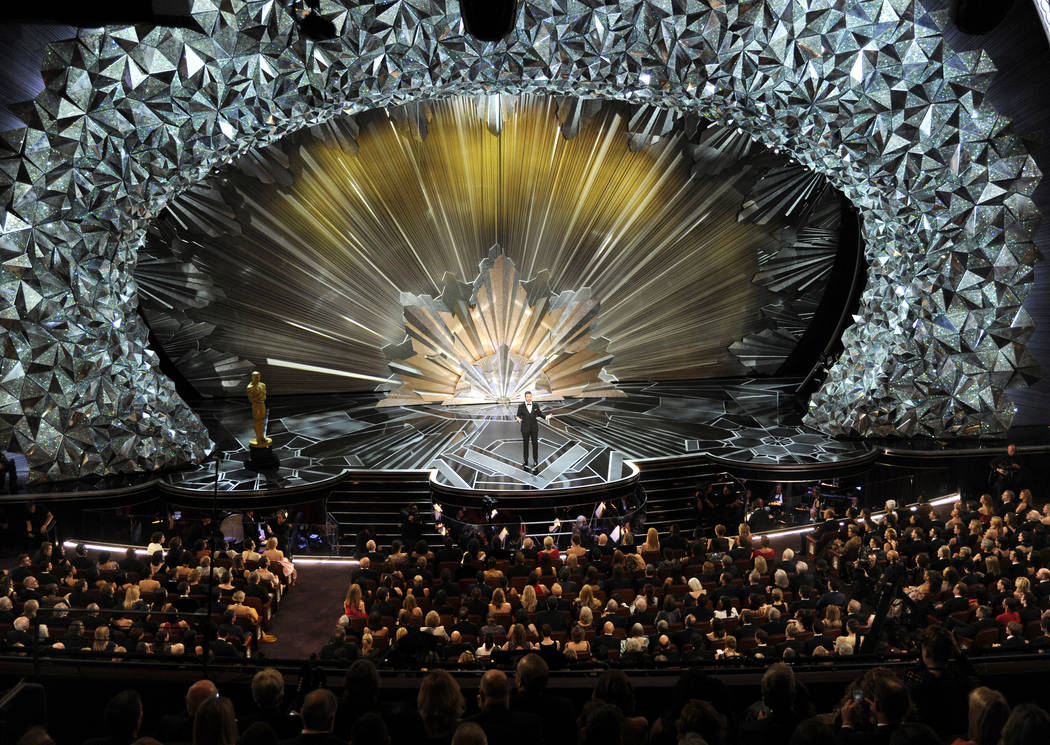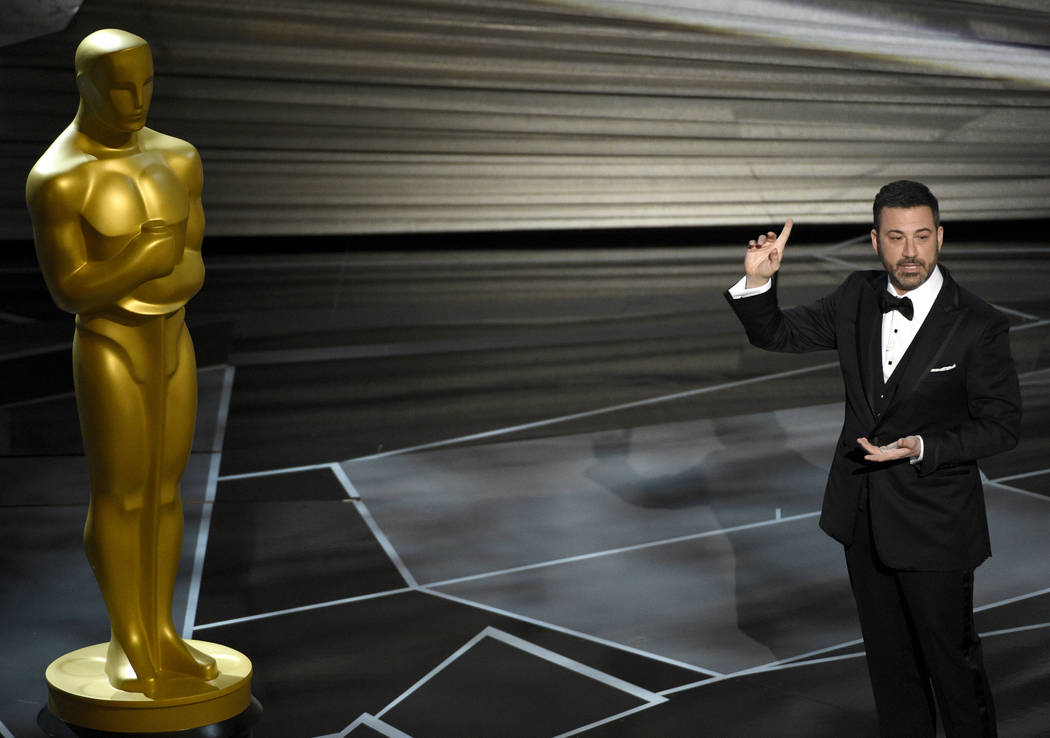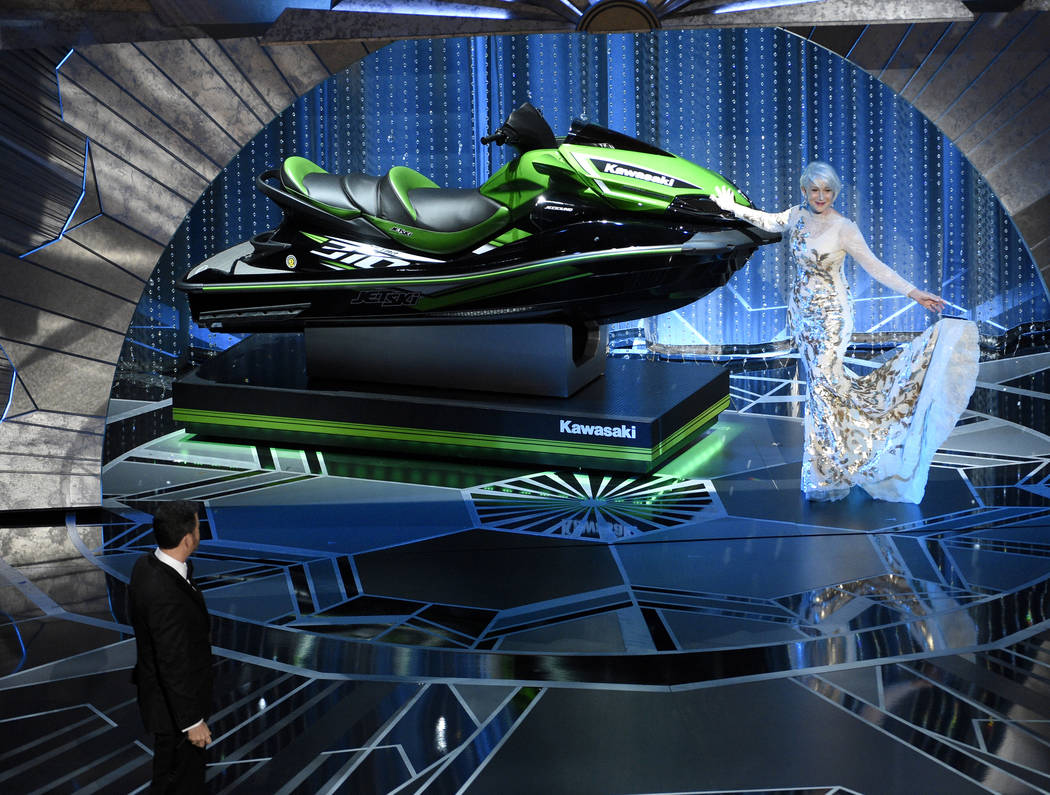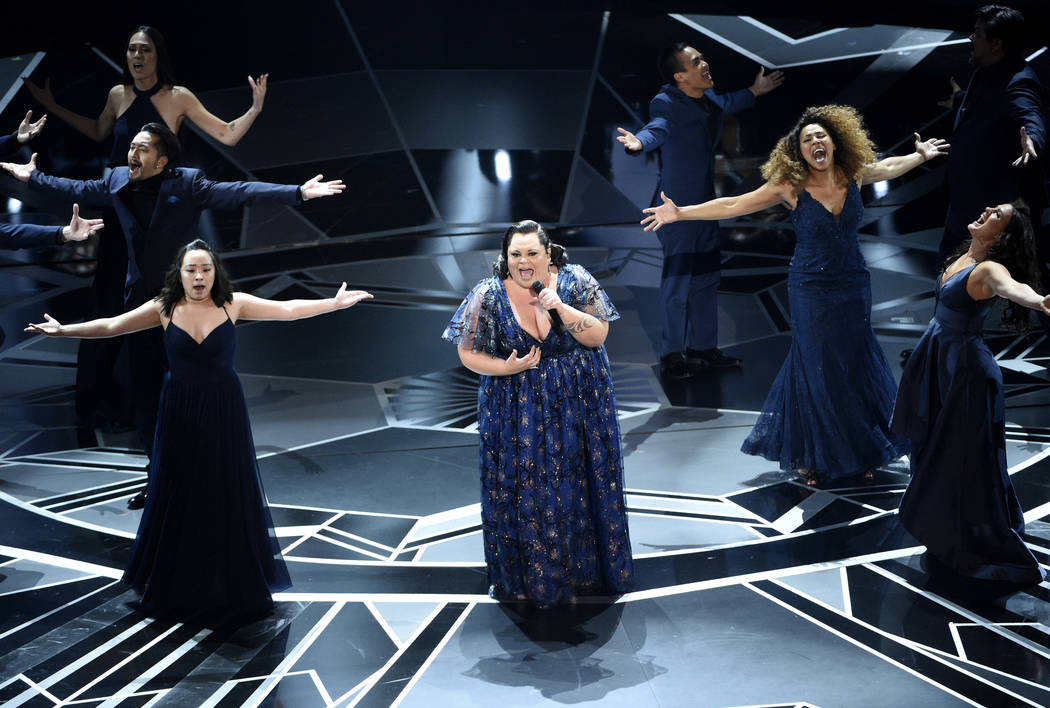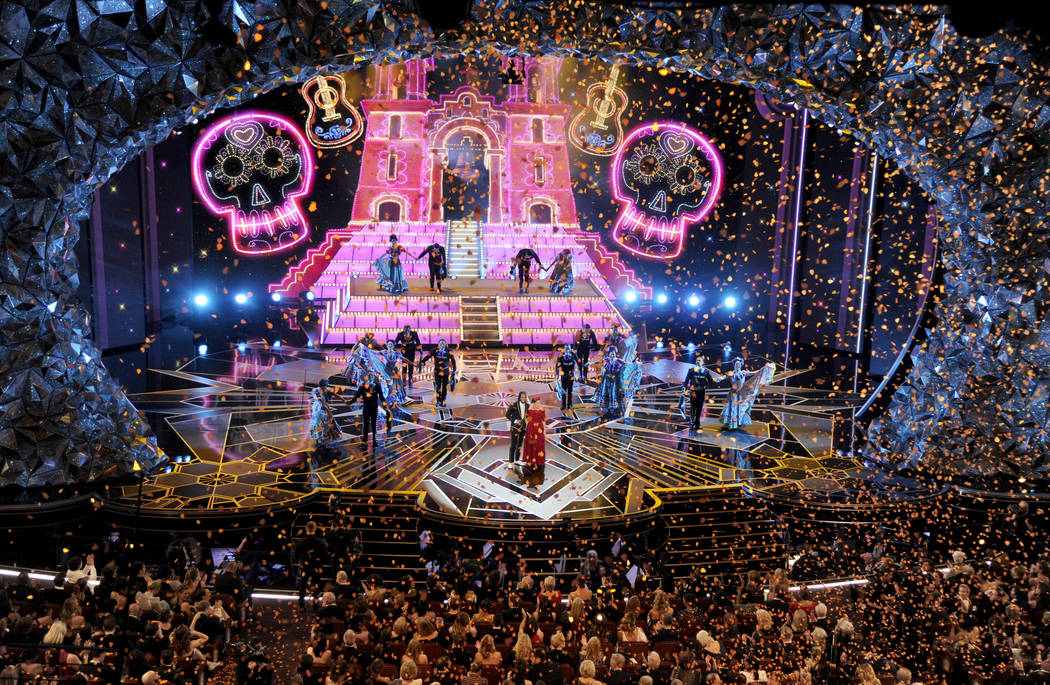 For the second straight year at the Oscars, there was something fishy about the final award.
Twelve months after Faye Dunaway announced the wrong best picture winner, she and Warren Beatty returned Sunday to hand the statue to Guillermo del Toro for "The Shape of Water," a fantastical story about a mute cleaning lady (Sally Hawkins) and her love affair with a scaly, sexy fish man.
It's better than it sounds.
In a night of few surprises — heavy favorites Frances McDormand, Gary Oldman, Allison Janney, Sam Rockwell and del Toro each won the categories they'd dominated in the run-up to the 90th Academy Awards — the common themes were inclusivity and the addition of familiar faces as examples of immigration.
Del Toro began his acceptance speech for best director with the words, "I am an immigrant," while Oldman used part of his allotted time to thank his adoptive home. "I have lived in America for the longest time, and I am deeply grateful to her for the loves and the friendships I have made and the many wonderful gifts that it has given me: my home, my livelihood, my family and now Oscar."
Heading into a commercial break, the announcer promised, "Coming up, Lin-Manuel Miranda, Kumail Nanjiani, Lupita Nyong'o and Dave Chappelle and a performance from 'Coco' by Gael Garcia Bernal, Miguel and Natalia Lafourcade." There's more diversity in that one sentence than in at least the first half-century of Oscar ceremonies.
African-American presenters Tiffany Haddish ("Girls Trip") and Maya Rudolph jokingly referenced the #OscarsSoWhite movement that began in 2015. "When we came out together," Haddish said, "I know some of you were thinking, 'Are the Oscars too black now?' " "But we just want to say," Rudolph consoled, " 'Don't worry, there are more white people to come.' "
In a speech nearly as confrontational as one her firebrand character, whose daughter was raped and murdered, might have given in "Three Billboards Outside Ebbing, Missouri," McDormand called on every female nominee in every category to stand for a round of applause. "Look around ladies and gentlemen," she said, "because we all have stories to tell and projects we need financed. Don't talk to us about it at the parties tonight. Invite us into your office in a couple of days — or you can come to ours, whichever suits you best — and we'll tell you all about them."
Her co-star Rockwell, who was named best supporting actor for his role as the movie's bumbling racist cop, thanked "everyone involved in 'Three Billboards' — everyone who's ever looked at a billboard."
"I did it all by myself," cracked six-time Emmy winner Janney, who took home the Oscar for best supporting actress for playing LaVona Golden, Tonya Harding's abusive, chain-smoking mother, in "I, Tonya."
At 89 years old, "Call Me by Your Name" screenwriter James Ivory became the oldest Oscar winner ever, as he was honored for best adapted screenplay. "Get Out" writer-director Jordan Peele couldn't contain a broad smile after winning for best original screenplay, saying he stopped writing the script 20 times because he didn't think anyone would make the movie. "To everybody who went and saw this movie, everybody who bought a ticket, who told somebody to buy a ticket, thank you," he declared. "I love you for shouting out at the theater, for shouting out at the screen."
An EGOT and an Osc-Star
The 90th Academy Awards turned to its history for a couple of presenters. Eva Marie Saint, 93, a supporting actress Oscar winner for 1954's "On the Waterfront," remarked, "I just realized something: I'm older than the Academy." Rita Moreno, 86, donned the same dress she wore in 1962, when she was named best supporting actress for "West Side Story."
Moreno is one of only 12 performers to complete the EGOT: winning an Emmy, Grammy, Oscar and Tony. Kobe Bryant, though, became the first person to complete the Osc-Star: winning an Oscar, which he did for the animated short film "Dear Basketball," and being an 18-time NBA all-star.
Bryant made one of several pointed comments by taking a shot at Fox News host Laura Ingraham's recent advice to LeBron James to stay out of politics. He began his acceptance speech by saying, "As basketball players, we're really supposed to 'shut up and dribble.' "
Politics and political movements were never far from the stage, but they were handled with more subtlety than at several recent awards shows.
The biggest exception was rapper Common. Performing the nominated song "Stand Up for Something" from "Marshall" with Andra Day alongside a group of political activists, the Oscar winner voiced support for the students in Parkland, Florida, and rapped, "Tell the NRA, they're in God's way."
"We don't make films like 'Call Me By Your Name' to make money," host Jimmy Kimmel said in his monologue, referencing the gay coming-of-age tale's modest box-office returns. "We make them to upset Mike Pence." And, after the Russian-doping investigation "Icarus" was named best documentary feature, the Clark High grad quipped, "Well, now at least we know Putin didn't rig this competition."
Aside from the In Memoriam segment, which closed with Jerry Lewis and also included Las Vegas mainstay Don Rickles, one of the ceremony's most emotional moments came from Ashley Judd, Salma Hayek and Annabella Sciorra. The three are among the dozens of actresses who have accused producer Harvey Weinstein of sexual harassment and/or assault, and they spoke while introducing a feature that celebrated those who broke racial and gender boundaries during the past year.
Contact Christopher Lawrence at clawrence@reviewjournal.com or 702-380-4567. Follow @life_onthecouch on Twitter.
Kimmel returns as host
In the payoff to a gag that opened the ceremony, urging winners to hurry, Clark High grad Jimmy Kimmel closed the 90th Oscars by presenting "Phantom Thread" costume designer Mark Bridges with an $18,000 jet ski for delivering the shortest acceptance speech.
Earlier, the broadcast descended into mayhem when Kimmel, "Wonder Woman's" Gal Gadot, best actress nominee Margot Robbie, Mark Hamill, Emily Blunt and Lupita Nyong'o surprised moviegoers next door to the Dolby Theatre with snacks, while Guillermo del Toro and Lin-Manuel Miranda hoisted a giant sub sandwich and "Call Me By Your Name's" Armie Hammer and "Baby Driver's" Ansel Elgort shot hot dogs into the crowd.
Here are some of Kimmel's more notable jokes:
"Here's how clueless Hollywood is about women: We made a movie called 'What Women Want,' and it starred Mel Gibson."
"The stunning Lupita Nyong'o. She was born in Mexico and raised in Kenya. Let the tweetstorm from the president's toilet begin."
"This is a night for positivity. And our plan is to shine a light on a group of outstanding and inspiring films, each and every one of which got crushed by 'Black Panther' this weekend."
"For those who say we're all a bunch of out of touch Hollywood elites, I'll have you know that each of the 45 million Swarovski crystals on this stage tonight represents humility."
Oscar winners
List of winners for the 90th Academy Awards presented Sunday by the Academy of Motion Picture Arts and Sciences:
Best picture: "The Shape of Water."
Actor: Gary Oldman, "Darkest Hour."
Actress: Frances McDormand, "Three Billboards Outside Ebbing, Missouri."
Supporting actor: Sam Rockwell, "Three Billboards Outside Ebbing, Missouri."
Supporting actress: Allison Janney, "I, Tonya."
Directing: "The Shape of Water," Guillermo del Toro.
Foreign language film: "A Fantastic Woman," Chile.
Adapted screenplay: "Call Me by Your Name."
Original screenplay: "Get Out."
Production design: "The Shape of Water."
Cinematography: "Blade Runner 2049."
Sound mixing: "Dunkirk."
Sound editing: "Dunkirk."
Original score: "The Shape of Water," Alexandre Desplat.
Original song: "Remember Me" from "Coco."
Documentary feature: "Icarus."
Documentary (short subject): "Heaven Is a Traffic Jam on the 405."
Film editing: "Dunkirk."
Makeup and hairstyling: "Darkest Hour."
Animated short film: "Dear Basketball."
Live action short film: "The Silent Child."
Animated feature film: "Coco."
Visual effects: "Blade Runner 2049."
Costume design: Mark Bridges, "Phantom Thread."