Sequels, remakes, comedies and more coming to theaters in 2013
December 28, 2012 - 9:19 am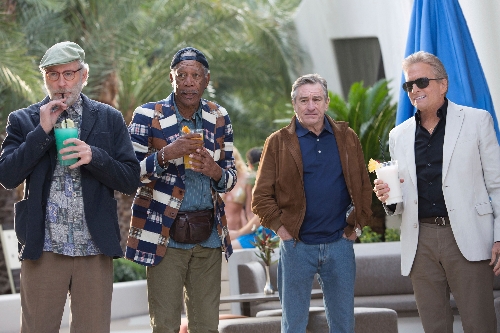 "Argo." "Lincoln." "Silver Linings Playbook." "Django Unchained."
Some of the year's best movies are still in theaters.
But if we as a society were content with what we had and weren't constantly looking forward to the next big thing, we never would have developed bacon-flavored ice cream.
In that spirit, here's a look at some of the movies coming to theaters in 2013. As always, dates are subject to change, and many of them will.
AROUND TOWN
Legendary Las Vegas magic duo Burt Wonderstone (Steve Carell) and Anton Marvelton (Steve Buscemi) secretly loathe each other, but the arrival of an upstart street magician (Jim Carrey) motivates them to get their act together in "The Incredible Burt Wonderstone" (March 15).
Another team of magicians – Jesse Eisenberg, Woody Harrelson, Isla Fisher and Dave Franco – steal from corrupt business leaders during their Las Vegas show and give the profits to their audience members in "Now You See Me" (June 7).
The Wolfpack is back – and back in Vegas – in "The Hangover Part III" (May 24).
And in what sounds like a "Hangover" for the AARP set, four friends – Robert De Niro, Morgan Freeman, Michael Douglas and Kevin Kline – hit the Strip for a bachelor party in "Last Vegas" (December ).
FAMILIAR FACES
Bruce Willis returns as John McClane in "A Good Day to Die Hard" (Feb. 14) and as retired CIA agent Frank Moses in "Red 2" (Aug. 2), and he joins Channing Tatum and Dwayne Johnson in the long-delayed "G.I. Joe: Retaliation" (March 29).
Now that they are done avenging, Tony Stark (Robert Downey Jr.) gets back in the suit for "Iron Man 3" (May 3), while Marvel's favorite Norse god (Chris Hemsworth) returns to save the Nine Realms in "Thor: The Dark World" (Nov. 8). In other superhero action, the claws come out again for Hugh Jackman in "The Wolverine" (July 26), while Henry Cavill tugs on Superman's cape in "Man of Steel" (June 14).
The Enterprise takes flight again in "Star Trek Into Darkness" (May 17), while Capt. Kirk himself, Chris Pine, takes over for Harrison Ford, Alec Baldwin and Ben Affleck as "Jack Ryan" (Dec. 25).
The next chapters in the lives of Katniss Everdeen – "The Hunger Games: Catching Fire" (Nov. 22) – and Bilbo Baggins – "The Hobbit: The Desolation of Smaug" (Dec. 13) – are revealed.
James Franco delivers a new take on the famed wizard in "Oz — The Great and Powerful" (March 8).
Jeremy Renner and Gemma Arterton portray the grown-up fairy-tale characters in "Hansel and Gretel: Witch Hunters" (Jan. 25).
And Johnny Depp takes the reins as Tonto in "The Lone Ranger" (July 3).
Other sequels and remakes of note include: "Texas Chainsaw 3-D" (Jan. 4), "Carrie" (March 15), "Evil Dead" (April 12), "Scary Movie 5" (April 12), "Monsters University" (June 21), "Grown Ups 2" (July 12), "Smurfs 2" (July 31), "300: Rise of an Empire" (Aug. 2), "Riddick" (Sept. 6), "Cloudy with a Chance of Meatballs 2" (Sept. 27), "Sin City: A Dame to Kill For" (Oct. 4) and "Anchorman 2" (Dec. 20).
ACTION!
Gerard Butler portrays a Secret Service agent tasked with rescuing the president (Aaron Eckhart) when terrorists take over the White House in "Olympus Has Fallen" (March 22). On a completely different note, Channing Tatum portrays a Secret Service agent tasked with rescuing the president (Jamie Foxx) when terrorists take over the White House in "White House Down" (June 28).
Arnold Schwarzenegger is the sheriff of a sleepy border town trying to intercept a fugitive drug kingpin in "The Last Stand" (Jan. 18). Sylvester Stallone plays a hitman who teams with a cop to bring down their partners' killers in "Bullet to the Head" (Feb. 1). And the two action icons join forces to break out of the world's most-secure prison in "The Tomb" (Sept. 27).
Dwayne Johnson bulks up with Mark Wahlberg as muscle-head extortionists in Michael Bay's "Pain & Gain" (April 26) and infiltrates a drug cartel to spare his teenage son from prison in "Snitch" (Feb. 22).
Niels Arden Oplev, director of the original "The Girl with the Dragon Tattoo," reteams with Noomi Rapace for the revenge thriller "Dead Man Down" (March 8).
And Ethan Hawke stars as a race car driver, forced to follow the whims of a mysterious voice (Jon Voight) when his wife is kidnapped, in "Getaway" (Aug. 30).
JUST FOR LAUGHS
Jason Bateman faces off against Melissa McCarthy in "Identity Thief" (Feb. 8), while Sandra Bullock is an FBI agent forced to partner with McCarthy's Boston detective in "The Heat" (April 5), from "Bridesmaids" director Paul Feig.
Vince Vaughn and Owen Wilson are out-of-work salesmen competing with younger, more qualified applicants for Google jobs in "The Internship" (June 7).
A long-divorced couple (Robert De Niro and Diane Keaton) must pretend to still be happily married in "The Big Wedding" (April 26).
Jason Sudeikis, Jennifer Aniston and Ed Helms headline the drug-smuggling comedy "We're the Millers" (Aug. 9).
And a zombie falls for a human girl in the romantic comedy "Warm Bodies" (Feb. 1).
FAMILY FARE
Newly minted Las Vegan Nicolas Cage headlines "The Croods" (March 22), an animated adventure about the world's first modern family.
Disney adapts Hans Christian Andersen's "The Snow Queen" with the animated "Frozen" (Nov. 27).
From the creators of "Ice Age" and "Rio" comes "Epic" (May 24), an animated tale about the battle to keep the natural world alive.
Ryan Reynolds voices a snail with IndyCar dreams in "Turbo" (July 19).
"Modern Family's" Ty Burrell voices the genius canine in "Mr. Peabody & Sherman" (Nov. 1).
The animated comedy "Escape from Planet Earth" (Feb. 15) follows the escapades of astronaut Scorch Supernova (voiced by Brendan Fraser).
And Ben Stiller remakes the live-action "The Secret Life of Walter Mitty" (Dec. 25).
PRESTIGE PICS
Tom Hanks stars as Walt Disney in "Saving Mr. Banks" (Dec. 20), the story of "Mary Poppins' " journey to the big screen, and as the real-life captain of the Maersk Alabama, who was taken hostage by Somali pirates, in "Captain Phillips" (Oct. 11).
The Oscar-winning "Hurt Locker" team of director Kathryn Bigelow and writer Mark Boal chronicle the hunt for Osama bin Laden in "Zero Dark Thirty" (Jan. 11).
Daniel Craig, Matt Damon, Bill Murray, Cate Blanchett, Jean Dujardin and writer-director George Clooney star in "Monuments Men" (Dec. 20), about a team of museum curators and historians racing to retrieve priceless works of art before Hitler can destroy them.
Nick Carraway (Tobey Maguire) is drawn into the world of Jay Gatsby (Leonardo DiCaprio) and Tom and Daisy Buchanan (Joel Edgerton and Carey Mulligan) in Baz Luhrmann's 3-D take on "The Great Gatsby" (May 10).
And Harrison Ford is Branch Rickey to Chadwick Boseman's Jackie Robinson in "42" (April 12).
IT'S THE END OF THE WORLD AS WE KNOW IT
A teenager (Jaden Smith) and his injured father (Will Smith) crash land on an inhospitable Earth, a thousand years after the planet was evacuated, in M. Night Shyamalan's "After Earth" (June 7).
With the end of the world in sight, massive robots battle monstrous sea creatures in Guillermo del Toro's "Pacific Rim" (July 12).
Brad Pitt stares down a zombie pandemic in "World War Z" (June 21).
In 2159, the citizens of a ruined Earth fight for equality with the wealthy residents of a space station in "Elysium" (Aug. 9), starring Matt Damon and Jodie Foster.
A parasitic alien is sent to take over Earth in "The Host" (March 29), based on the novel from "Twilight" creator Stephenie Meyer.
After the planet is attacked by aliens, Harrison Ford and Ben Kingsley train children to save the human race in "Ender's Game" (Nov. 1).
An assortment of celebrities ranging from Rihanna to Emma Watson to Jonah Hill face the apocalypse during a party at James Franco's house in the Seth Rogen comedy "This Is the End" (June 14).
Contact Christopher Lawrence at clawrence@ reviewjournal.com or 702-380-4567.