Star power makes 'The Ides of March' more about acting than action
October 7, 2011 - 1:01 am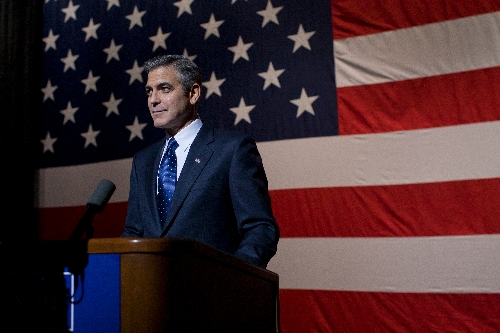 Someone once described politics as "the art of the possible." (Turns out it was Otto Von Bismarck; thank you, Google.)
And if you know William Shakespeare's "Julius Caesar" — from which the new political thriller "The Ides of March" takes its title — you know all about the science of betrayal.
A rising-star political operative learns the difference between the two, then trades one for the other, in "The Ides of March."
George Clooney directs, co-writes and co-stars in this adaptation of "Farragut North," a play by Beau Willimon , a veteran of Howard Dean's 2004 Iowa primary campaign.
And while "The Ides of March" trumpets its political-insider status at every turn, there's nothing much here we haven't seen many times before — in real and reel life.
None of which keeps it from being consistently watchable — and sometimes far more.
No movie with a cast this classy could be anything but.
Joining the Oscar-winning Clooney: Oscar winners Philip Seymour Hoffman and Marisa Tomei, plus ought-to-be Oscar winners Paul Giamatti and Jeffrey Wright.
And smack dab in the middle of the political circus: leading-man-of-the-moment Ryan Gosling, clouting his third consecutive cinematic home run following "Crazy, Stupid, Love's" scene-stealing comedy and "Drive's" existentialist cool.
In "The Ides of March," Gosling plays Stephen Myers, idealistic second-in-command for a leading Democratic presidential contender's campaign.
Locked in a dead heat with his closest rival on the eve of the pivotal Ohio primary, charismatic Pennsylvania Gov. Mike Morris (Clooney) sticks to his liberal guns, maintaining principled stands on such issues as clean energy, abortion rights and the separation of church and state.
It's easy; he leaves the behind-the-scenes wheeling and dealing to his veteran campaign manager, Paul Zara (Hoffman).
Paul's been around long enough to know that sometimes you have to sling mud — and get dirty — to win elections.
True believer Stephen, by contrast, still has the sweet taste of Kool-Aid on his lips. But that sweet taste is about to turn very sour, very fast, as he finds himself embroiled in intrigues both personal and political.
Once upon a time, the personal was political.
In "The Ides of March," however, the link between the two feels far more obligatory, and far less revelatory, than the movie intends.
After all, it's not exactly a news flash that, these days, our political system more closely resembles a bare-knuckle brawl than a college debating society.
And we've certainly seen enough thrillers, political and otherwise, to know that, in the heat of battle — and in assorted smoky backrooms — people who should know better do things they shouldn't do at all. If only because those things will destroy everything they're working for when the news gets out. As it inevitably will.
At least "Ides of March" (written by Clooney, Willimon and Clooney's "Good Night and Good Luck" collaborator, Grant Heslov ) allows the dominoes to fall at their own deliberate pace, without an insistent in-your-face push to speed the connect-the-dots plot elements along.
In addition, Clooney and his director of photography, Phedon Papamichael ("Sideways," "Walk the Line"), deftly employ visual contrast, punctuating the bleak Midwestern setting with bright, star-spangled campaign backdrops that underline the movie's personal-vs.-political perspective. (And just in case you don't notice all that duplicity rearing its ugly head, there are plenty of two-faced reflections in mirrors and windows to remind you.)
Talking-heads cameos from Rachel Maddow, Charlie Rose and Chris Matthews heighten the you-are-there campaign atmosphere.
Nice touches all, but "Ides of March" — befitting its stage origins — is more about the acting than the action.
By that standard, the movie scores a landslide victory, with such winners as Tomei (as a suitably cynical New York Times reporter) and Wright (as a pompous power-broker senator) contributing sly supporting turns, while Evan Rachel Wood adds her provocative presence, playing a politically connected campaign intern who's not nearly as self-assured as she thinks she is.
As the rival campaign managers, the rumpled, wryly savvy Hoffman and the rabid, go-for-the-jugular Giamatti prove so persuasive you might wish (as I did) that the movie focused more on these decidedly unglamorous yet utterly compelling combatants.
To find the true (deceitful) heart of "The Ides of March," however, we must, inevitably, look to the movie's resident glamour guys.
Not surprisingly, Clooney gets the politician-as-movie-star thing just right, undercutting his megawatt charisma and high-horse posturing with a slight but unmistakable aura of smug self-entitlement.
Gosling's also got star quality to spare, and he deploys it cannily throughout "The Ides of March" — first as a devoted disciple, then as an ambitious player determined to beat his masters at their own manipulative game. After all, as someone once said (it's been attributed to everybody from radio comedian Fred Allen to TV journalist Daniel Schorr), if you can fake sincerity, you've got it made.
It's a lesson well learned, and well delineated, in "The Ides of March." After everything from "Julius Caesar" to "The Candidate" to "Primary Colors," you'd think that we'd have learned that lesson by now. But, as "The Ides of March" demonstrates, it bears repeating. Yet again.
Contact movie critic Carol Cling at ccling@reviewjournal.com or 702-383-0272.
Review
"The Ides of March"
101 minutes
R; profanity, sexual situations
Grade: B
multiple locations