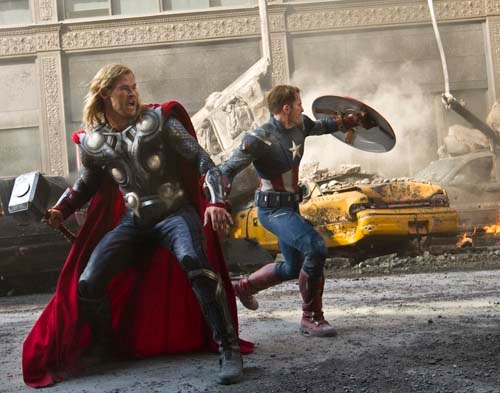 It's shaping up to be another all-star summer.
Seven Oscar nominations, $989 million at the box office – and that's just the cast of, and the four movies leading up to, today's release of "The Avengers."
It's also shaping up to be a fairly typical one.
Superheroes and sequels. Remakes and reimaginings. Johnny Depp, Tom Cruise and Will Smith. And a teddy bear who loves weed, hookers and F-bombs.
OK, so that last one's new.
But original ideas in the summer remain as elusive as the plot of "The Dark Knight Rises" as Hollywood looked everywhere – TV, toys, even a best-selling pregnancy guide – for inspiration.
Still, it's summer in Las Vegas. What else are you gonna do? Be outside?
Here's a look at some of this summer's highlights. And, as always, dates are subject to change.
TODAY
Nick Fury (Samuel L. Jackson) assembles "The Avengers" – Iron Man (Robert Downey Jr.), Captain America (Chris Evans), Thor (Chris Hemsworth), The Incredible Hulk (Mark Ruffalo), Black Widow (Scarlett Johansson) and Hawkeye (Jeremy Renner) – for an all-hands-on-deck assault on the box office.
MAY 11
After being buried alive for two centuries, vampire playboy Barnabas Collins (Johnny Depp) is unearthed in 1972 to find his estate, as well as his descendants, in ruins in Tim Burton's take on the gothic soap opera "Dark Shadows."
MAY 16
During a visit to his sworn enemy America, The Republic of Wadiya's evil ruler (Sacha Baron Cohen) is stripped of his identity in the tyrannical-fish-out-of-despotic-water comedy "The Dictator."
MAY 18
Remember playing "Battleship" as a kid and thinking how much better it would be with aliens? No? Well, you'll find out anyway as Taylor Kitsch, Liam Neeson, Rihanna and Brooklyn Decker bring the guessing game to life.
Decker also turns up, alongside Cameron Diaz, Dennis Quaid and Chris Rock, in the comedy "What to Expect When You're Expecting."
MAY 25
Agent J (Will Smith) travels back in time to sell some Ray-Bans – er, save Agent K (Tommy Lee Jones) by partnering with young Agent K (an eerily Jones-esque Josh Brolin) – in "Men in Black 3."
And seven Brits – including Judi Dench, Tom Wilkinson, Bill Nighy and Maggie Smith – find retirement life in India less than they'd bargained for in "The Best Exotic Marigold Hotel."
JUNE 1
Snow White (Kristen Stewart) joins forces with the hunter (Chris Hemsworth) sent to kill her by the wicked queen (Charlize Theron) in the action tale "Snow White and the Huntsman."
And David Hasselhoff and Gary Busey battle deadly fish at a water park in the sequel "Piranha 3DD." (Get it? Boobs!)
JUNE 8
It's not a direct "Alien" prequel, but "Prometheus" – starring Charlize Theron, Idris Elba and Michael Fassbender – drops director Ridley Scott squarely into the world of his sci-fi classic.
And Alex (voiced by Ben Stiller), Marty (Chris Rock), Gloria (Jada Pinkett Smith) and Melman (David Schwimmer) continue their journey home, this time as part of a European traveling circus, in "Madagascar 3: Europe's Most Wanted."
JUNE 15
Julianne Hough's just a small-town girl, living in a lonely world – populated by Russell Brand, Alec Baldwin and Tom Cruise – in "Rock of Ages," the film version of the musical love letter to the 1980s-era Sunset Strip that stopped at the Flamingo Las Vegas on its way to Broadway
And a groom's (Andy Samberg) estranged father (Adam Sandler) crashes the wedding party in the raucous, raunchy comedy "That's My Boy."
JUNE 22
If "The Hunger Games" didn't have your daughters clamoring for a bow and arrows, this one will as young Scottish archer Merida (voiced by Kelly Macdonald) joins the ranks of Disney heroines in Pixar's animated "Brave."
Four score and seven stakes ago, our nation's 16th president (Benjamin Walker) was quite the accomplished slayer of the undead, as revealed in "Abraham Lincoln: Vampire Hunter."
And with an asteroid about to wipe out humanity, Steve Carell does what any rational man would if given the opportunity – he spends his final days on Earth with Keira Knightley – in "Seeking a Friend for the End of the World."
JUNE 29
It's a Channing Tatum twofer as the square-jawed actor is joined by new recruits Dwayne Johnson and Bruce Willis in the toy story sequel "G.I. Joe: Retaliation."
And Tatum leads the beefcake brigade of Alex Pettyfer, Matthew McConaughey, Matt Bomer and Joe Manganiello in "Magic Mike," the Steven Soderbergh-directed male-stripper extravaganza inspired by Tatum's earlier, oilier career.
Elsewhere, when a Wall Street bigwig (Eugene Levy) gets in trouble with the mob, it's up to Madea (Tyler Perry) to protect him – because, why not? – in "Madea's Witness Protection."
JULY 3
A teenage Peter Parker (Andrew Garfield) falls for Gwen Stacy (Emma Stone) and battles his father's former partner (Rhys Ifans) and his alter-ego, The Lizard, in the franchise reboot "The Amazing Spider-Man."
JULY 5
America's favorite blue-haired entertainer not named Betty White takes center stage in the documentary "Katy Perry: Part of Me."
JULY 6
Laguna Beach, Calif., pot-growers (Taylor Kitsch, Aaron Johnson) wage war against the Mexican cartel (led by Salma Hayek and Benicio Del Toro) that kidnapped the woman (Blake Lively) they love in the Oliver Stone thriller "Savages."
JULY 13
A childhood wish made a teddy bear come to life, and now that bear is a foul-mouthed menace (voiced by writer-director Seth MacFarlane) coming between its best friend (Mark Wahlberg) and his girlfriend (Mila Kunis) in the VERY adult comedy "Ted."
And when the continents start breaking apart, Manny (voiced by Ray Romano), Diego (Denis Leary), Sid (John Leguizamo) and Scrat (Chris Wedge) are set adrift on an iceberg in "Ice Age: Continental Drift."
JULY 20
Bruce Wayne (still, thankfully, Christian Bale) returns to Gotham, where he encounters Catwoman (Anne Hathaway) and the villainous Bane (Tom Hardy), in "The Dark Knight Rises," the finale of Christopher Nolan's Batman trilogy.
JULY 27
Four suburbanites (Ben Stiller, Vince Vaughn, Jonah Hill, Richard Ayoade) looking for a little excitement end up having to save their neighborhood from aliens in the comedy "Neighborhood Watch."
And a couple of dancers (Kathryn McCormick, Ryan Guzman) out to save their neighborhood from something even more sinister – the 1 percent – try to flash mob away gentrification in "Step Up: Revolution."
AUG. 3
It turns out Jason Bourne wasn't unique after all as a different Treadstone agent (Jeremy Renner) runs amok – while still leaving the door open for another Matt Damon sequel – in the spinoff "The Bourne Legacy."
Colin Farrell, meanwhile, steps directly into Arnold Schwarzenegger's shoes in the remake of "Total Recall" that's so faithful, even the tri-breasted hooker is back.
AUG. 10
A nerdy tourism director (Zach Galifianakis) challenges an incumbent congressman (Will Ferrell) in a race that gets personal, fast, in the comedy "The Campaign."
And, trying to spice up her marriage, a woman (Meryl Streep) drags her reluctant husband (Tommy Lee Jones) to a weeklong workshop with a couple's therapist (Steve Carell) in "Hope Springs," a comedy for a generation who couldn't care less about Galifianakis or Ferrell.
AUG. 15
Unable to conceive, a couple (Jennifer Garner, Joel Edgerton) dreams of the perfect son, only to have just such a boy show up on their doorstep, in the family tale "The Odd Life of Timothy Green."
AUG. 17
Sylvester Stallone dusts off Chuck Norris and Jean-Claude Van Damme for his band of arthritic assassins in "The Expendables 2."
A young Motown-era singer (Jordin Sparks) struggles with her newfound fame in the remake of "Sparkle" that will forever be remembered as Whitney Houston's final performance.
And a boy (voiced by Kodi Smit-McPhee) who can talk to the dead battles zombies in the stop-motion animated "ParaNorman."
AUG. 24
It's an "Avengers"-style team up of supporting actors as "Twilight's" Ashley Greene, "Captain America's" Sebastian Stan and "Harry Potter's" Tom Felton battle an evil spirit in "The Apparition."
And the last delivery of the day turns into a deadly chase for a Manhattan bike messenger (Joseph Gordon-Levitt) in "Premium Rush," the last delivery of the summer movie season.
Contact Christopher Lawrence at clawrence@ reviewjournal.com or 702-380-4567.