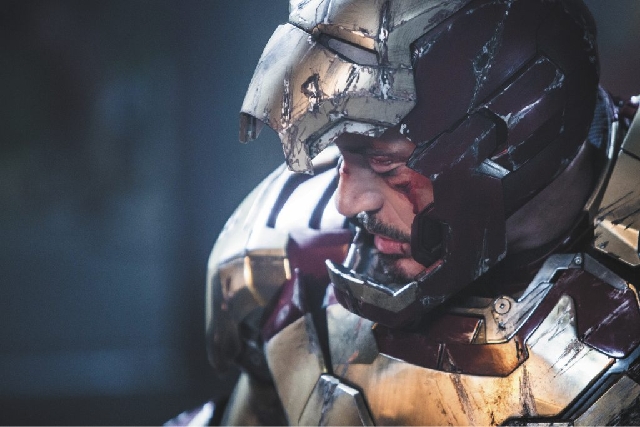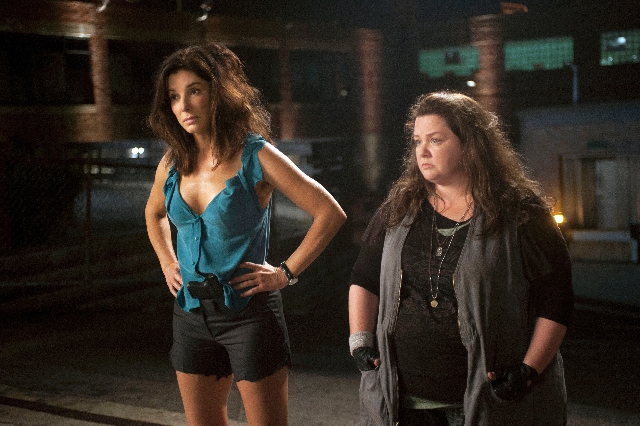 Much like that initial glimpse of your neighbor's pasty white legs or the arrival of your first quadruple-digit cooling bill, Tony Stark has come to represent the start of summer.
Or at least the start of the summer movie season.
"Iron Man 3" marks the fourth time since 2008 that Robert Downey Jr.'s billionaire playboy has kick-started the box office during the first weekend of May.
But, like most summers, he won't be alone. Superheroes are set to storm the multiplexes in "Man of Steel," "The Wolverine" and, to a lesser extent, "Kick-Ass 2."
Perhaps even more than superheroes, though, sequels have come to define summer.
Including the three mentioned above — "Man of Steel" is technically a reboot — a whopping 14 sequels are on their way.
Summer is also a time of questions.
Is the rest of the country ready for back-to-back Vegas movies with "The Hangover Part III" and "Now You See Me"?
What was Seth Rogen smoking when he came up with "This Is the End"?
And who's naming these sequels to "The Fast and the Furious"?
Seriously, "2 Fast 2 Furious"? Then just declaring a war on articles with "Fast & Furious"? Now, on the heels of "Fast Five," comes "Fast & Furious 6," the second movie after "Fast & Furious," which should make it either "Fast & Furious 3" or "The Fast and the Furious 6." But, whatever.
Here's a look at some of what's in store in theaters this summer. As always, the dates are subject to change. And if the past is any guide, several of them will.
MAY 3
After emerging from that shawarma stupor at the end of "The Avengers," Tony Stark is back in "Iron Man 3," and he's bringing Marvel newcomers Ben Kingsley and Guy Pearce with him.
MAY 10
Shot in 3-D with a Jay-Z soundtrack, Baz Luhrmann's take on the F. Scott Fitzgerald classic — starring Leonardo DiCaprio, Tobey Maguire and Carey Mulligan — isn't your father's "The Great Gatsby." Or Robert Redford's.
A regular guy (Craig Robinson) crashes an upper-crust family reunion to propose to his beloved (Kerry Washington) in the comedy "Peeples."
MAY 17
How do you improve on 2009's infectiously fun "Star Trek" reboot? Add Benedict Cumberbatch as the mysterious John Harrison, who fanboys are still convinced will turn out to be Khan, to "Star Trek Into Darkness."
MAY 24
There's no wedding, no bachelor party, just Bradley Cooper, Ed Helms, Zach Galifianakis and Ken Jeong running amok in Vegas in "The Hangover Part III."
Vin Diesel, Paul Walker and Dwayne Johnson — along with pretty much everyone who's ever appeared in the franchise — burn some rubber in "Fast & Furious 6."
Colin Farrell, Josh Hutcherson, Amanda Seyfried, Christoph Waltz and Beyonce lend their voices to "Epic," an animated look at an ongoing battle between good and evil in a secret universe deep in the heart of a forest.
A farmer (Dennis Quaid) tries to get his rebellious son (Zac Efron) to join his agricultural empire in "At Any Price."
MAY 31
The Las Vegas illusionists known as "The Four Horsemen" — Jesse Eisenberg, Woody Harrelson, Isla Fisher and Dave Franco — pull off daring, Robin Hood-style heists during their performances in "Now You See Me."
A thousand years after humans fled the planet, a teenager (Jaden Smith) and his dad (Will Smith) crash land on a ruined Earth in M. Night Shyamalan's "After Earth."
A former FBI agent (Brit Marling) infiltrates a group of anarchists in the espionage thriller "The East."
JUNE 7
Vince Vaughn and Owen Wilson reteam as out-of-work salesmen who somehow land coveted internships and must compete with the country's best and brightest — and youngest — minds for a job in "The Internship," a Google commercial disguised as a comedy.
A family (led by Ethan Hawke and Lena Headey) struggles to survive the yearly 12-hour spree during which the government declares every crime legal in "The Purge."
JUNE 12
During a party at James Franco's house, a group of actors — including Seth Rogen, Jonah Hill, Danny McBride and Craig Robinson, all playing themselves — try to survive a series of cataclysmic events in the apocalyptic comedy "This Is the End."
JUNE 14
After the lackluster "Superman Returns," the Last Son of Krypton looks to soar again in "Man of Steel," with Henry Cavill as Supes, Diane Lane and Kevin Costner as Ma and Pa Kent, Amy Adams as Lois Lane and Russell Crowe as Jor-El.
JUNE 21
A United Nations employee (Brad Pitt) races to stop a pandemic in the globetrotting zombie thriller "World War Z."
The burgeoning friendship between Mike Wazowski (voiced by Billy Crystal) and James P. Sullivan (John Goodman) is explored in the "Monsters, Inc." prequel "Monsters University."
Richard Linklater, Ethan Hawke and Julie Delpy reunite every nine years like clockwork, first in "Before Sunrise," then in "Before Sunset" and now in "Before Midnight."
While it's hard to get people excited about Shakespeare in the heat of the summer blockbuster season, Joss Whedon is doing just that with his modern take on "Much Ado About Nothing," starring a slew of Whedonverse regulars, that was filmed over 12 days in the director's house.
JUNE 28
It's up to a lone hero (Channing Tatum) to save the president (Jamie Foxx) when a paramilitary group seizes the White House in "White House Down," which against all odds looks completely different than March's "Olympus Has Fallen," in which a lone hero saved the president when a paramilitary group seized the White House.
Comically mismatched partners (Sandra Bullock and Melissa McCarthy) join forces to take down a drug kingpin in the buddy-cop comedy "The Heat," from "Bridesmaids" director Paul Feig.
JULY 3
Johnny Depp is the spirit warrior Tonto to Armie Hammer's lawman John Reid in the insanely expensive "The Lone Ranger."
Gru (voiced by Steve Carell), accompanied by his little girls and his mischievous Minions, is back in the animated "Despicable Me 2."
JULY 5
A busy Steve Carell joins Toni Collette, Allison Janney, Sam Rockwell and Maya Rudolph in the coming-of-age comedy "The Way Way Back," from writers-directors (and sitcom stars) Nat Faxon and Jim Rash, who took home Oscars for writing "The Descendants."
JULY 12
How do you battle giant deadly sea monsters? With giant deadly robots controlled by two pilots whose minds are locked in a neural bridge. Duh. At least that's the premise of Guillermo del Toro's "Pacific Rim."
Adam Sandler, Kevin James, Chris Rock and David Spade return for more summertime tomfoolery in "Grown Ups 2."
JULY 17
A nitro-fueled snail (voiced by Ryan Reynolds) sets out to win the Indianapolis 500 in the animated "Turbo."
JULY 19
Rivaling Steve Carell for busy weekends, Ryan Reynolds also stars in "R.I.P.D." as a recently deceased detective who teams with an Old West sheriff (Jeff Bridges) to track down violent souls who terrorize the living.
Anthony Hopkins joins Bruce Willis, John Malkovich, Mary-Louise Parker and Helen Mirren for "RED 2."
After "The Incredible Burt Wonderstone" and "Now You See Me," it would be easy to mistake "The Conjuring" for another movie about Vegas magicians. Instead, it's the story of real-life paranormal investigators Ed and Lorraine Warren (Patrick Wilson and Vera Farmiga) and their attempt to help a family terrorized by a demonic presence.
A failed New York playwright (Kristen Wiig) moves back home in the comedy "Girl Most Likely."
JULY 26
The claws come out again as Hugh Jackman heads to Japan for "The Wolverine."
JULY 31
If the original "blue" your mind, just wait: Gargamel (Hank Azaria) kidnaps Smurfette (voiced by Katy Perry) and brings her to Paris, much to the chagrin of Neil Patrick Harris, in "The Smurfs 2."
AUG. 2
Two operatives (Denzel Washington and Mark Wahlberg) from competing bureaus go on the run together — without knowing the other is a federal agent — in the action tale "2 Guns."
Greek general Themistokles (Sullivan Stapleton) takes to the seas to battle invading Persian forces in the abs-orbing sequel (see what we did there?) "300: Rise of an Empire," based on the Frank Miller graphic novel "Xerxes."
AUG. 7
In search of the Golden Fleece, the titular demigod (Logan Lerman) and friends battle zombies and other creatures in the Bermuda Triangle in "Percy Jackson: Sea of Monsters."
AUG. 9
High above a ruined Earth — but not the ruined Earth of "After Earth" or the ruined Earth of April's "Oblivion" — is a pristine space station reserved for the wealthy while everyone else lives among the planet's wreckage. But a dying man (Matt Damon) forces his way onto the orbiting retreat to save millions of lives in "Elysium," from "District 9's" Neill Blomkamp.
Dusty (voiced by Dane Cook), an airplane who's afraid of heights, takes to the skies in Disney's animated "Planes."
Forced to smuggle a large drug shipment over the U.S.-Mexican border, a low-level weed dealer (Jason Sudeikis) gets an RV and recruits a stripper (Jennifer Aniston), a tatted-up teenager (Emma Roberts) and a potential client (Will Poulter) to pose as his wife and kids in the raunchy comedy "We're the Millers."
AUG. 16
Colonel Stars and Stripes (Jim Carrey) joins returning favorites Kick-Ass (Aaron Taylor-Johnson) and the foul-mouthed Hit Girl (Chloe Grace Moretz) in "Kick-Ass 2."
Before heading off to college in the fall of 1993, a valedictorian (Aubrey Plaza) tries to cross off every bad thing she missed out on in high school in the comedy "The To-Do List."
AUG. 23
Somehow having nothing to do with a ruined Earth, "The World's End" is the latest Edgar Wright-Simon Pegg comedy about a group of friends who reunite after 20 years to relive an epic pub crawl.
A teenager (Lily Collins) learns she's part of a group of half-angel warriors called Shadowhunters who battle werewolves, vampires and demons in an alternate version of New York in "The Mortal Instruments: City of Bones."
A gang of masked killers begins picking off family members during a reunion getaway in the horror story "You're Next."
AUG. 28
The lives of former lovers and current defense attorneys (Eric Bana and Rebecca Hall) are put in danger during a terrorism trial in the international thriller "Closed Circuit."
AUG. 30
When his wife is kidnapped, a professional driver (Ethan Hawke) is forced to follow the commands of the man (Jon Voight) on the other side of the cameras installed in his car in "Getaway."
And a ruined Earth would seem like a five-star resort compared to how your home will feel if you don't let your teenage daughters see the 3-D documentary "One Direction: This Is Us."
Contact Christopher Lawrence at
clawrence@reviewjournal.com or 702-380-4567.