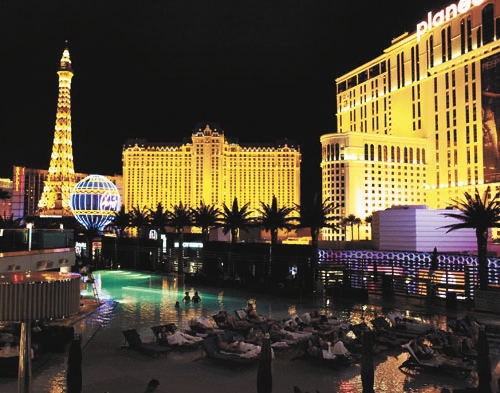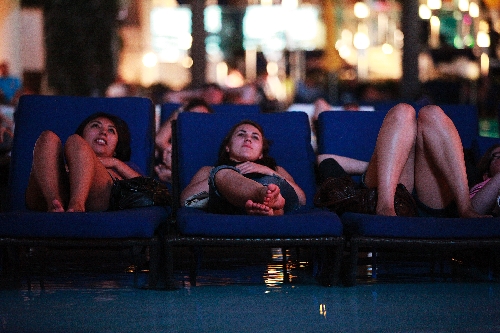 It started with that weird commercial featuring corsets and cute bunnies.
If you saw it, you knew The Cosmopolitan of Las Vegas was going to be a different kind of Strip casino. The secret pizza place, free billiards tables on the third floor, free concerts in the sports book, those things just validated the resort's "otherness."
And now, further proof: Dive-In Movie Mondays. Nearly every Monday through October, the public is invited to watch a movie at the hotel's swimming pool.
The best part? It's free.
You can sit in the pool in your bathing suit and watch "Viva Las Vegas" or bring the family and relax on one of the poolside daybeds to take in a comedy. Movie popcorn and snacks, even cocktails, are available for purchase. But there's no charge for the movie, says chief marketing officer Lisa Marchese.
It's a friendly gesture. Family-oriented. Some might even say it's community-oriented. It's definitely not your typical Strip activity.
"It's got that sort of urban spirit to it," Marchese says. "We just wanted to do something that was about people and wasn't transactional in nature. We have such a beautiful pool, we thought it would be fun."
The idea behind it is to create things that guests don't expect to see, Marchese says, adding that free events like the movies are a way to reward people for choosing The Cosmopolitan.
The event was launched via Twitter and Facebook. About 100 people attended the first movie. As word of mouth spreads, the crowd grows, Marchese says.
The marketing team is planning similar activities for the future, too. They won't always be free but Marchese promises that they will be interesting. Underground dinners are in the works; it will give guests a chance to explore quirky spots they might not see otherwise.
"We're going to keep trying to do things that keep us in the conversation with the community," Marchese says.
Dive-In Movie Monday is scheduled for 8 p.m. through Oct. 24; it has been so successful, the hotel may offer it through November, weather permitting. The schedule for the next three weeks, which is subject to change, is: "Viva Las Vegas," Monday; "Ocean's 11," Oct. 3; "Swingers," Oct. 10.
For more information, check the hotel's website, cosmopolitanlasvegas.com.
Contact reporter Sonya Padgett at spadgett@review journal.com or 702-380-4564. Follow @StripSonya on Twitter.