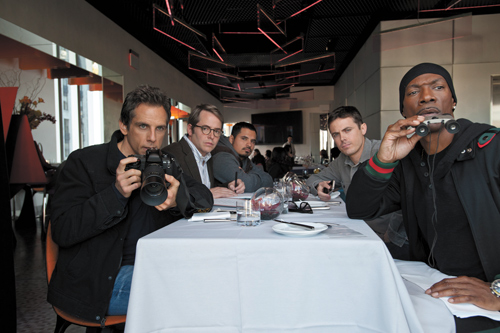 Sometimes you want to go where you know everybody's name.
Hence the enduring popularity of such all-star cinematic capers as "Tower Heist," which rounds up the likes of Ben Stiller, Eddie Murphy and Matthew Broderick, among others, for some fleetingly funny fun.
Neither the best nor the worst of its genre, "Tower Heist" ranks as one of those amusing trifles that provide an undeniable, but ultimately temporary, escape from the troubles of the day.
Not even characters clearly inspired by 1) Bernie Madoff and 2) a Wall Street washout give "Tower Heist" much thematic heft.
It has the potential, to be sure. It's just that director Brett Ratner isn't interested.
No, the guy who made "Rush Hour" and its sequels (we'll be generous and overlook what he did to "X-Men: The Last Stand") would rather cut to the chase than provide contemporary commentary.
Instead, "Tower Heist" runs and guns, keeping things light and lively as it follows some dedicated working guys determined to score payback when a smug swindler rips them off.
Not that anyone expects Arthur Shaw (Alan Alda) to be a devious double dealer. He's too successful for that.
After all, he literally towers above everyone and everything, ruling a financial empire from a palatial penthouse in the Tower, New York's most exclusive address — complete with a Central Park view and a rooftop swimming pool adorned with a giant replica of Benjamin Franklin's avuncular visage on the $100 bill.
No wonder Tower manager Josh Kovacs (Stiller) figures Shaw to be the perfect guy to invest the pensions of every employee in the place, from his concierge brother-in-law Charlie (Affleck) to Lester (Stephen McKinley Henderson), the beloved doorman on the verge of retirement.
Alas, Shaw's not quite what he seems, as FBI agent Claire Denham (Tea Leoni) and her team reveal when they swoop in to arrest him for ripping off his investors — or, more formally, securities fraud.
No prizes will be awarded to those who figure out that Josh and a few disgruntled wannabe partners in crime — Charlie, gung-ho new elevator operator Enrique (Michael Pena), Jamaican maid Odessa ("Precious' " Gabourey Sidibe ) and bankrupt ex-Wall Street broker Mr. Fitzhugh (Broderick) — hatch a plot to get back at Shaw.
Naturally, not being criminals themselves, they need some expert advice — supplied, luckily for them (and us) by the slippery Slide (Murphy), a career criminal Jake knows from the old neighborhood.
Murphy's arrival on the scene — in the kind of streetwise, smarty-pants role that made him a giant movie star, once upon a time — perks up "Tower Heist" immensely and immediately, giving the movie some welcome sass as Josh and Slide trade deadpan, mile-a-minute wisecracks.
Not enough of them, but at least the banter's witty enough.
Too bad screenwriters Ted Griffin ("Ocean's Eleven") and Jeff Nathanson (whose credits range from the "Rush Hour" sequels to "Catch Me If You Can") skimp on another vital heist-movie component, glossing over much of the intricate preparation for the outlandish caper itself.
As a result, "Tower Heist" doesn't build as much suspense as it could have. Because we can't anticipate what's coming, we can't build up our expectations, or fully appreciate the comedic twists that result when the team's best-laid plans inevitably go awry — right in the middle of Macy's Thanksgiving Day parade. (Just in case you've forgotten it's already November.)
Still, there's plenty to appreciate as "Tower Heist" goes through its motions, from Dante Spinotti's gleaming cinematography to Christophe Beck's snappy score.
And though "Tower Heist" doesn't exactly qualify as a collective grand slam, its all-star players score laughs where they can, from Broderick's milquetoast timidity to Leoni's in-your-face bluntness. (If only she had more than a few scenes to show off her perpetually underused comedic chops.)
Alda, of course, is right on target — and absolutely no laughing matter — as the arrogant Shaw, one of those hiss-worthy jerks who think stealing other people's money makes him better than those who worked hard to earn it in the first place.
As the bridge between the privileged Arthur Shaws of the world and the working stiffs who serve them, Stiller brings a brisk crispness to "Tower Heist's" central straight-man role.
He's doing his best to seem at home in the title tower's plush, more than slightly snobbish surroundings — but he's got too much of a sense of fair play for that.
Not that "Tower Heist" pays much attention to such thematic complexity. It's too busy showing off what a well-oiled entertainment machine looks like to tap into any economic-meltdown emotions.
Besides, all that might get in the way of the laughs — and, these days, we need all the laughs we can get. Especially because "Tower Heist," likable though it may be, doesn't provide nearly enough of them.
Contact movie critic Carol Cling at ccling@reviewjournal.com or 702-383-0272.
Review
"Tower Heist"
104 minutes
PG-13; profanity, sexual content
Grade: B-
multiple locations