Warm up for Pacquiao-Mayweather with 10 best boxing movies
April 28, 2015 - 12:41 pm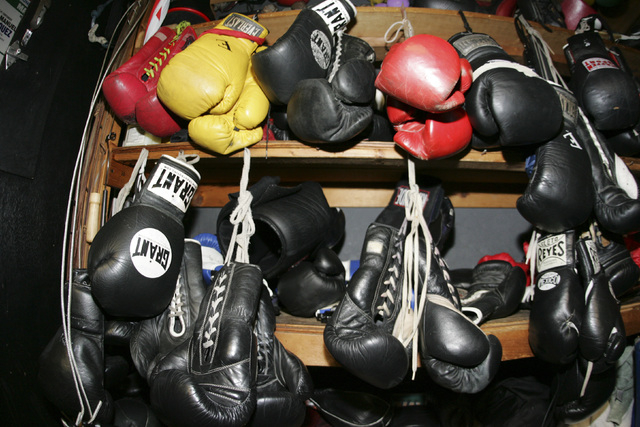 Boxing movies have been around almost as long as movies themselves.
In 1894, Thomas Edison protege William K.L. Dickson captured 30 seconds of the match between Jack Cushing and Mike Leonard, the latter known as the "Beau Brummel" of boxing.
Three years later, Nevada got into the act thanks to the Silver State's first sanctioned prizefight, in Carson City on St. Patrick's Day 1897, between Britain's Bob Fitzsimmons and America's own James J. "Gentleman Jim" Corbett.
No less a Hollywood legend than Errol Flynn portrayed Corbett in 1942's "Gentleman Jim," a charming example of vintage Hollywood hokum. Since then, boxing movies have evolved — as demonstrated by this countdown of the best cinematic depictions of the sweet science. It's purely subjective, to be sure, but I'll come out swinging to defend every choice:
1) "Raging Bull" (1980) — Charting the rise and fall of self-destructive boxer Jake La Motta (Oscar-winner Robert De Niro), whose most daunting opponent was always himself, director Martin Scorsese's drama is a total knockout — in and out of the ring. The fight sequences manage to be gut-punchingly repugnant, strangely thrilling — and all too accurate reflections of La Motta's inner rage.
2) "The Set-Up" (1949) — Never heard of this boxing flick? You don't know what you're missing: director Robert Wise's gritty, real-time film noir account of down-but-not-out Bill "Stoker" Thompson (Robert Ryan, a real-life boxing champ at Dartmouth and in the Marines), who refuses to go crooked — or go home. (Not surprisingly, film buff Scorsese credits "The Set-Up's" realism as an inspiration for "Raging Bull.")
3) "Million Dollar Baby" (2004) — Director Clint Eastwood and actors Hilary Swank and Morgan Freeman all won Academy Awards for this best picture Oscar-winner, about an aging trainer (Eastwood) who reluctantly agrees to coach a determined woman, that subverts its triumph-of-the-underdog predecessors in quietly powerhouse style.
4) "When We Were Kings" (1996) — Ain't nothin' like the real thing, baby, and that includes this Oscar-winning documentary about the 1974 "Rumble in the Jungle" match in Zaire between heavyweight champion George Foreman and the then-underdog but already legendary Muhammad Ali.
5) "Fat City" (1972) — Another legend, director John Huston (a former boxer himself), returns to the ring for this tale of two small-town, small-time pugilist pals — one (Stacy Keach) washed up, the other (Jeff Bridges) on his way up, or so he thinks — who come to blows over their lost, lonely lives.
6) "Champion" (1949) — Overlook the unconvincing fight sequences in another gritty Oscar-winner; just concentrate on the perfectly cast Kirk Douglas as a ruthless boxer who punches his way to the top, becoming a hero in public while remaining a creep in private.
7) "Body and Soul" (1947) — Turning pro to help his impoverished family, an amateur boxer (John Garfield) discovers the dark side of the fight game, and himself, in an Oscar-winning drama that marks a transition between Hollywood formula and more realistic boxing movies. (Cinematographer James Wong Howe captured the boxing action on roller skates, as an assistant pushed him around the ring.)
8) "Requiem for a Heavyweight" (1962) — If you know Rod Serling only for "Twilight Zone," this big-screen version of his acclaimed "Playhouse 90" teleplay will open your eyes, as punchy has-been Mountain Rivera (Anthony Quinn), mauled in a fight and forced to hang up his gloves, struggles to adjust to life outside the ring.
9) "The Fighter" (2010) — Tired boxing-movie cliches — battling brothers, the triumph of the underdog — come alive in director David Fincher's account of boxer "Irish" Micky Ward (Mark Wahlberg) fights to overcome his seriously dysfunctional family, especially the older brother (Oscar-winner Christian Bale) he once idolized.
10) "Rocky" (1976) — OK, OK, you've been wondering about the Italian Stallion's whereabouts. Truth be told, I've never been a fan of the Oscar-winning original, but any movie that spawns five sequels (including the 20-years-later, filmed-in-Vegas "Rocky Balboa") must have something going for it, notably its inspirational tale of a million-to-one shot going the distance. Which, when you think of it, pretty much describes not only Rocky but his creator/alter ego, Sylvester Stallone.