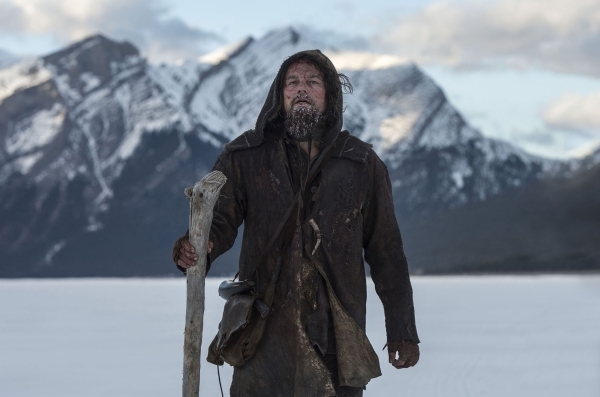 You rarely think of an Oscar-winning piece of directing as merely a tuneup. Yet Alejandro G. Inarritu has expanded upon some of the techniques he mastered in 2014's "Birdman" and applied them to "The Revenant" to create a truly spectacular tale of revenge.
Filming extended scenes of actors walking around a stage — or even Michael Keaton strutting through Times Square in his underpants — is one thing. But the way Inarritu stages the brutal violence of the Indian raid that opens "The Revenant" in gorgeous, masterful, stunningly long takes is simply astonishing.
Also, he simulates a bear attack so relentless and horrifying, he somehow managed to convince conservative blogger Matt Drudge that Leonardo DiCaprio was being raped by that bear.
Twice.
In 1823, explorer Hugh Glass (DiCaprio) is working for the Rocky Mountain Fur Trading Company in the wilderness of what is now South Dakota when he's attacked by that bear and tossed around like a rag doll for an excruciatingly long time. He's left with injuries so traumatic, it's a wonder he's even alive.
Expedition leader Captain Andrew Henry (Domhnall Gleeson) insists that Glass be given proper care, and for a while he's carried along on a makeshift stretcher. But when the terrain becomes too rugged to transport him, Henry reluctantly agrees to leave Glass behind.
For the promise of $300, John Fitzgerald (Tom Hardy), the fur trapper who'd repeatedly clashed with Glass, agrees to watch over him and, when the time comes, bury him. Before long, though, something between boredom and paranoia sets in, and Fitzgerald starts begging Glass to die, then offering to kill him before burying him alive and fleeing the scene.
Glass, however, simply refuses to perish despite being stranded in the freezing cold. He's barely able to move the mutilated meat sack that once was his body. For a while, "The Revenant" plays out a bit like "127 Hours" minus the boulder.
Still, Glass slowly heads after Fitzgerald, wheezing and crawling through the snow and muck. At one point, Glass makes his way to a river, fills his canteen with water and gulps it down only to see that water come trickling out of the scarred expanse where his throat once was. When Glass comes across a native healer (Arthur Redcloud) who nurses him back to some modicum of health, "The Revenant" develops a vibe akin to "Drags Himself Along with Wolves."
As much as it celebrates the power of resiliency and the human spirit, "The Revenant" is, at its heart, a tale of dogged pursuits. Not only must Glass stay alive long enough to gain some measure of vengeance against Fitzgerald, but the French-speaking Arikara warrior Elk Dog (Duane Howard), who launched that opening assault against the trappers, did so only out of necessity. He needed to trade the pelts they'd collected for rifles and horses to continue searching for the white men who kidnapped his beloved daughter.
Just when you think the malleable Hardy can no longer surprise you, he disappears into the grizzled, partially scalped, borderline mental Fitzgerald — his voice nearly as scarred as the dome of his head.
His "Inception" co-star DiCaprio, though, could well be on his way to his first Oscar — after having been so deserving for both "The Wolf of Wall Street" and "Django Unchained" — for his blunt force portrayal of Glass. It's a minimalist, emotive performance, made all the more necessary by that throat trauma that leaves him speaking with a raspy wheeze, if at all.
And that doesn't take into account the lengths to which DiCaprio went for verisimilitude — from chowing down on raw bison liver, to stripping naked in freezing temperatures and cozying up inside a hollowed-out horse carcass, to living with that awful beard for 18 months.
Inarritu, meanwhile, working from a script he co-wrote with Mark L. Smith ("Vacancy"), cements his status as one of the most visually exciting filmmakers working today. He can't take credit for the stunning vistas. And "Birdman" director of photography Emmanuel "Chivo" Lubezki has shot one of the most gorgeous films of the past year. But it's Inarritu who's responsible for crafting such an immersive, riveting tale.
It's the sort of movie event that demands to be seen on the biggest, brightest screen possible.
"The Revenant" also is as close to being in that frozen wilderness — equal parts grisly and grizzly — as any rational adult would ever want to be.
It was an awful, unforgiving place where unspeakable danger lurked at every turn.
And that was before Drudge introduced the idea that some of the bears living there might have been sexual predators.
— Contact Christopher Lawrence at clawrence@reviewjournal.com. On Twitter: @life_onthecouch